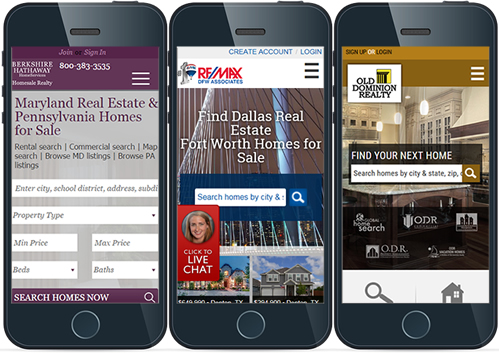 Â
Research indicates that mobile traffic will soon rise above 60 percent for real estate websites.
You need a solution that puts your website and your listings in your buyers hands, now.
Our mobile responsive websites offer geolocation that displays listings wherever your clients are located, integrated account login between desktop and smartphone and easy access to ask questions or make showing requests. You'll receive more traffic, get more leads and close more deals.


Why Choose A Delta Media Group Custom Mobile Website?
Â
Your buyers can search for what they want the way they want to
Mobile users can search by map or standard form. Enhanced search flexibility options even include Property category filters such as Residential, Rental, Land, Commercial and Multi-Family. Navigate to an area or let us display homes right where they are. They can even see upcoming open houses to plan their weekend home hunting. With our mobile sites you can put the MLS at your buyers' fingertips.
Allow users to easily save favorite listings & searches
With just a few clicks and some basic information your users can create an account that gives them the ability to save listings, save searches and have new listings matching their search emailed daily. Best of all, you can monitor their activity to better serve them.
Create a unified experience for your visitors
When a user creates an account on your site, whether mobile or desktop, it is instantly available on all of their devices. Creating a unified experience will eliminate confusion and help your user find the perfect home faster.
One-click access to driving directions
We've made it simple for smartphone users to quickly and easily get driving directions to listing locations or real estate offices. From a listing or office roster, when a user clicks on the address, the location is opened in the device's native navigation system. From here it's easy turn-by-turn driving directions to the listing or your brokerage's office.
Your leads, your way
With the ability to ask questions, request a showing and save listings, your users will be contacting you through your mobile site from day one. Those leads will go into our state of art lead management system to allow you to distribute them and handle them in whatever way works best for your business.
Â
Need advice on developing a mobile website vs. a mobile app?
Â
A mobile website can be found and indexed by search engines, such as Google and Bing, while an app cannot. A user browsing for real estate on their smartphone will find your mobile optimized site, but might never even know that your app exists. However, statistics show that app users are more engaged and spend more minutes-per-visit browsing for listings on their app. We recommend to our customers to have a strong mobile website first and then consider developing an app to increase their customer's engagement.Â
Delta Media Group can develop a mobile app for your business when the time is right.
Â
Mobile Apps
Click here to learn about our multi-platform mobile apps.
LEARN MORE