Create Maximum Exposure With PPC
Organic results make up about two-thirds of Google's results page. The other one-third comes from paid results.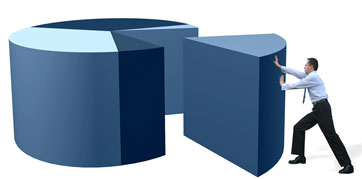 A dedicated pay-per-click campaign doesn't overlap with your organic SEO efforts — rather, it accentuates them.
PPC ads are shown at the top of search results pages or banner ads placed on market portals. Paid ads make up considerable amounts of all search engine clicks and give you a few advantages regular SEO does not provide.
For starters, PPC can help you show up in valuable page one search results for real estate terms you otherwise could never wish to rank for, including competitors' names and general, high-traffic real estate search terms. In addition, PPC allows you to customize where and for what keywords you'll rank.
Finally, PPC can help your website take up more Google real estate if you have a paid ad and rank organically on the same page. Studies show having this kind of dominance significantly increases click-through rates because it builds consumer trust in your brand.
Delta's marketing experts know the kinds of PPC strategies that work for real estate and the kinds that don't. We will make sure we help you with the right PPC campaign for you.
Delta's PPC Team Will Set-Up & Run Your Entire PPC Campaign For You


We will start by working with you to outline a PPC strategy that will work best for your brokerage, identifying and customizing unique keywords so your ads will show for targeted high-value keyword searches. Our expert team will then show you the most effective PPC route to take so your inbound marketing dollars are best spent with direct results. Lastly, we will set up and run your campaign for you, giving you access to ongoing metrics so you can track ongoing campaign performance. Contact us today to get started!