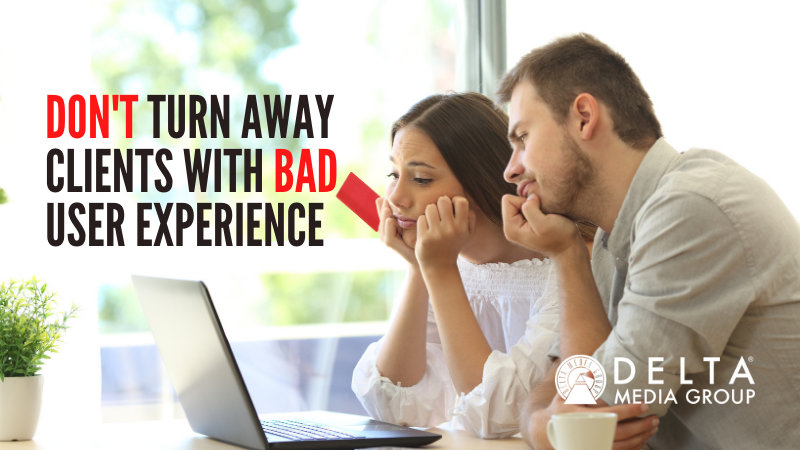 User experience (UX) is at the heart of how clients and prospects interact with your real estate brand. It includes analog, old-fashioned interactions, but the primary focus is on the digital realm. A seamless, high-quality user experience is a crucial factor in lead generation and keeps clients satisfied after choosing your business. Of course, that also means that a bad user experience will have the opposite effect. So let's take a closer look at what the UX is exactly, how to avoid turning clients away with a bad UX, and some tips for overcoming common UX challenges for your real estate brand.
What Is the User Experience, and Why Is It so Important?
The UX Encompasses Nearly Every Aspect of How Clients Interact with Your Brand
Talking about the user experience can feel a bit overwhelming at first because it's such a broad topic that covers... well, pretty much everything when it comes client interactions. The good news is that it's also fairly simple to boil the UX down to a few key concepts, and we're going to focus primarily on the digital side.

Want to Better Understand UX? Start with a Few Important Questions
When a client engages through your website, how easy is it for them to find the information they need? Are there barriers in place that prevent them from taking next steps? Does your content go beyond the basics to speak to the needs of each client? Can they easily access your content and services on the device of their choice? A high-quality UX makes life easier for clients, which ultimately makes it easier for you to earn their business.

The User Experience Is More Important than Ever in the COVID-19 Era
COVID-19 has changed how people buy and sell homes and the way they interact with real estate brands. Clients rely much more on digital tools to conduct real estate business, while in-person interactions have taken a backseat. Now more than ever, real estate firms need a digital UX that clients will love.
Common UX Problems and How to Avoid Them
Forced Registration and Asking for Too Much Up Front
One of the easiest ways to discourage clients with your UX is to ask for too much right away. If you force clients to register for your website before they can do anything or request extensive permissions, they may simply move on to the next option. There's a time and place to ask for more information or permissions — and it comes after you've demonstrated the value of your brand to clients.

The Fewer Hoops to Jump Through, the Better
Building on our first problem to avoid, it's crucial to avoid burying important features behind items that are less important to clients. Most clients will be engaging with your UX to shop for homes in specific neighborhoods, or to find out how much their current home would be worth on the market. When you place the features that clients want most front and center, they'll be more likely to stick around long enough to explore the rest of what you have to offer.

Failing to Understand That Clients Are Making More Than Just a Financial Transaction
Buying or selling a home is a personal, often emotional process. If you don't integrate content that shows an understanding of the why, then it's hard to build a connection with the client. The content on your website should go beyond the financial basics while speaking to your target audience's needs. It should highlight the communities where you do business while showing clients how specific homes and neighborhoods can answer their needs.

Mobile-Friendly Is a Must for a Quality User Experience
Clients want to connect with your business in the way that works best for their needs, so a website that's not mobile-friendly or a buggy, hard-to-use mobile app will be a major red flag. It's critical to make sure that your UX's quality remains reliable no matter which device the client is using to access it.
The Right Team Makes All the Difference in Building a Great User Experience
Building an outstanding, streamlined user experience starts with understanding what users want and how to provide that to them. Delta Media Group works to build your real estate business a stable, high performance UX that makes it easy for clients to find homes, fall in love with neighborhoods, learn about local real estate markets, and conveniently connect with your business on any device. Our team is focused on creating a quality UX that makes it easier for your real estate team to generate leads and do what they do best.