When the people working for the company also turn to the company in life-changing moments — like buying or selling a home — it stands to reason that those people would be best suited to continue Weigand's tradition of success. Over the last century, Weigand's reputation has only grown. More and more people think of Weigand whenever they're looking to make their next real estate move, including those who call the company their professional home. So, Turner says, Weigand has done everything possible to make sure that professional home provides all the comfort and support it can.
And with that support, it's rare that any agents leave the home they've helped build for themselves at Weigand.
"We have agents that have been in the business and been with our company for 35, 40 years," Turner says. "And it's because we take good care of them, and we recognize even when there's a mistake, because this is a human-driven business, J.P. Weigand has proven that we can get through those types of mistakes and get past those turbulent times because we've been around for 120 years."
STAYING WELL-ROUNDED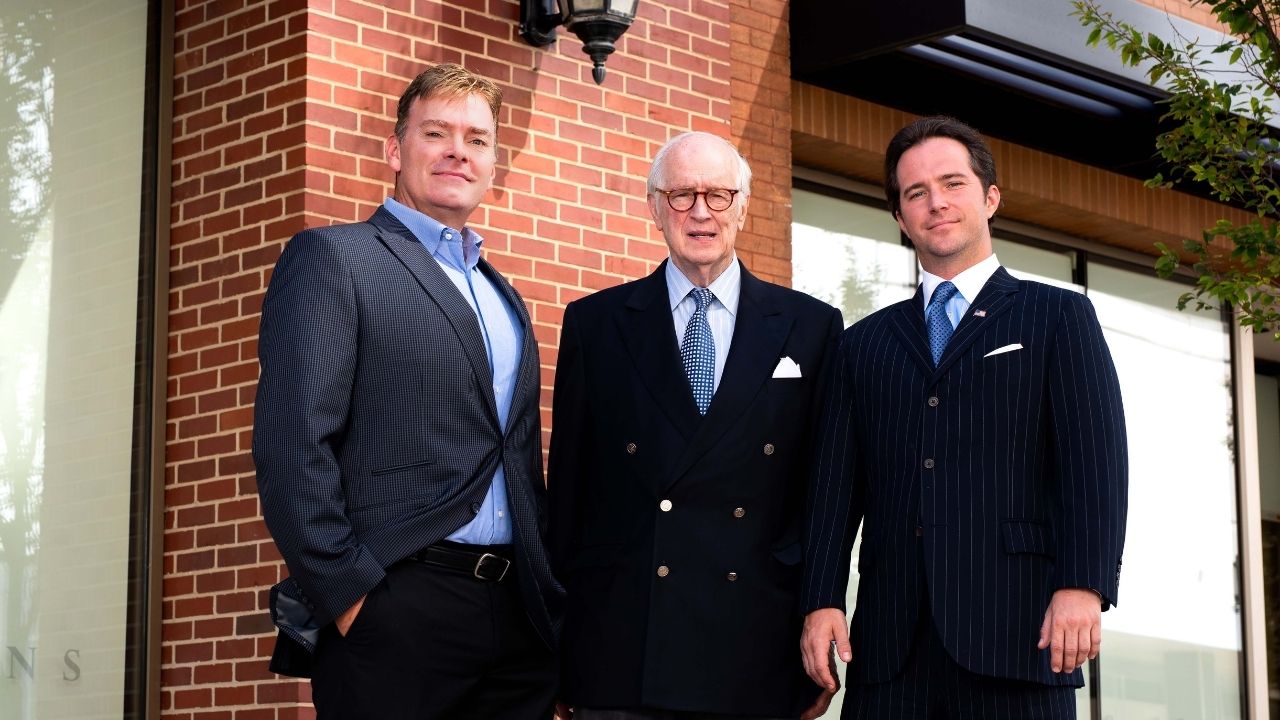 When a company exists for more than a hundred years, it's no surprise that the company will also grow with the times. Over the last century, J.P. Weigand & Sons, Inc. has evolved into a full-service real estate option with multiple divisions, all of which maintain The Standard for Excellence that's at the company's core.
Residential Division: With offices in Wichita and the surrounding areas, Weigand provides the best possible home buying or selling experience in South Central Kansas.
Commercial Division: Since opening, Weigand is Wichita's largest commercial real estate brokerage firm representing buyers, sellers, landlords, tenants, investors, and developers with professional services, including office leasing and sales, industrial leasing and sales, retail leasing, and sales, investments, consulting, auction services, farm, and ranch sales, land sales, site selection, corporate services, and tenant/buyer representation.
Relocation Division: A member of Leading Real Estate Companies of the World Relocation Network, this division sold over 1.3 million properties valued at over $296 billion last year.
Auction Division: Weigand's auction team works throughout Kansas and Oklahoma, utilizing auctions for a wide range of properties, including agricultural land, farm, and ranch, as well as commercial and residential.
REO Division: Weigand's newest division was created to better serve the needs of the lenders in the area and the increased number of real estate investors in the market.
Balancing so many divisions could be challenging, but Weigand has worked hard to keep everything organized and successful. Parker says communication is one of the most critical factors in that consistent success, ensuring that no matter what division someone is working in, they know how it fits into the rest of the Weigand model.
"From my marketing perspective, communication boils down to letting agents know what we have available and what our other divisions can do so they can help each other out," Parker details. "It's a one-stop shop for their client, and we can do everything their client needs in a transaction."
Adds Turner: "We have good, strong, experienced leaders in every division. We don't experience a lot of [issues] because between our training and our staff to support the agents and our leadership, they're able to keep things rolling the way that they're supposed to. And we won't put somebody in a leadership position that isn't equipped and hasn't proven that they're equipped to handle those types of things."
Six different brokers manage Weigand's residential offices, including Newell, all of whom, as Turner says, "have experience and the knowledge to make the decisions and to determine which direction we should be going with certain things." Meanwhile, Turner often takes the lead on the commercial side, with agents who, cumulatively, boast 560 years of experience. Weigand is also affiliated with Weigand-Omega, a property management company, adding even more knowledge to the collective tank.
"The guys that run that company have been in the business for 50 plus years," Turner says. "It's a lot of experience, and people want to work with us and want to do business with us because we make sure it's right and there's not a lot of headaches."
Despite so many moving parts, Weigand consistently avoids crossing signals or stumbling into obstacles, anticipated or otherwise. Backed by that same communication Parker touted and the confidence that comes from years of working in the industry, Weigand's multiple divisions only serve to make it that much more appealing to clients, giving those in South Central Kansas the chance to work with one company for all of their real estate needs.
J.P. WEIGAND & DELTA MEDIA GROUP
So much of the world has changed since J.P. Weigand first arrived in Wichita. Technology has become the driving force for achievement in real estate, something that wasn't even fathomable 50 years ago, let alone at the turn of the century. So, as the industry continues to evolve, it's imperative that Weigand found a tech provider it could depend on.
Turns out, Delta Media Group® fit that bill to a tee.
After years spent with Booj, and vetting other providers, J.P. Weigand & Sons opted to take the tech plunge with Delta Media Group. Working with Delta has given Weigand a partner in the truest sense of the world, not only making the transition from Booj simple, but ensuring every piece of tech supports the company's collective goalkeeping pace with the rest of the real estate world, just like it has for the last century.
"[Delta is] always evolving," Myers says. "[Weigand is] improving all the time, so what Delta has and is moving forward with was something we wanted. All of the automations for the agents on the CRM is huge. A lot of that stuff we were already doing, but manually, so we were thrilled to learn about all the ways we can help our agents save on time. And we were also impressed with [Delta's] tech support and the fact that the agents can reach out personally, and they're very responsive to them. That's huge for us."
Of course, transition is a process, and any project, whether it's building a house or a custom website, will face its own handful of obstacles. Getting everyone up to speed on a new CRM was a challenge Weigand expected, but with DeltaNET® 6, agents could pick things up quickly, easily moving contacts and information. And Turner is quick to applaud Delta for its communication throughout Weigand's transition, providing support whenever necessary.
For Weigand — which prides itself on the support it gives its agents — that sort of response makes all the difference.
"The quality of a company is measured by how they deal with problems but after the sale," Turner says. "We've run into snags. We expect that. But Delta has stepped up and done everything possible to correct those issues."
Newell echoes the sentiment, adding: "I'm a working broker, and I probably know the system on the backside as well as anybody does that uses it day to day. And anytime I had an issue, I can get an answer. I get a, 'Thanks for that. We'll work on it.' And then I get a follow-up when it's up and done and correct. So I appreciate that. It's a kudos to Delta."
In addition to getting everyone on Delta's platform in the last few months, Weigand has also worked on a fully custom site. The project gives clients and agents alike a singular spot where just a few clicks can give them readily available information, the kind they need to ensure any transaction goes off without a hitch.
More than simply providing information, however, a good website can be a marketing tool as well. Ease of use, simple navigation, and a straightforward company story, all give consumers — or in this case, potential real estate clients — a sense of confidence that makes choosing Weigand feel like the simplest of choices.
"When I check out companies I want to buy from or look at, if their online presence or their website is not easy to navigate, and I'm not finding the information that I need out of it; why look any further?" Parker says. "We have all the information that [clients] could ever think of finding [on our site]."
Weigand's site also makes it simple for would-be clients to find the company via internet search. Just a few decades ago, clients would see one of those Weigand signs and call the number on it. Now, while that still happens, it's more likely for would-be clients to grab their phone to Google the agent's name instead of making a phone call. So, it's crucial that Weigand immediately pop up in any of those quick searches. Thanks to Delta's industry-leading SEO and all of the work Delta has put into Weigand's website, those search engine results aren't just a want; they're a fact.
"That was a big key," Newell says.
By embracing fresh, new ideas — including, Turner says, "creative and talented people on our staff" — Weigand ensures it never finds itself behind the times, and partnering with Delta has made it simple to maintain that tech tempo, allowing the company to ask its agents what they want before turning to Delta to make sure it happens.
"Everybody's open, and the truth is there have been times throughout the legacy of this company that we have fallen behind in the technology role, but because we also listen to our agents, and we try to find the solutions that the agents need, that's changed," Turner says. "And when they're saying, 'Hey, we need a better website, or we need a better CRM.' We listen, and we have constant contact with our agents. It's one of the real advantages of having a broker and a manager in every office. They work hands-on, directly face-to-face with the agents."
Staying competitive with the rest of the real estate world, particularly when so much of that world is made up of larger or national companies, requires Weigand to take every suggestion agents make regarding their tech to heart. They know best what they need, after all. But, sometimes, offering all those tools can be a daunting and expensive task. Not with Delta. Delta gives Weigand a way to provide for its agents without breaking the bank, while the technology remains as cutting edge as it is simple-to-understand.
"This transition with Delta has helped us catch up to providing the tools," Turner says. "Working with Delta has allowed us to provide a product that is the same quality as what these national companies are providing at a cost and a scope that works at a smaller level."
PART OF THE COMMUNITY
As long as Weigand has been in business, it has been a part of the Wichita community. J.P. Weigand learned the city by walking it, creating a foundation for relationships that have stood the test of time and become the lifelines that keep Weigand as successful as it's been for the past century. Of course, over that same century, especially with the growth of social media, Weigand's relationship with the city it calls home has changed just a bit.
Simply posting about homes or properties on social media is no longer enough. Parker, who joined Weigand in April 2020, says the company's Facebook page, in particular, is "Wichita-centered," meaning that it's not just an advertising platform or even a place for clients to find updates on properties, but a place to learn more about the city itself and everything it has to offer.
"I'm sure you follow brands that all they do is sell, sell, sell, and you don't want to follow them anymore," Parker says. "So adding in things that people can do in Wichita that
the agents can share and their clients can see it and get engagement from those is better than just posting about houses that are for sale. It's great that we have such beautiful homes for sale in Wichita, but we want to be involved in our community. That's one thing Weigand's great about is being involved in the community and participating in community events.
"We're a local company," Parker continues, "and Wichita is really big on buying and staying local. So we want to encourage that to our followers and agents as well."
Turner adds that, through Weigand's commercial division, the company also works with plenty of area businesses and often shines a light on the companies that make Wichita run. Hosting lunches at local restaurants, ordering catering from businesses Weigand helped purchase a storefront for, or posting on social media about the latest updates for area companies is the new norm. Not just to help get word out about those businesses, but because, as Turner puts it, "That's our bread and butter and [those businesses] support us, so we support them."
Weigand has also long been a significant contributor to various charities, initiatives, and events since it first opened its doors. Wichita and Weigand have genuinely grown together, and that sort of relationship makes giving back to the area as natural as anything.
"Invest in the success of others, and we in turn will be successful," says Johnathan Weigand, Director of Strategic Initiatives for Weigand's Commercial Division.
"We give back a lot to the community, probably to the tune of over a hundred thousand dollars a year," Turner says. "We strongly encourage our employees and agents to engage in community committees and community outreach events. There isn't a real estate company in Wichita that's been around longer than we have. And Wichita has built this company, going on fourth-generation leadership. And it's really good to see the response that we get from the community."
TO THE NEXT 100 YEARS
More than a hundred years ago, J.P. Weigand arrived in Wichita with a simple desire: To help people find the same home he found in this city. Now, although plenty has changed in Wichita, with more cars on the streets and buildings that are quite a bit taller than they were in 1902, Weigand's mindset hasn't shifted an inch.
Home is still the ultimate goal, providing the Wichita community with a sense of comfort and belonging that ensures every Weigand client feels as if they're part of the family, too. And as Weigand turns its attention toward the future, growing that family is the expectation. But how does Weigand achieve that? Same as always: Embracing change, encouraging evolution, and working with trusted partners. On the tech side, that means continued work with Delta Media Group.
"We need [Delta] to be our forward thinkers," Newell says. "Our world is buying and helping people sell houses and fulfilling their dreams. Your world is this technology world that is continually evolving. What we need is for you to be our forward thinkers for us on where we need to go."
Wichita has long been at the center of everything Weigand does. The city sets the tempo of Weigand's decisions and, for over a century, that's led to unquestionable success. Turner doesn't anticipate that changing any time soon, but what he does hope is that, with Delta's support and the sort of game-changing tech the real estate world is embracing, Weigand's continued evolution will help the company jump the line, so to speak. No more waiting for trends to migrate in from the coasts. No more waiting on updates. No more curves to sit behind.
With another century ahead of Weigand, the company wants to dictate what comes next, looking to become a trend-setter in the industry.
"What I want for J.P. Weigand & Sons, Inc. is to set the bar for the future of the real estate industry," Turner says.