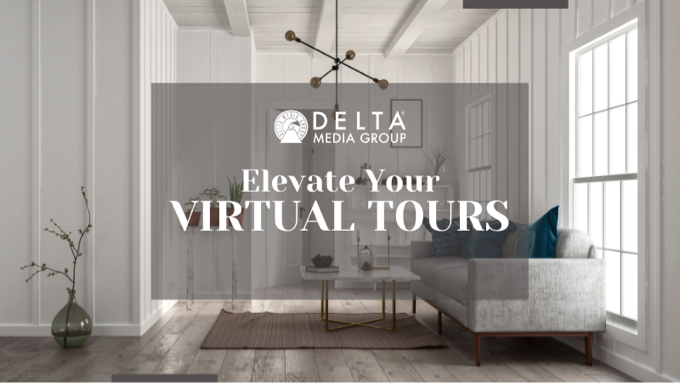 Virtual tours took center stage in 2021 when agents from coast to coast needed to find new, more effective ways to protect their clients. But even as restrictions on travel and gathering draw to an end, they are still in high demand.
Virtual tours are convenient for buyers and sellers alike. Sellers no longer need to worry about inviting large groups of people into a home that's still occupied. Buyers have the opportunity to greatly expand the radius of their search without doing a lot of extra travel as a result.
Virtual tours were already starting to take hold prior to the pandemic, but they skyrocketed more than 750% in the month after shelter in place orders were enacted across the United States. Since then, they have seen steady adoption at agencies and brokerages of all sizes.
Now, virtual tours have been a regular part of doing business for more than a year. Time has taught the industry a lot. Homes with virtual tours get substantially more engagement than those without. In fact, visitors spend up to 10x more time on listings with virtual tours than those without.
What's more:
Property listings with virtual tours get clicked 40% more than listings with only still photos

75% of all prospects asked said that they preferred virtual tours as a decision-making tool
But virtual tours can have a steep learning curve for agents.
How can you use them to the best advantage in your listings?
Six Ways to Make a Virtual Tour Easier and More Effective than Ever Before
It seems like there are new tech skills for agents to tackle every day — and let's face it, few people came to this industry from a past career as a videographer. But you can get a strong start with virtual tours by keeping a few simple ideas in mind. Even if you're already using virtual tours with some success, you can continue to improve by making sure the right fundamentals are in place.
Here's how:
Start With a Plan in Mind
Every home is different, and it's up to your virtual tour to help you tell the story in the best way possible. This becomes easier with a little forethought. Walk through the house and put together a shortlist of all the features you want to highlight. Use your list to give yourself a miniature outline of how the virtual tour will work, letting you know precisely which elements to showcase in each room.


Prepare the Space Before You Begin
Staging is just as crucial for a virtual tour as it is for an in-person showing. Make sure the rooms have been decluttered, including large furniture that could get in the way. Coordinate with your seller to ensure lawn work is taken care of and political signs are removed from the yard. Open curtains and shades on all the windows, and be sure to time your recording to benefit from natural light.


Find the Best Tools for the Job
Using your smartphone for video is fine for social media, but a virtual tour should be more polished. The higher quality your video is, the better it will perform. Experiment with your options, including setting up a professional camera on a tripod or carrying one through the rooms with you. When it comes to aerial photography, it's often best to hire the services of an experienced drone photographer.


Help Your Virtual Tour Shine with Editing
When they're still getting used to the process, most real estate agents record their virtual tours rather than streaming them live. If this describes you, you have the added bonus of being able to bring your tour to the next level with editing. This is ideal for cutting out any instances where you repeated yourself. It also gives you creative control over options like intro music and branding.


Use the Right Software
Real estate virtual tour software like Properties in Motion can vastly accelerate the process of getting comfortable with virtual tours. Properties in Motion simplifies the matter by making it easier to create high-quality, branded videos complete with voice-over. It automatically pulls all needed details from the MLS, feeds videos to Facebook and your website, and makes it easy to track lead activity.


Implement Automation Elsewhere in Your Practice
As with everything in real estate, virtual tours become easier when you have the right processes. If you find yourself spending a lot of time crafting the perfect virtual tour, don't beat yourself up over it: Lean into the learning experience. By implementing an all-in-one real estate solution like DeltaNET®6, you can introduce reliable, AI-driven automation to other parts of your business so you can spend more time where it is needed.
Contact us at Delta Media Group to discover just how easy good virtual tours can be.