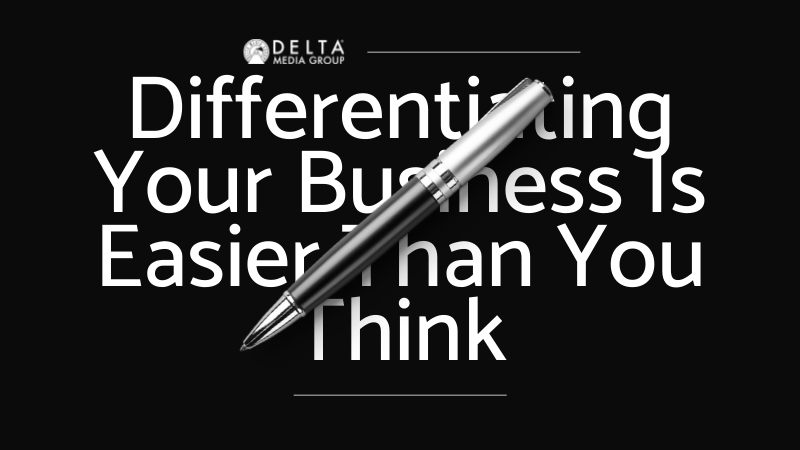 As a real estate agent, you are a local expert. People trust your knowledge about the market and its ins and outs. They rely on your advice not only to buy a home but to identify the best neighborhoods, the top school districts and employers, and how everything will interact to shape their new lifestyle.
There's one problem: They may still have trouble telling you apart from your peers!
Real estate is a highly competitive industry. Many of your colleagues and competitors are true self-starters, focused on continuously improving and making an impact. There may be many agents in an area who can offer a terrific experience to your potential customers.
So, you need to focus your marketing around differentiation.
Your marketing communicates who you are and what you do for others. Differentiation refers to all of the skills, personal traits, and other characteristics that set you apart. Define exactly what you bring to the table, and it'll be easier to highlight all the ways in which you are different.
You can also use your knowledge, skills, and tools in ways that differentiate you. Whenever you pick up a new piece of technology or learn something new about real estate, always think about the many ways you can use it to add value. The more creative you are, the better it will function as a differentiator.
Teams and agents alike need to differentiate — but it is much easier than it might look:
Define Your Niche and Showcase It In All of Your Marketing Collateral
Early in their career, many real estate agents feel they need to be ready to work with just about anyone. After the first year, however, it's crucial to define your niche. Your niche describes who your ideal client is, what you do for them, and how your way of doing it is special. Yes, it can mean turning some business away — but your message will resonate deeply with your ideal clients, more than making up for it.


Introduce Customer Relationship Management (CRM) into Your Workflow
No matter who your ideal customer is, that person expects speed and responsiveness. A CRM suite is an effective way to deliver it. Your CRM gives you complete visibility into contacts, leads, and customers. It keeps track of transactions and relationships for you. An AI-driven real estate all-in-one solution like DeltaNET®6 learns as you use it and can prompt you to follow up at the best times to inspire a favorable response.


Get Comfortable with Online Video Content
Most of your future customers will first learn about you online, not from a face-to-face meeting. Video content is exceptionally helpful in building a human connection. As "the next best thing to being there," video fosters trust and helps people feel like they know you even before you've met. Use your video to introduce yourself and your team. It can also enliven virtual showings, neighborhood tours, and more.


Publish Helpful, Informative Content Focused on Your Customers' Needs
Once you embrace your niche, you usually end up with very strong insights into who your customers are and what challenges they're facing. Respond to their burning questions with a blog on your real estate website, and you'll give them a preview of the value you can offer. Publishing useful content helps you appear in more searches relevant to your business at the moment people are looking for you.


Build Community Online...
Several different social media platforms are especially fitting for real estate. LinkedIn is ideal if you are in the luxury real estate space. Instagram, on the other hand, is practically tailor-made for your most beautiful real estate photography. Posting is only the beginning — be sure you are building relationships by responding directly to comments and checking out the content of people who interact with you.


...And Offline
Embrace your role as a local tour guide who knows a little bit of everything. Keep your finger on the community's pulse by attending charity events, networking, and more. Always check out new restaurants and other amenities. This gives you more knowledge of what makes your local area special. Not only will you have a ready answer when customers ask you questions, but you'll also have more to share online.


Give Yourself Plenty of Time for Learning


There's always something new to learn in real estate. Even the most successful agents don't "know it all." At the beginning of each year, set out a plan for the new certifications, skills, and technology tools you plan to learn. Then, invest in your success by making sure you have time set out on your schedule to actually do it. The more you know, the better your performance, and that's the best differentiator.
Contact us to learn more about using real estate technology to stand out.