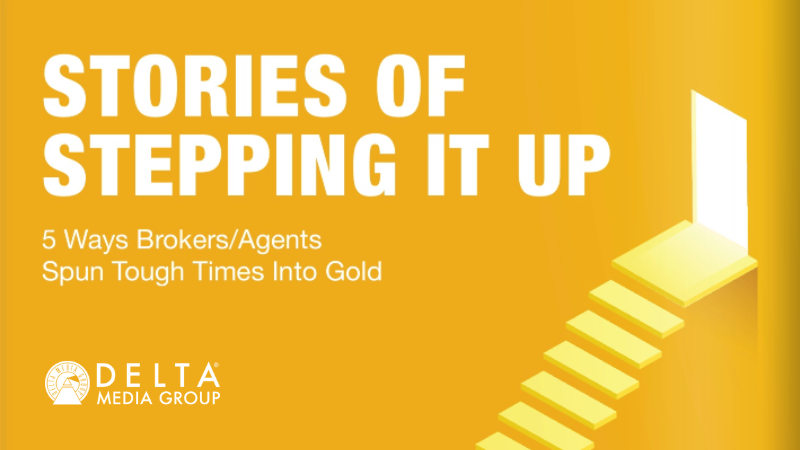 Real estate is an industry of perseverance and adaptability. Market trends can shift in what feels like an instant, leaving agents to sort out what comes next in both good and challenging times. The most successful agents know that there's always a rainbow waiting at the end of a storm for those willing to work for it and take proactive steps to bring about positive outcomes.
There are countless stories of agents adapting, meeting challenges head-on, and creating new opportunities even in difficult times. Here are five ways agents have spun tough times into gold and emerged with new tools for growing their businesses.
More Marketing and Making Marketing Work For You
One temptation during tough times is to hunker down, cut back on expenses, and wait for things to change. While the idea of cutting back and saving can be a good one, your marketing budget is not the place to do it. In fact, one key way to thrive in tough times is to double down on marketing, open up new channels for lead generation, and diversify your marketing plan.
If your old marketing plan worked well enough in good times but isn't delivering the same results now, then it's time to try something new. If you relied primarily on traditional marketing in the past, now is the time to embrace digital marketing. If there are blind spots in your digital marketing plan, now is the time to fill them with proven tactics that work with a modern audience.
You don't have to throw out the marketing tactics that have served you well to this point, but you should always be looking for new opportunities for promoting your real estate brand. More marketing can help get you through tough times and provide more opportunities to maximize your success during the best of times.
Segmenting Your Sphere For Better Results and Efficiency
Are you reaching the right people with the right message at the right time? It's a fundamental market question that becomes even more important when times are tough. Segmenting your sphere of influence can help you create a clearer picture of what each segment of your audience wants, how best to reach them, and how to convert more leads into clients.
Think about it similarly to how you would consider segmenting leads. Some are ready for action right now, some will require more nurturing before they're ready to make a decision, and some can safely be put on the back burner until they move closer to making a real estate transaction. Once you understand where each lead — or segment of your sphere — stands, it's so much easier to reach them with the right message at the right time.
Segmenting your sphere can also help you uncover opportunities that you may have missed when looking at the whole picture. This can prove especially valuable during tough times when every advantage you can create matters more than ever.
Busting Myths to Give Clients the Real Facts
Real estate clients and prospects have more information at their fingertips than ever before, which can be both a blessing and a curse. It's great for them to be able to research data, trends, and information on their own, but not every so-called "fact" online is as true as it may seem. That's where you can enter the picture, add value for your audience, and make a real difference during tough times.
Your real estate expertise isn't just an asset in your day-to-day business interactions. It also allows you to create content that debunks the many myths and overblown headlines that your audience encounters. Even when a client comes to you with good information, you can provide context that no quick online news article or social media headline can match. Your expertise is great for helping individual clients and for your marketing as a whole. Leveraging your expertise to help clients endure tough times can boost your business when needed most.
Making Social Media a More Engaging Experience
It's easy to treat social media like just another item on your daily to-do list. Pop in, like a few posts, maybe share a link or two, then call it a day. Job done, on to the next task. It's not just common among agents. Brands and service providers of all types are prone to making the same mistakes and then wondering why social media isn't generating the business that it should. After all, they blocked out time, invested their 15 or 30 minutes per day, and made a token effort to connect with their followers.
Think about the brands and businesses that you follow on social. How many are memorable for the right reasons, and how many simply fade into the background of your busy newsfeed?
If you want better results on social media, then you need to use your time as wisely as the agents who make the most of their social influence. Invest more time participating in conversations, answering questions, and engaging with your audience directly. Rather than simply liking a few posts, jump into local groups and start building meaningful connections. Encourage your audience to ask questions that matter to them, and create content that provides answers to the most common questions. When you share content, follow it up with a conversation.
Generating engagement on social media requires effort, but the results are more than worth the time spent. The meaningful connections you build on social media can be an incredibly valuable source of leads and referrals in tough times.
Creative Outreach With Modern Marketing Tools
Do you ever feel like all of the marketing you encounter looks the same? Same message, same template, same look, same value proposition. Now imagine being a seller in a competitive market, receiving countless postcards, emails, and online ads from local real estate agents making the same exact pitch to list your home with them. Try putting yourself in the position of a buyer who has indicated an interest in local listings and faced a similar marketing barrage.
Wouldn't you start to tune things out if you were in their shoes? Creativity matters in marketing, especially when trying to stand out in a crowded real estate market.
The suite of tools in DeltaNET® provides everything you need to get creative with your marketing and outreach. Leads not responding to emails? Try SMS text messaging for a quicker, more convenient communication option. Having trouble keeping up with leads long-term? Use our CRM to store the vital information you need to plan your marketing and use customizable eCards to reach out on meaningful days. Use email drip campaigns to keep leads warm over time and AI-driven newsletters to easily provide the market data that your audience wants to see.
DeltaNET is also packed with integrations that include dozens of marketing platforms, from big-name standards like YouTube to specialized real estate marketing tools. There's no end to how you can flex your creative marketing muscles, and creativity is one of your greatest assets for spinning tough times into success stories. 
In Tough Times and Good Times, Never Stop Striving to be Your Best  
There are many lessons to be taken from agents who have faced adversity head-on and spun tough times into gold. The first, most important lesson is that there's always hope for better outcomes, as long as you're willing to keep trying, innovating, and using creativity to overcome challenges. Tough times are ultimately what we make of them, and there are always silver linings if you're willing to search for them. Sometimes, you might even have to create those silver linings yourself. 
Another valuable lesson to be taken from these experiences is that you don't have to wait for tough times to refresh your approach to attracting and retaining clients. Taking an honest, self-aware look at what's working, what's not, and what could be improved is something you can do at any time. No matter how successful your marketing and outreach may be in the best of times, there's always room to improve. That way, even when times are tough, you'll be ready to embrace the challenges, adapt, and continue to thrive.