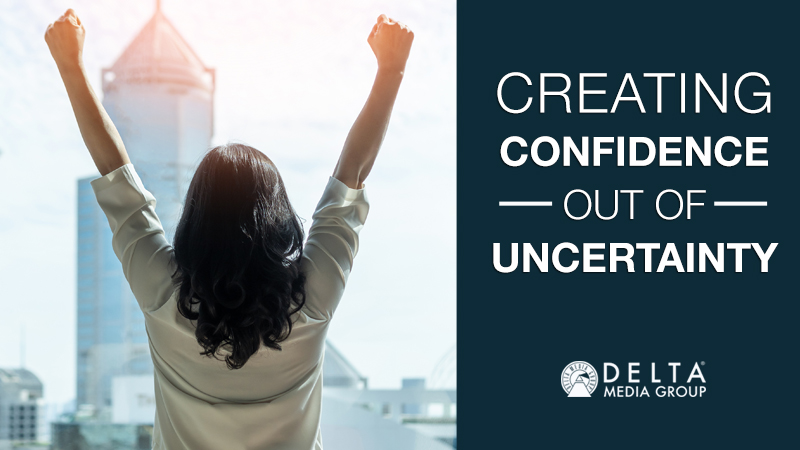 In the first year of a real estate agent's career, he or she learns the ropes. In that journey, all agents develop a sense of their interests and strengths. Afterward, a whole new set of challenges is in store.
When rising agents are looking for effective, repeatable processes to fill their sales pipeline, what are they really doing? What is the underlying motivation? We can argue that it's confidence. Building the right processes helps you tackle the unknown with greater energy and enthusiasm.
When you are confident, you feel ready for anything. No matter what happens (or what seems to go wrong!), you have a deep inner knowing that tells you that you can adapt and prevail. But real estate's complexity means most newcomers can't simply "fake it 'til they make it."
They need something more solid and trustworthy to hang their hat on. That's especially true when you're crafting a brand that represents you.
Confidence Is a Winning Trait — and You Can Develop It
No matter where you are in the arc of your career, there are certain practices that can help you bring your confidence to the next level. Confidence, in turn, helps you relate to others — especially clients — with a level of passion impossible to obtain otherwise.
It's confidence that allows real estate agents to stand up proudly and proclaim what they do and who they do it for. Confidence enables you to embrace your unique value instead of trying to be everything to everyone. In exchange, it helps ensure that the right people gravitate toward you.
Confidence isn't pushing the hard sell or "not taking no for an answer," but it's also the magic ingredient that allows real estate professionals to understand that rejections aren't personal, and sometimes it may take 8-10 follow-ups before you connect with someone at the perfect moment.
In short, confidence gives you the power to recognize that "overnight success" is anything but. No one sees the time and effort that goes into everything that comes before the big moment. If confidence is the sense of being ready for whatever comes, it's also a skill you can develop.
Let's look at the most powerful ways for real estate agents to develop their core confidence:
Study
The more situations you're aware of and familiar with, the more you can activate your knowledge and start off on the right road to solving problems. That begins with study. Don't end your learning journey with your real estate license — continue choosing certifications and skills. Always chase something. Establish concrete deadlines to reach a certain level of skill or sit your first certification attempt.


Practice
It might sound counterintuitive, but the truth is there are no "difficult" skills. While some people may have a natural inclination one way or another, every skill becomes easier the more familiar it is. Aim to practice skills, especially in the areas where you feel you're weak, with focused blocks of weekly work. Identify the situations you need to be in to get the practice you want and make them happen.


Focus
To make the most of practice, break big skills down into the smallest possible chunks. One big example: "Public speaking" is actually many different small skills: Managing your anxiety, projecting your voice, knowing what to do with your body — then things like "writing your speech" and the nuances of delivery. Gain competence in the foundational skills and you can gradually build to the sophisticated ones.


Network
Networking is the golden key to accelerating your success in the world of real estate. When you have a strong network, you can collaborate with peers and learn from mentors. That helps you think creatively about the problems you're facing and design novel, effective solutions without reinventing the wheel. In the long run, this can cut years off the time it takes you to achieve the business results you envision.


Teach
Once you're conversant with any skill, it's time to look for others who can benefit from your perspective. Contrary to popular belief, you do not need to be a world-renowned expert to teach others — only ahead of where they are on the same journey. Explaining things to other people sharpens your understanding, and fielding their questions can give you insights as you put details together in new ways.


Systemize
The right technology is the path to clear, repeatable processes that make your business more stable. A real estate CRM is an indispensable part of the equation. With the right CRM in place, you'll have total visibility into your leads, current customers, and past customers. With artificial intelligence centralizing and monitoring your data, you'll know precisely when and how to follow up with each contact.
Contact us to learn more about today's premier real estate technology.