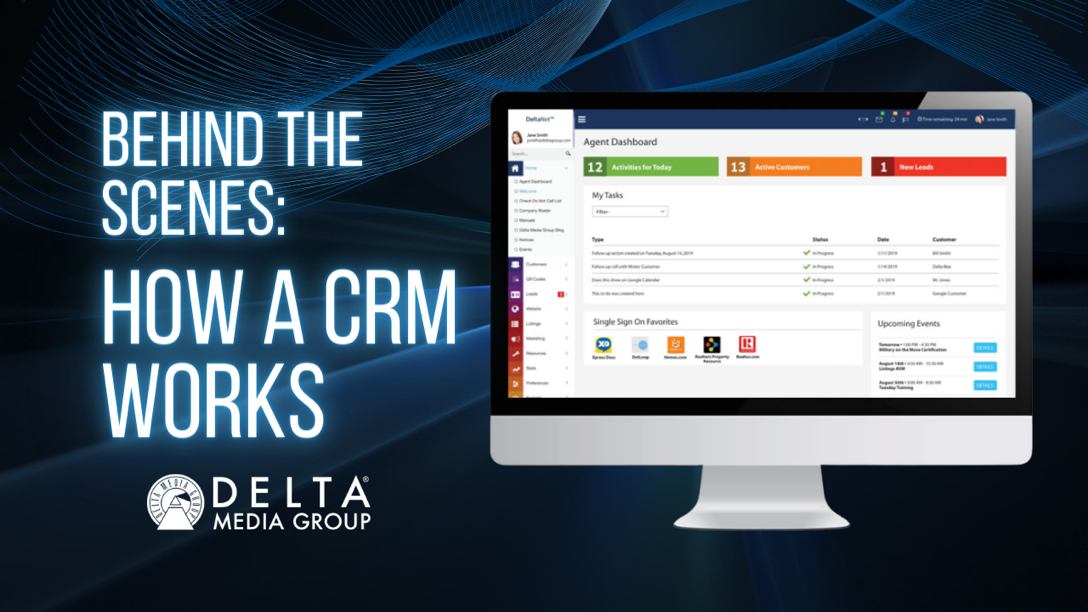 A real estate CRM has the potential to transform your business. But there are still many brokerages not using the power of CRM. Likewise, many agents have decided to forgo CRM, not realizing it doesn't take a large team or a big budget to benefit.
As technology evolves, change follows. But even the most sophisticated technology can't replace the most important part of real estate: The human touch. Instead, a CRM is a tool, albeit a versatile and powerful one. It helps you get more done in less time.
That equips you to focus more of your attention on strategic matters that grow your business.
Before you jump into CRM with both feet, though, it's a good idea to know exactly what you're getting into. What is a CRM and what can you expect from it? What is it really all about? And perhaps most importantly, what is the experience of using it actually like?
Let's take a closer look.
Customer Relationship Management Centralizes All Your Data
CRM stands for Customer Relationship Management, and this sums up the main goal in a nutshell. It gives you a centralized database that acts as a single source of truth for all the information about your prospects, leads, and customers. For real estate agents, this is huge.
Not that long ago, agents would devote days every week simply to figuring out where everyone in their network stood on their current or pending transactions. It was difficult to know when to follow up, and options for doing so were limited. Connections would "disappear" off the radar for weeks or months.
With a real estate CRM, this never needs to be the case again.
And here's why...
Customer Relationship Management Helps You Be More Proactive
Your CRM isn't just a collection of information. It serves as a living ecosystem for your most important business data. While there may be some manual data entry in the very beginning, your CRM will soon save you thousands of hours by linking directly up to your website, event registration forms, and more.
Every time someone interacts with your digital brand, your CRM has the opportunity to capture more details about them. An AI-driven CRM then "connects the dots" between the different data points. This allows you to recognize when it's the perfect time to follow up and to do so with confidence.
You won't have to wonder when to follow up, because you'll know, for example:
When leads are looking at content on your website that indicates readiness to buy a home

Which property listings your users have seen and how much time they've spent on each one

How many actions each person has taken that suggest they are about to become a customer

Their "score" compared to other customers that you sourced through your listings or website
In the olden days, sales professionals would manually "score" each lead, follow up, and keep their notes as the transaction progressed. This is no longer necessary because your CRM is always there to do the guesswork for you. Machine learning helps it to see patterns that would be invisible otherwise.
What Is Using a CRM Actually Like?
A modern real estate CRM has a variety of features that can all work together, creating a "center of excellence" for your digital marketing. You can keep your experience very simple or you can use each feature, in turn, to get even more value from your CRM.
The core of your CRM is the database of contacts for your business. You'll be able to see at a glance the relationships that matter in reaching your goals — new prospects, leads, and customers. Each entry will offer all of the latest interactions your CRM has picked up from each person.
Event-based triggers bring individuals to your attention whenever it might be a good time to follow up. You can also connect with anyone through email, social media, and other means simply by looking at the contact information your CRM has collected for you.
Marketing Automation Through Your CRM
With DeltaNET®6, you also have a wide variety of options for digital marketing automation.
The power of automation means you can stay in touch and keep your brand "top of mind" with more consistent, higher-quality communications — all while spending less time writing emails or social media posts. You can even source custom content for your blog directly from DeltaNET®6.
Over time, marketing automation has the power to turn your real estate website into a conversion engine that attracts ideal customers to you. That means less time spent "chasing leads" or doing tedious, error-prone tasks — and more time doing what's most important to you.
Contact us at Delta Media Group to learn more about the world's first true real estate CRM.