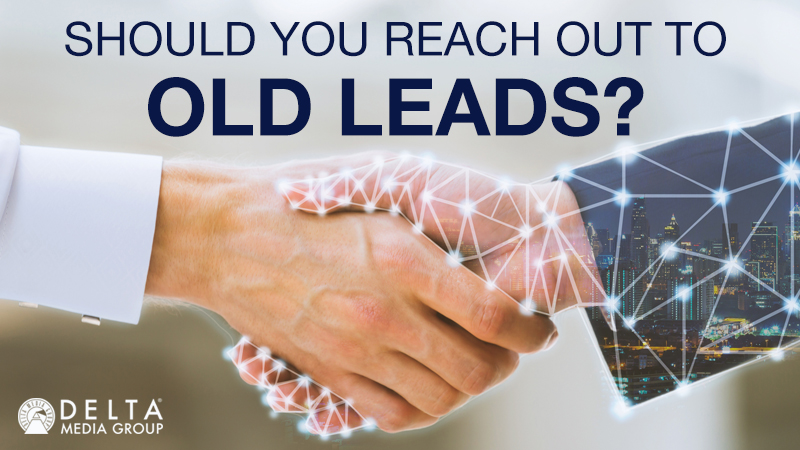 Leads are the lifeblood of any real estate agent's practice, no matter whether they are experienced or just starting out. In the beginning, agents invest hours into finding the right leads every month. In time, the balance shifts to include more referral business and leads attracted by your website.
No matter where they come from, though, leads remain crucially important: Without them, you'll soon find yourself with nothing to do. That raises some big questions about "old" leads who don't convert in a week, a month, or even six months. What can you do with these connections?
It's true, of course, that some older connections won't stay leads for very long:
They may decide to go with another real estate agent, getting their needs met for 2-5 years

Or they might choose to stay out of the market, usually to wait for better overall conditions
It's undeniably true that most people you meet for the first time will not be ready to buy or sell a home within that same week. But that doesn't necessarily mean that the majority of potential leads ultimately go elsewhere. Just because you haven't heard from someone, it doesn't mean their story is over.
As the real estate agent, it's up to you to follow up — and it's never been easier to do just that.
Following Up with Old Leads Can Empower Your Practice to Grow
No matter how you define an old lead, they aren't off the table until they tell you they've decided to work with someone else. Even when leads inform you they won't be taking action any time soon, it means you can always follow up again in a few months!
If you've got a Rolodex (or more likely a real estate CRM) full of old leads you haven't heard from in a while, many can still turn into opportunities. Real estate is a sales profession at heart, and successful salespeople swear by their efforts to follow up as much as possible before writing a lead off.
All in all, 60% of customers say "no" four times before saying "yes." But real estate agents are at a huge advantage here: Leads rarely say "no" directly to you, but only to the timing that making a move right now would represent. In the end, they still want a real estate agent, and you can still be that person.
Here's how to follow up with your old leads the right way:
Sort Them Out Before You Start
Before you start thinking about how to get in touch, it's important to refresh yourself as to when you met your leads and where you last encountered them. This is another area where a real estate CRM is paramount; it can save and centralize all the interactions you've ever had with any lead. This helps to understand each lead's specific motivations so you can make your messaging precise.


Have an Overarching Service or Offer
It is a wise idea to have an overall offer, something new to showcase to pique interest. For example, if you have leads you met through an open house, you might never have had the opportunity to provide them with a local market report to clarify their thinking. However, it can be off-putting to launch into an offer after weeks or months of silence, which is why it is essential to gauge interest first.


Choose a Method
You have many different methods for revitalizing your old leads, so choose wisely based on what you know about each one's communication preferences. You're in luck if they've opted in for texts — these are pleasingly informal and much more likely to get a response. Email is also very effective. Although it's helpful in other ways, social media is a distant third when it's unexpected, so consider a call instead.


Customize Your Messaging
Once you have all the information in front of you, you can tailor your messaging to each individual or to small groups. With text messaging, something as simple as "Hi [name], are you still interested in a home in [area]?" may be sufficient to break the ice. If you do not hear from a lead at all, add them to a weekly follow-up rotation for at least a month before giving up on them for the time being.


Automate Ongoing Follow-Up
With an AI-driven real estate CRM, many forms of follow-up can be automated. Your social media feed can be populated with meaningful, event-driven updates based on the latest happenings in your market and practice. Sophisticated email marketing campaigns can be managed nearly hands-free.
Delta Media Group helps real estate pros realize the power of automation for themselves — no matter if you're a solo operation or heading a large brokerage. Contact us to find out more or get started today.