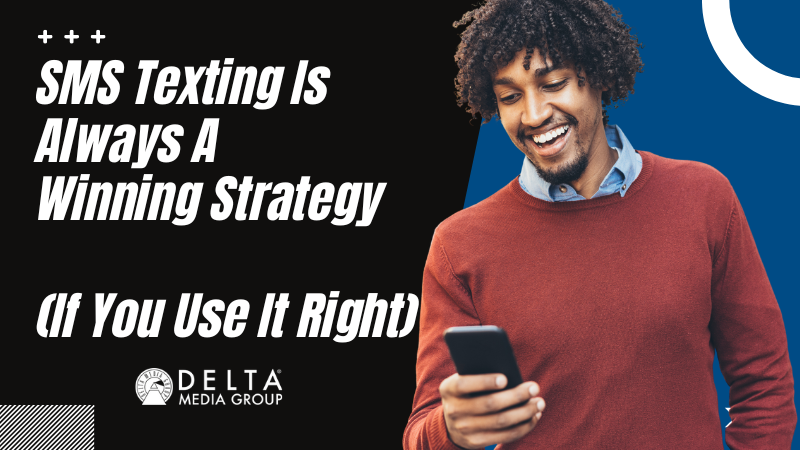 SMS texting has skyrocketed to become one of the most important tools for real estate agents. It can be used to stay in touch with clients at any stage of a transaction, including building a relationship with all-important leads before they commit to making their move.
Since 2017, NAR research has shown that about 90% of realtors prefer to use text messaging — that's just behind emails and phone calls. While all of these options have enormous potential, texting now stands out as a modern and convenient approach that respects everyone's time.
Why SMS Text Can Be Even More Powerful than Email and Phone Calls for Staying in Touch
Emails tend to be on the longer side. They take time to read and digest. If you don't have a strong relationship with the recipient, your emails could be overlooked. On the other hand, texts usually consist of just one sentence and take only seconds to absorb.
The average American checks the phone approximately 96 times a day, or every ten minutes. Texts are integrated directly into most phone systems, requiring just one click to check and showing up right on a lock screen's notifications. By contrast, checking email often takes several taps and swipes.
And in many situations, texting also beats phone calls hands down.
The Millennial generation is now the biggest in the housing market, and Generation Z is surprisingly close behind them. If there's one marketing fact that real estate agents and brokers need to know about them, it's this: They hate voice calls. About 75% of Millennials say they're too time-consuming.
If you are trying to get hold of a Millennial or Generation Z client on the phone, then your interaction has already started with a groan, even if you succeed. On the other hand, you can be certain that your new text messages will be reviewed during the day — sometimes within just a few minutes.
How to Make SMS Text Messaging Part of Your Real Estate Marketing Strategy
As a core part of the smartphone experience, text messaging is here to stay. The majority of smartphone users can send thousands of texts a month, or have fully unlimited texting. Texting isn't just convenient for them; it can also be a huge time-saver for you.
Here's how to make the most of it:
Keep the Conversation Going with Direct Texts
Prospective buyers might need to scan through dozens or even hundreds of listings before they find a property that speaks to them. Once you know their priorities well, you can follow up your listings with a text. Unlike email, text solicits a response right away and enables feedback. Asking a question is a great way to energize your texts, as many recipients will not want to rudely ignore it.


Send Mass SMS Texts to Interest Groups
Done right, mass texts can help you cultivate interest and ensure leads and customers take action. For example, you might send a "text blast" to all the registered participants for an open house. This helps them remember what they already planned to do, which can only be helpful. Likewise, a quick text is valuable when opening up a conversation with a "no-show" attendee.


Awaken Your Cold Leads in a Warm Way
Leads can go cold for any number of reasons. After all, they have plenty of other priorities in mind. If a lead seems to vanish, it rarely means they've given up on their aspirations. Nor should you assume they have chosen another real estate agent. Instead, following up after a week of no contact with "Hi [name], are you still interested in a home in [area]?" can give you all the information you need to proceed.


Use Real Estate Text Message Automation
Just like email marketing, text messaging empowers you by giving you the ability to set up your whole campaign well in advance. Carefully crafted SMS texts equip you to talk to dozens or even hundreds of people as if you were having a one-on-one conversation with each. Real estate text messaging from the experts at Delta Media Group makes it easy, even if you've never texted before.


Integrate Texting and Email Marketing
Email and text share many of the same strengths, and they can go together like peanut butter and jelly. Using the same systems you access through your DeltaNET®6 all-in-one real estate solution, you can link them together so you'll always be in touch. For example, you can automatically send an email about a particular listing followed by a text to get your lead's opinion on what they saw.
The Future Is Now with Text Message Marketing
Text messaging is a powerful, efficient, cost-effective tool for real estate marketing. Contact us to find out more or get started with text message marketing in your practice.