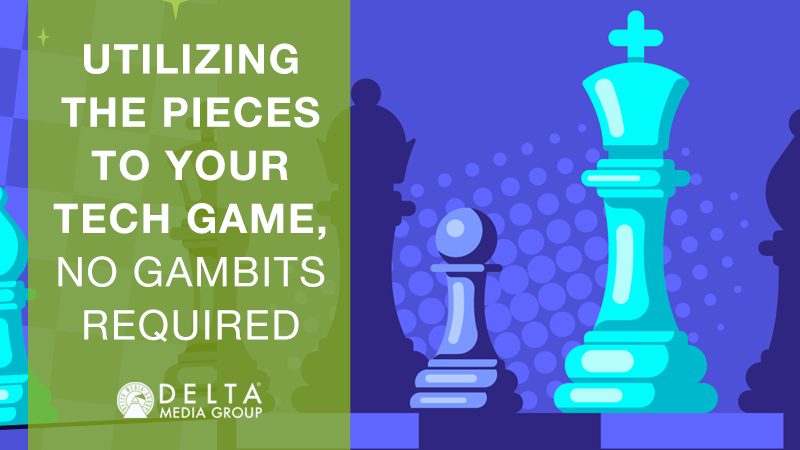 With technology, you can achieve anything faster and more efficiently. Taking an idea from concept to execution becomes so seamless, it might even feel like a game. After all, a game is something you play because you enjoy it. The right technology can make even the toughest parts of work more fun.
In one way or another, most real estate technology is about saving time. Keeping up with technology may have a learning curve, but you'll ultimately save thousands of hours as new platforms make their value known. The effect can be like getting a new team member — or having more hours in the day.
Since technology multiplies your efforts, it has a tremendous effect on independent real estate agents and small brokerages in particular. By automating routine tasks, you'll get more done than ever before.
The question is often: "Where to start?"
From opening move to checkmate, real estate technology can support you every step of the way. Here are a few modern solutions you should consider when you want to bring your game to the next level:
1. Virtual Staging Services
Virtual staging refers to any software suite that can help you present a property in its best light online. Some of these can do things like remove, rotate, or add furniture to a layout, build a virtual tour out of still photographs, or show what a property looks like at different times of the day.
Properties in Motion is a complete virtual staging solution that supports all your efforts, from virtual tours to interactive, video-driven digital showings. It helps you capture more leads using high-quality video with voiceover. Plus, you can instantly share videos on your social media and track engagement.
2. Social Media Automation
Of all the professionals on social media today, real estate agents have the best opportunity to convert their social media following into bottom line value. But getting noticed on fast-moving feeds requires a regular posting schedule. Social media automation for real estate makes it possible.
With social media marketing tools at the ready, you can drive event-based updates to your social feed whenever one of your listings changes status. You can also plan and schedule posts in advance to make sure you're communicating and connecting when your audience is at its most active.
3. Customer Relationship Management
It wasn't that long ago when agents and brokers spent hours every week simply getting apprised about their prospects, leads, and customers. Customer Relationship Management for real estate is here, so you can focus on powerful, targeted follow-up at precisely the right moment.
A centralized solution that provides complete visibility into all your contacts is just what you need to get more value from every interaction. You get custom alerts when it's time to follow up with cold leads or circle back around to ensure active transactions are moving forward smoothly.
4. Paid Advertising Management
Paid advertising is a tremendous opportunity for real estate agents. Unlike many other industries, where a few underperforming ads can tank margins, you have space to experiment and refine your methods. A few hundred dollars in ads could turn into tens of thousands in commissions.
DeltaNET customers have two options to choose from: Ad Wizard for paid Facebook and Instagram advertising or pay-per-click (PPC) advertising through Google Ads. It takes only minutes to configure, tweak, and monitor a campaign that can bring instant traffic to your listings.
5. Search Engine Optimization (SEO)
Most of your future customers look online — for agents and listings — before they ever meet you in person. If your properties aren't ranking for relevant Google searches, they may as well be invisible.
The first step toward more search engine traffic is to have a real estate website of your own. Sharing a listing from the MLS just isn't enough to get the organic traffic that can open the door to lucrative sales.
Search Engine Optimization gets you where you need to go to compete in a modern world driven by Millennial and Gen Z online searches. It builds your potential for thousands of website visits a month using custom hyper-local content, then helps you convert those visitors into leads and customers.
And it's done for you.
It's Never Too Late (or Too Soon!) to Get the Best Real Estate Technology on Your Side
Technology is advancing more every day. But only agents and brokers who look for creative ways to use it will benefit. You can harness the power of artificial intelligence and machine learning in your practice.
What's more, you don't have to pay separate licensing fees for a dozen different solutions. A single AI-driven real estate command center, built in consultation with agents and brokers, is within reach now.
Contact us at Delta Media Group to learn more or get started.