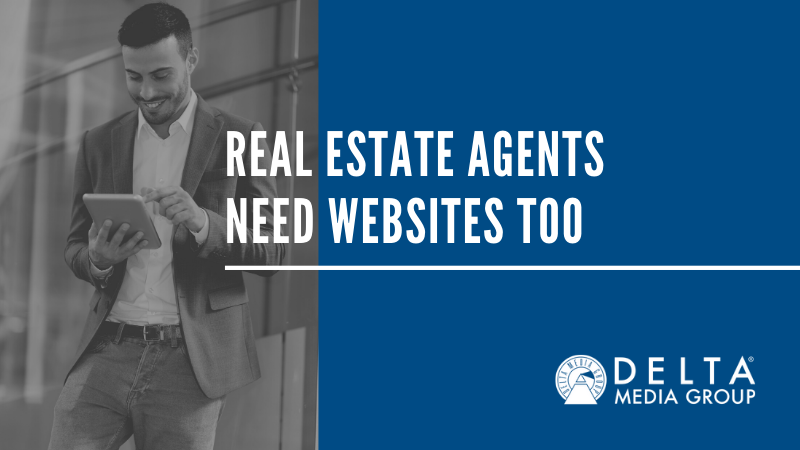 With each day, more and more real estate clients find their next home — and their trusted real estate agent — through online sources. In fact, according to the National Association of REALTORS®, 52 percent of recent buyers found their home online. Without a dependable, high-performance website, it's more difficult to connect with the modern client.
And your website is so much more than a place for clients to shop for homes! The best websites provide a seamless experience, allowing clients to learn about you, find answers to their key real estate questions, fall in love with the communities where you sell homes, and connect with your brand on a variety of online platforms. In other words, it's a lead-generation machine. Still wondering if you need to invest in a website? Read on to find out why real estate agents need websites too.
Establish Your Brand and Online Presence
When a prospective client wants to learn more about you, your brand, and what you have to offer, they typically start by searching online for more information. At its core, your real estate website is where people can find that information and so much more. Establishing your online presence is crucial because that's where most people will be looking for you. Without a website, it will be hard for prospects to find the information they seek, which means they're likely to move on to the next agent.

Connecting Buyers with Homes
Once buyers have an idea of what you have to offer as an agent, you want to make it as easy as possible for them to take the next step. And that next step will almost always be starting to search for homes. With MLS listing search on your website, buyers can search for their perfect home in all of the neighborhoods where you do business. Adding virtual tours to your listings is another great way to accommodate clients, in an era when so many people are shopping for and selling homes online.

Become a Real Estate Resource
If you want to win new business online, sharing your real estate expertise is the perfect place to start. There are countless potential clients out there looking for information on buying, selling, and maintaining homes. By including a blog on your website, you can become a trusted resource for prospects and clients alike. All of your real estate content can live on your website, making it easy for clients to find the information they need to approach their next real estate transaction with confidence. By providing that content, you build trust and show clients why you're the right agent for them.

Showcase the Communities Where You Do Business
In addition to learning about homes and finding general real estate info, shoppers will visit your website to learn more about the communities where you sell homes. This is a huge opportunity to help them fall in love with neighborhoods by using your content to showcase what makes each neighborhood special. Savvy buyers know that finding the right neighborhood is a big part of finding the perfect home, and your website can help them do both.

Building Your Own Brand
If you work for a larger real estate company, it can be easy to get lost in the shuffle when prospects visit the company website. A custom, agent-focused website allows you to build your own personal brand while still remaining part of the larger company brand.

A Hub for Your Whole Online Presence
A diverse online marketing presence is crucial for success, and your website ties all of your marketing together. When you make a social post, write a new blog, or create a YouTube video, it's great to include a link back to your website. And when clients visit your website, they should easily be able to find links to the rest of your online presence.

Share Client Reviews and Testimonials
When a potential client is looking for real estate agents online, "social proof" like reviews and testimonials often play an important role in the agent they choose. Your real estate website is a natural place to share reviews and testimonials from satisfied clients, making it easy for prospects to see all you have to offer.
Whether you're new to the industry or an experienced veteran of the real estate world, an innovative, information-rich website is sure to help you grow your brand. With Delta Media Group's all-in-one solution, you can use custom domains on your own website and take advantage of dozens of reliable tools to help grow your online presence. Our team is here to help you create a dynamic website that flawlessly represents your brand online. Contact us to learn more.