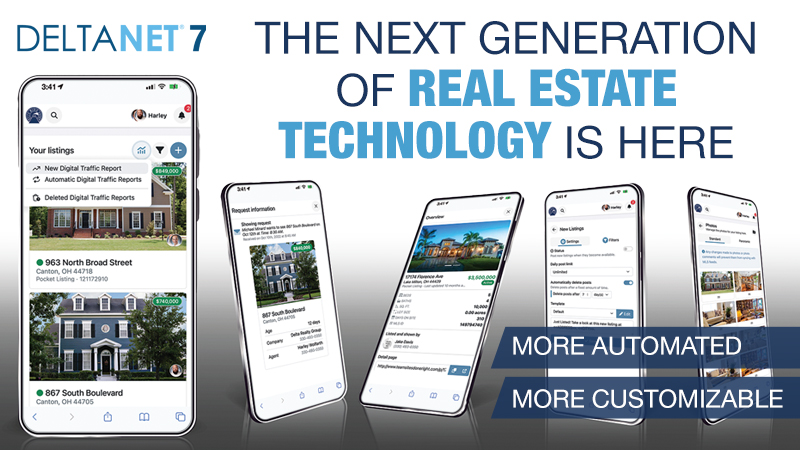 The #1 real estate CRM has never been more simplified, more automated, or more customizable. 
Just as your iPhone or MacBook needs an upgrade every few years, so does your CRM. Give your tech platform an upgrade with DeltaNET 7, the all-in-one solution made simple for all agents, no matter their tech level. 
DeltaNET 7 gives you what you need to grow your business. It allows you to be powerful, be efficient, be creative, be reliable, and be different. Featuring new products like Delta Pitch, Delta Create, and DeltaNET Academy, with DeltaNET 7, there's more you can do than ever before.  
How It All Started 
Dating back to its early days in 1993, Delta Media Group® has been a pioneer in real estate technology. It all began when Wayne Mangold founded the Delta Group company in Beaverton, Oregon, with the vision of bringing real estate information out into the world. Remember that this was before the invention of Google and well before smartphones. So, online real estate listings and agent marketing felt like mere dreams for the future. Nevertheless, Delta created new technology for those in the industry to begin posting their listings online.  
In 1994, the company served numerous clients across the country as they aggregated MLS data feeds that included property photos. Years later, in 1997, Mangold brought on a new partner, and together they were solely invested in growing the company and taking the technology to a larger scale. They created Delta Doors, the groundwork for the DeltaNET® we have today. 
In 1998, Mangold partnered with Chi Chi Cao, re-branded the company as TigerFly Inc., and moved the business headquarters to Sunnyvale, California. TigerFly operated as a business-to-business provider. They had two goals in mind: to help real estate brokerages and franchises take their business online and to build an online MLS platform or e-commerce platform that the brokerage would own and control. 
Two years later, Delta's current CEO, Michael Minard, and three other partners bought TigerFly. They moved the business to Barberton, Ohio, and re-branded it once again, creating Delta Media Group. Delivering the perfect setup for success, Minard came from the tech industry, while the other three partners brought in knowledge from the real estate industry. Minard changed the windows server that TigerFly had in place for their platform to .NET; thus, the DeltaNET CRM was born. 
DeltaNET Through the Years 
The DeltaNET has come a long way since its inception almost 22 years ago. Starting as a simple way for brokerages to list properties online, it evolved into one of the most comprehensive marketing and technology platforms available on the market. And innovation never stops. 
In 2001, as part of DeltaNET® 2, the first version of the lead routing, lead management, and lead distribution platform was formed and integrated into the technology. From 2001-2008, Delta focused on growth within the company and its technology. Accepting and implementing client feedback became a huge priority for Delta, as it still is today. 
Between 2008 and 2016, Delta Media Group worked tirelessly to implement automation, incorporating Artificial Intelligence (AI) into DeltaNET for the first time. Then in 2017, soon after Minard became 100% owner of the company, DeltaNET® 5 launched, followed by DeltaNET® 5.1 in 2018. 
A year later, in 2019, Delta implemented its real-time data translation platform, becoming the only provider on a national level to sync real-time with MLS data. That same year, Ad Wizard and Open House Connector® were created and added to the growing toolkit in DeltaNET. 
DeltaNET® 6 launched in 2020, with new features such as SMS text messaging and email drip campaigns. Patent-pending Quick Actions were also launched in tandem with DeltaNET 6, giving users a quick and simple way to perform daily tasks in the system. Creative Studio was introduced as well, providing agents the ability to design graphics and make custom marketing materials like eCards, flyers, property listing brochures, and more.  
The Arrival of DeltaNET 7  
Now, the next generation of real estate technology is here. Providing the same functionality as DeltaNET 6, with a new interface and workflow, DeltaNET 7 is more simplified, more automated, and more customizable. It's easy to use, allows for creativity, and leads the way with the latest trends in real estate marketing and technology.  
Simplification 
Comprised of all the products and features you already find indispensable, DeltaNET 7 is simpler to use because instead of catering to the 10% of tech-savvy agents, it's built for the other 90% who aren't. Here are some of the ways in which DeltaNET 7 has been simplified: 
With a mobile-first mentality, DeltaNET 7 is more of an app-like experience. Whether you're using it on a phone, tablet, or desktop computer, your toolbar is streamlined to only include the actions you need. 
We take customer feedback very seriously at Delta, and one issue we heard often was that in DeltaNET 6, there was seemingly endless scrolling on many pages. With DeltaNET 7, there's barely any scrolling necessary, as tabs are used to organize pages. A uniform filter icon is also displayed throughout the entire platform to sort through nearly anything you want.  
The Calendar Module is one page in particular that will be much simpler in DeltaNET 7. Previously the calendar did not fit on one page and required scrolling to see what events you had coming up. Now, the calendar not only fits on one page but is far more organized and easier to read, helping you plan better for the week or month ahead.  
Managing your listings is also much simpler with DeltaNET 7. Instead of having a table list view on the page, there are now thumbnails for all the properties you have listed. So, rather than having to scroll through them to find the one you're looking for, you can easily locate and manage any listing by clicking on the thumbnail. 
Another efficient upgrade you'll find in DeltaNET 7 is on the Company News page. Instead of scrolling, company news is now shown in boxes, appearing like a calendar, with the option to filter updates by date instead of searching for them.  
Navigation on the agent profile page is made simple with a workflow that allows you to quickly jump into different sections — such as your website, social media, or phone numbers. Before this, in DeltaNET 6, you would need to scroll through various boxes to find the section you were looking for. 
The latest version of Open House Connector makes it almost effortless to manage your open houses. Through this app, customers can find all the information they need on your open house and easily sign up. It then provides you with a list of attendees and their contact information to follow up and stay in touch with following the open house. Also, you can create a quick survey for customers to take after the open house. This information will help you identify the strengths, weaknesses, and level of interest in the property for sale. The settings in Open House Connector can be easily managed as well, allowing you to turn specific features on and off. 
The role-based system makes navigating DeltaNET 7 more comprehendible for everyone. With this change, admins can set default "roles" for their agents, which can be basic or more involved based on what that agent needs. They can also create new, customized roles for agents, brokers, or other positions within the company. Agents will only see the pages and features that match their role with this system, eliminating confusion.  
Similar to popular platforms like Dropbox and Google Drive, CloudDelta is a file storage system built into the DeltaNET. This system eliminates the need for a third party to store all your files, and it's as easy as ever with DeltaNET 7. 
Automation 
Nearly everything is automated in DeltaNET 7, saving you and your team valuable time. Here are some ways in which automation is used to assist you in DeltaNET 7: 
Smart Drip Email Campaigns are automated campaigns you can send with already prepared emails for buyers, sellers, and homeowners. No matter where the client is in their homeownership journey, these campaigns will ensure that you'll be the first person they call whenever they need something. 
At Delta, we know that staying in touch with customers can be difficult, especially when you have a laundry list of other tasks to get through. That's why we created MCFL. From homeowner tips to guidance for new buyers and advice for selling your home, MCFL newsletters include the information your customers want to know. And with new newsletters published weekly, there is never a shortage of creative content to choose from. MCFL newsletters are pre-written by Delta's amazing content writers, so all you have to do is send them out to your mailing list.  
To attract new clients and keep your existing network up to date on all your latest endeavors, you can automatically share posts on social media using Social Connector. With Social Connector, you can share anything from new property listings to open house information and other news without ever having to leave the DeltaNET.  
Positive customer reviews are a proven way to land new clients, so you'll surely want to show them off. DeltaNET 7 can pull client testimonials from your social media accounts through automation. They can then be displayed on your website for visitors to see. 
With Delta Pitch, Delta's Comparative Market Analysis (CMA) tool, you can automatically create a CMA in just two clicks. Plus, when a potential seller visits the AVM page on your website, they can fill out a form to request a CMA. From there, the CMA will automatically be created for them and sent to you as a flipbook for you to present to them. Providing a simple way to impress sellers with your knowledge of the current market, Delta Pitch is guaranteed to land you new listings.  
There is also an opportunity in DeltaNET 7 to generate branded Market Watch Reports. These auto-generated reports can be created in seconds using informative data on housing market trends, average home prices, recent sales, and more. 
Through My HomeFinder, you can provide your clients and leads with the most up-to-date information on homes for sale in the cities and neighborhoods they're looking to buy in. It even allows you to track user activity to see who's been browsing and what listings caught their eye. 
Seller Reports are also auto-generated. These reports show clients how you've been marketing their homes. Sent weekly, Seller Reports include information such as a traffic report for their listing, the current listing price, any pending sales, and comparable listings. 
To manage your daily workflow and help you stay organized, DeltaNET 7 has the ability to make you an automated to-do list. Through this list, you will be reminded what leads to follow up with and when based on customer interaction on your website. 
Customization 
DeltaNET 7 is highly customizable, giving you the power to take charge and be in control. Here are some ways in which customization comes into play with DeltaNET 7: 
As an admin in DeltaNET 7, you can white-label the entire platform, giving you total control over the design and navigation. You can change anything from the colors to the name. If you don't want the platform to be called DeltaNET, it doesn't have to be. You can name it whatever you want and refer to it that way internally within your company. Our partner success managers are here to help you create your own unique version of DeltaNET that works best for you. 
Along with customizing your DeltaNET, you can custom-create a beautiful website in DeltaNET 7 to attract new customers and show off your brand. Delta websites are not only pleasing to the eye, but they're easy to navigate and have all the tools you need, providing you with the ability to post property listings, open house information, client testimonials, and so much more. 
You can custom-create blog posts to share with customers through DeltaNET 7 as well. Whether you want to give recommendations for local spots in the area, give new homebuyers a checklist of everything they need to know, or give your opinion about the rise or decline in interest rates, you can do so through your blog. And better yet, Delta's talented content writers are always available to consistently write and publish new blog posts for you.  
In DeltaNET Academy, you can custom-create training courses for your agents. Although the virtual training platform has pre-designed courses for just about everything you need to know inside DeltaNET 7, admins can design new courses for their associates related to anything in their business. Courses include customizable slides, videos, and quizzes to teach your team and test their knowledge. Admins can also assign and set due dates for specific agents or groups. 
Delta Pitch allows for customization with the templates and presentations you can create for CMA reports. Delta Pitch is not just a CMA builder; it's an entire presentation builder. Once you create a CMA, it will be integrated into a beautifully curated flipbook. You can customize your flipbook by choosing from pre-made templates and adding and deleting pages as you please. Then, when you're satisfied with the final product, send it to the customer, and schedule a Zoom call to present it. With your presentation skills, market knowledge, and stunning flipbook, when the potential seller decides they're ready to list their home, you'll be the first person they call. 
In Delta Create, you can do everything from design posts for social media and create property listing brochures to make flyers and eCards to send to customers. With pre-designed templates, designing new graphics and marketing materials is simplified, just like everything in DeltaNET 7. 
Transitioning to DeltaNET 7 
If you've been a long-time customer of Delta Media Group, then you likely know how the transition works — as it will be similar to the transition from DeltaNET 5 to DeltaNET 6. If not, you should know that the transition is seamless and requires little action on your end. 
DeltaNET 7 can be enabled on a per-user or per-office basis, so not everyone in your company has to transition simultaneously. That way, if you wish to at first only turn it on for office managers, you can do so, and they can get accustomed to it before your agents begin to use it. 
When transferring to DeltaNET 7, not only do most of the products you already use transfer over but so does all your data. Everything from your leads to your history and custom emails and templates will transfer over with you so that nothing will be lost. By transferring everything over for you, the transition will have little to no disruption for your business. 
With tools like DeltaNET Academy, the help center, and Delta's YouTube channel, all the information you need to get started is already at your disposal. If you want to learn how to use a certain tool or feature, it's as simple as taking a course in DeltaNET Academy. And if you have a specific question, type it in at the top of the help center page, and a list of articles and videos on the topic will automatically pop up. Check out our Tech Tuesday videos, which can be found on our YouTube channel and our social media. In these videos, Delta's Product and Technology Manager, Harley Wolfarth, demonstrates how to use different features in the DeltaNET each week.   
There is also no risk with transitioning to DeltaNET 7 because in the unlikely event you're not happy with it, you can always turn off the update and stick with DeltaNET 6. It's your choice. Just like with everything in DeltaNET 7, you have the power. 
Take Advantage of the All-in-One Platform 
With more you can do than ever before, DeltaNET 7 has everything you need to keep up with current real estate trends. And better yet, it's all in one convenient, easy-to-navigate place. From digital marketing tools like MCFL and Social Connector to managing your listing and prepping for open houses with Open House Connector, DeltaNET 7 is a one-stop destination for all your real estate business needs. Leveraging artificial intelligence, the CRM allows you to work smarter, not harder. 
Delta Media Group designed the DeltaNET 7 interface just for you, based on your feedback from DeltaNET 6. Our goal was to simplify the technology you already know and love, further improving your day-to-day operations. Start using DeltaNET 7 immediately and take advantage of the simplest, most automated, and most customizable all-in-one CRM on the market today. It will change your business for the better.