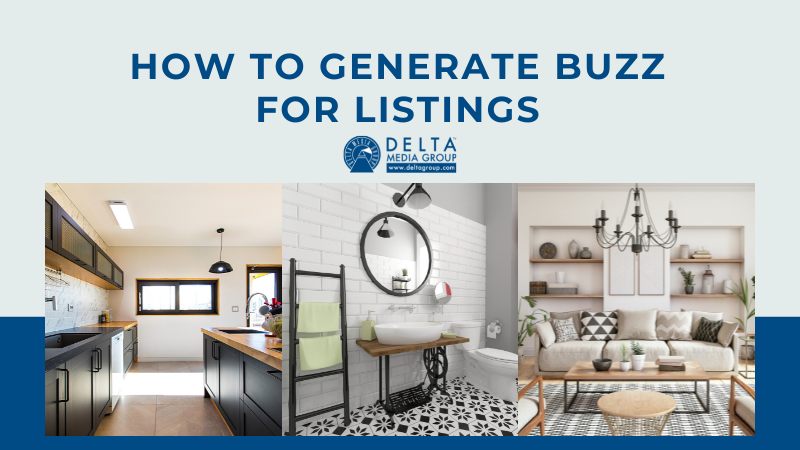 The longer a home is on the market, the less likely it will sell for list price.
Weeks on the market directly impact final sales price, with homes that take 12 weeks or longer consistently facing the lowest prices. While there are many reasons for this, buyer skepticism — the feeling that "something must be wrong" with a property that stays on the market so long — is a major factor.
Lingering on the market creates "anti-momentum" as buyers can (and do!) negotiate harder.
By contrast, homes have better odds of selling for above listing price if they go right away.
With that in mind, many real estate agents launch proactive plans to drum up buzz for a listing before it even goes live online. With the right strategy, you can channel the wave of enthusiasm among proactive buyers to exceed your customer's wildest expectations for their listing's performance.
Put First Things First to Position a Listing for Maximum Buzz
You can raise the visibility of virtually any listing by unleashing a concerted effort to draw the right buyers in.
However, you're much more likely to achieve a smashing success if a few preliminaries are taken care of.
To win the most local buzz, a property must:
Be correctly priced to sell

Be shown in its best light
Finding the appropriate price for a property is one of the most important services you can provide to any seller. Make sure you have found the right comps for the job. Explain the data and methodology to the seller to win buy-in. This is especially crucial when a seller's sentimental value is out of line with true market value.
If you need to get the process done faster or simply want to double-check your figures, you have options. The DeltaNET 6 all-in-one solution helps you by drawing in estimates from five trusted sources using the latest data. You never need to worry that while you're hunting down comps, the market is changing around you.
And, of course, a home should look its best before you start to publicize in earnest.
Work with your seller to ensure that any renovations, remodels, or repairs will be done in time for your buzz campaign. Then partner with a home staging professional to put on the finishing touches: that usually includes cleaning, decluttering, and redecorating to accentuate the positive in every space.
Then, you're ready to attract the right buyer like a magnet! Here's how:
Lay the Groundwork for Spectacular Open Houses
Digital marketing is crucial for sales success, but many real estate agents have gotten great results mailing hand-written invitations for an exclusive open house to potential buyers throughout the neighborhood. The invite can link to a custom landing page where you collect registrant info with ease using Open House Connector.


Theme Your Open Houses and Make Them Exclusive
What's the secret to making an open house even more enticing? First, it should be exclusive to the invitees you selected. Later on, you can capitalize on Fear of Missing Out. Second, pick a theme. Whether it's something simple like wine and cheese or you invite a local food truck, think of a creative hook buyers will find compelling.


Follow Exclusive Open Houses with Public Ones
A well-planned open house might yield the perfect offer right away. If it doesn't, you can follow up with another open house, this one encouraging walk-ins. With this dual approach, you'll have buyers who have been thinking about the property for weeks as they hear about your exclusive event over and over.


Set Up Virtual Tours for Those Who Miss the Events
Naturally, not everyone will be able to make even two or three events. Both your attendees and latecomers will benefit when you post a virtual walk-through or video tour. Buyers who are interested, but haven't put in an offer, may simply need one more reminder about what made a property special.


Use Email Marketing Throughout the Process
Once sign-ups start rolling in, be sure attendees are on your email list to get reminders about the upcoming event. Follow up with anyone who fails to attend and let them know about pending events, if any. Would-be attendees who never show up could still turn into leads later on — simply follow up with them and find out.


Hype Your Listings on Social Media Platforms
DeltaNET 6 customers can use Facebook Connector and LinkedIn Connector to post news and updates about any listing automatically. Instagram is another outstanding opportunity, especially if you have terrific photos. Last but not least, don't forget about the option of using online advertising to help a new listing gain traction.
Buzz makes listings take off like a rocket, getting you and your clients better results. For more on how digital marketing can help, contact us.