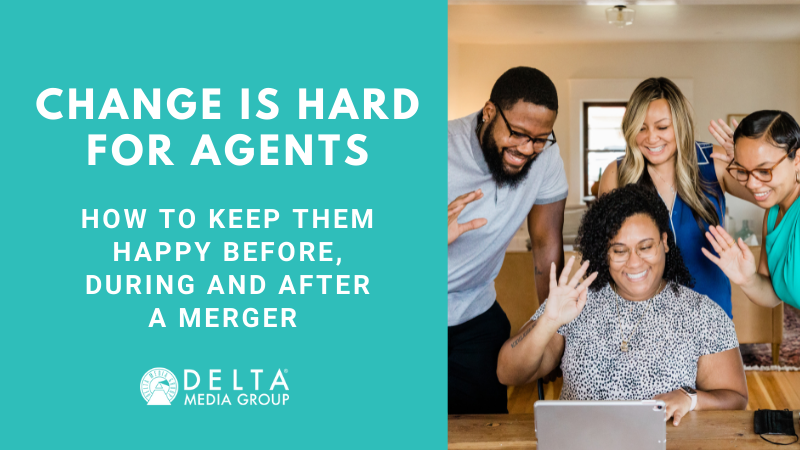 The most successful real estate agents tend to have a steady routine. They know their team, their brand and what they must do each day to achieve their goals. So, change can be a challenge even for the most experienced agents, just as it is for newer agents who are still establishing their foothold in the industry. A merger represents a significant change for any agent, but it can also lead to new opportunities for agents to thrive.
Keeping your agents happy throughout the merger process comes with its challenges, but it's one of the most important things you can do to make your merger a success. Transparent communication, honesty and a willingness to listen are all key ingredients in keeping your team on the same page as you transition to a new era. So, let's take a deeper look at what you can do to keep agents happy before, during and after a merger.
There are two sides to the coin for agents who are part of a merger, with the fear of change and the unknown being balanced by the new opportunities that the merger presents for them to grow their careers. How each agent perceives a merger depends largely on how you communicate with them, how well you prepare them for the transition and what they have to look forward to once the merger is complete.
Start With Open, Transparent Communication
Change is scary. That's as true for agents who've been with you for 25 years as it is for the promising, new agent who has recently closed their first few deals. How much that fear of change influences agents depends on how well you communicate with them throughout the merger process. So much of the fear of change comes from fear of the unknown, which is one reason why transparent communication is so important.
When you keep your agents informed, provide details and focus on open, transparent communication, those agents will naturally have less to fear. They will know what to expect from each step of the process, how to prepare themselves for the transition and where they'll stand when the merger is complete. Just as agents want clients to be able to imagine what their lives would be like in a potential new home, you want your agents to be able to imagine what their careers will be like after the merger.
These conversations won't always be easy, but they are necessary. The bottom line is that every agent is planning for their own financial future, and the possibility of a merger can have a big impact on their personal career plans. Effective communication helps keep everyone on the same page and gives you the best chance of keeping agents happy during a merger.
Provide Frequent Updates Using All Channels of Communication
Transparent communication is important, but it can only have the desired effect if that communication is also consistent and accessible. One of the easiest mistakes to make during a merger is to provide your team with a healthy dose of information upfront but then let communication trail off as time passes. Even if those initial details give agents a lot to look forward to, fear of the unknown is sure to creep back in if communication doesn't remain consistent over time.
So, you'll want to have a plan for providing frequent updates throughout the process to keep your agents informed and give them confidence about what comes next. When you're providing those updates, don't just rely on one channel of communication. An email with bullet points can provide important facts, but a video message or video call can provide greater context while allowing for a more personal touch.
Communicating through multiple channels has another key, practical benefit. Most teams have agents from various generations, and each agent will have their own preferences regarding communication channels. By providing updates through all channels of communication, you can ensure that your message gets through to each agent in the most comfortable and accessible way.
Create a Private Facebook Group to Provide an Open Forum For Conversations
So far, we've focused mostly on how you can communicate effectively with agents. However, it's equally important to ensure that agents have an open forum for communicating with management, and with one another. Starting a private Facebook group for your team to discuss the merger is a great way to foster the back-and-forth communication that is crucial to success.
This is one area where your willingness to listen, understand where agents are coming from, and respond in a thoughtful, transparent way will be critical. Agents will have questions, concerns and curiosities about what the future will hold for them after a merger. Those questions won't always be pleasant, and that's okay. Agents will naturally be concerned about their professional futures during a merger, and any tough questions they may have will be coming from an honest place.
A private Facebook group also provides a safe place for agents to interact with one another regarding the merger. Keeping an eye on what agents are discussing can provide valuable insights into what they're thinking and feeling, which can ultimately help you communicate more effectively with your team.
Showcase the New Tools and Opportunities That Agents Will Have
Another key element of effective communication is showcasing all the positive things that agents will have to look forward to after a merger. While the details differ case by case, mergers often provide new perks to help agents thrive.
Perhaps you're merging with a company known for its effective digital marketing practices, which can help every agent grow their personal brand within the larger company while generating more and better-quality leads. Maybe the combined financial strength created by the merger allows you to invest in new technology that will directly benefit agents, like a modern, feature-rich real estate CRM that can make their lives easier in many ways.
In many cases, the merger may create opportunities for agents to reach new markets or gain a stronger foothold in their existing markets. A merger might mean adding new divisions to the company, which will allow agents to branch out into luxury or commercial real estate if that is their preference. A larger team also means more learning opportunities, whether through mentorship for new agents or through experienced agents trading tips on what works best for them in specific markets.
Whatever the benefits are that agents can look forward to after the merger, make sure to communicate them clearly. It's so much easier to keep agents happy during a merger when they know that they'll have tangible, professional benefits that can help them grow their own careers and increase their earnings after the process is complete.
Stay Focused on Positives While Providing Proper Context and Perspective on Negatives
Let's be honest. In most cases, a merger is a mixed bag for agents, especially from their perspective. Ideally, the positives will strongly outweigh the negatives, but those negatives will still exist. Since agents are naturally so focused on how the merger will impact their own careers, it can be easy for them to focus on the negatives even if the merger will have positive benefits for them in the long run.
Keeping agents focused on the positives is an important part of your job during a merger. As we detailed in the previous section, there are usually plenty of things for agents to be excited about regarding a merger, so you should have no shortage of benefits to focus on when discussing the future with your team. Always be honest, but try to keep conversations focused on the positives as often as possible.
However, focusing on the positives doesn't mean ignoring any negatives that may be part of the process. Instead, try to provide the proper context and perspective on any factors that agents could view as negative. Even if they don't like one aspect of the merger, it will be much easier for them to digest if they understand why a change is necessary. When agents focus on the positives while understanding the context of the negatives, the transition of a merger is much easier for everyone involved.
The Bottom Line: A Successful Merger Starts With Communication
If there's been one consistent theme in our deep dive on mergers, it's that effective, transparent, consistent communication is the key to unlocking a prosperous future for both you and your team. Keeping your agents informed is the best way to keep them happy throughout the process while making them feel involved and invested as a result. Fortunately, you have a wide variety of tools available to help you keep them up to date. Balance honesty with positivity, and be prepared to answer questions in a transparent way.
Remember, too, that the merger is just the start of the journey. Communication isn't only important during a merger. It's also a key factor in the transition period after the merger is complete, while your agents adjust to the new normal. Keep your agents on the same page, and your business will emerge from a merger stronger than ever before.