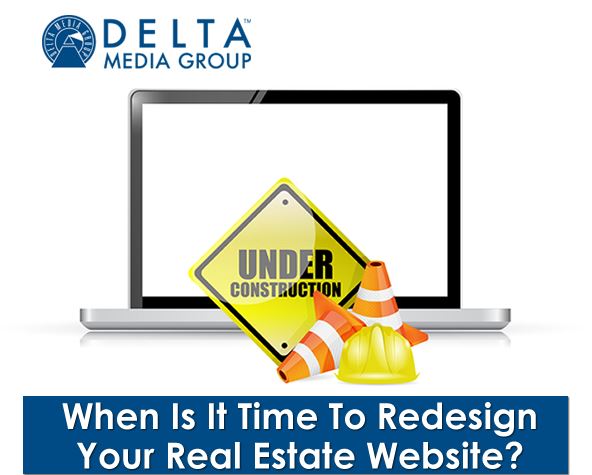 Your website is your most important piece of real estate for promoting your business online. It's the hub of all your online marketing efforts, the place where clients come to learn about your business, and of course the perfect place to show off all of your fabulous listings. But the tools, tactics, and trends that drive website design are constantly evolving, which means that consumer preferences are constantly evolving, as well. A well-timed website redesign is the best way to keep your real estate website up to speed, but how do you know when it's the right time for a redesign?
Our team at Delta Media Group is here to help, with 5questions that will help you determine when your real estate website is in need of a redesign.
The Latest & Greatest: How to Tell When It's Time for a Real Estate Website Redesign
Is my real estate website optimized for mobile browsing?
If your answer is "no," then you don't even need to read the rest of the list. It's time for a redesign, because mobile browsing really is that important. This is especially true in real estate, where your clients like to browse listings, research neighborhoods, and reach out to agents in the way that's most convenient for them. There are two primary options for making your website more mobile-friendly, depending on your needs:
Responsive website design allows your site to scale to fit the size of any screen, so it will look and function well on the whole spectrum of mobile devices, as well as desktop computers.


Mobile-first website design still allows your site to fit well on any screen, but the primary design focus is on the mobile experience.
Does my website appear on the first page of search results?
People who use Google to search for real estate information are much, much more likely to click links on the first page of search results than anything that comes after, and there's even a big difference between landing at the top and bottom of the first page of search results. Search engine optimization (SEO) is one of the most important lead-generation tools for your real estate business, and a website redesign is the perfect opportunity to get you SEO in order.
Can my website visitors find what they need?
The user experience is key to the success of any website, and navigation plays a big role in how easily (or not) people can use your website. If your menus, links, website search, or listings search have seen better days, it's time to start thinking about a redesign.
Do I love the look of my website?
In the world of web design, appearance matters. You don't need to update every time a new design trend emerges, but it's important to make sure that your site doesn't look too dated. We've all landed on an old, outdated website at one time or another, and let's just say that look doesn't inspire confidence in the customer.
Do my clients (and agents) love my website?
Testing to see what works and what doesn't is a huge part of successful website design. Taking feedback from the people who use your website allows you to see things from a different perspective, and tap directly into the needs of your audience. Ask your clients and agents for honest, unfiltered feedback to see where your website stands.
Thinking about a real estate website redesign, and ready to take the next step? Contact Delta Media Group for all of your web design, SEO, and real estate marketing needs.
Save
Save
Save