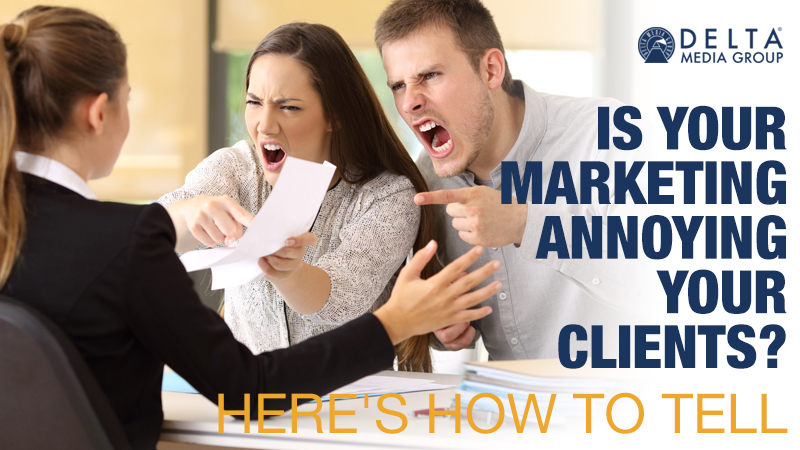 Getting used to presenting yourself as an expert is one of the first challenges any real estate agent faces. Self-promotion is something often looked down upon. Confidence might take a while to build, and you need to effectively project that confidence even before you have a track record of results.
Naturally, it gets easier and easier with experience. But nobody wants to feel like they're annoying their contacts and customers. The fear of being annoying can stop you from speaking up early in your career. And even once you're rolling along, it can still be a concern. That's especially true with digital marketing.
Good digital marketing should seem like a personal message from you to the recipient. But we all know the truth: You could be speaking to ten, a hundred, or a thousand people. Of all the names on your list, some of them are bound to get annoyed simply because they don't like marketing.
But if your communication turns off a noticeable portion of your audience, there's a bigger problem.
When you work hard to get leads on your list, only to lose them soon after, it burns your time and energy. So, it's crucial to be alert to the signs that your marketing isn't quite on track — and fix it.
Is Your Marketing Annoying? These Signs Can Tell You
It's a strange paradox that two of your most powerful digital marketing tools — email marketing and text message marketing — are among the ones most likely to get on a lead's bad side. Most leads won't come right out and say you're annoying, though. The signs are more subtle, and you've got to tune in.
Here are some of the key signals to be aware of:
People Sign Up to Your Email List, Then Leave
A small percentage of people will do this, anyway. It's one way to get a hold of your lead magnet — a piece of deeply researched, informative content — without having to get marketing messages. If it's frequently happening, check to make sure the lead magnet is truly valuable and compelling.


Lots of Subscribers Bail After a Specific Message
Every time you send a message out to your email subscribers, you will probably lose some of them. It's a fact of life. That may be one or two at the beginning or a handful for larger lists. An exodus that's much bigger than average suggests an annoying email. Check for a misleading subject line or other problems.


No One Responds to Your Follow-Up Text Messages
An old sales adage suggests you need to be ready to follow up 12-18 times, but what happens when no one is responding? The most likely issue is that your text simply isn't that interesting. To get responses, try ending with a question. If a lead goes cold and doesn't answer after three texts, simply move on.


Leads Complain About Your Marketing
While most people keep mum, you might find people complaining about your marketing. This is more likely if they consider your methods especially intrusive. Be sure to watch your Google and Yelp Reviews. You can sometimes get negative reviews removed if the person has never actually used your services.
Maximize the Impact of Your Digital Marketing
Even if you run into a few setbacks, that's no reason to give up or slow down your digital marketing. For any one email or social media post, there's always a good chance a big part of your following won't see it, so you should never shy away from posting frequently.
Here's how to get your marketing back on track:
Verify Your Content Is Tailored to User Interest
Problems with email marketing often come down to list segmentation. Buyers should be getting content relevant to them, sellers likewise, and past clients should receive helpful homeownership tips. Double-check your message targeting and be sure buyers only get emails with listings that match their needs.


Work on Your Email Subject Lines
Subject lines are the part of an email most likely to agitate people. Bait and switch subject lines are the worst: Things like "My lawyer wants to talk to you," for example. Email marketing automation provides easy tools to test subject lines against each other and enhance read and response rates.


Upgrade Your Content Quality
Good content is useful and informative. It helps people answer a question or solve a problem so they can make the right move in today's market. DeltaNET equips you with tools like Market Watch Reports that more of your buyers are likely to appreciate and respond positively to.
Above all, keep going. The more content you share, the more likely you are to land on something that resonates with your audience. Contact us to discover how AI-driven automation can help.