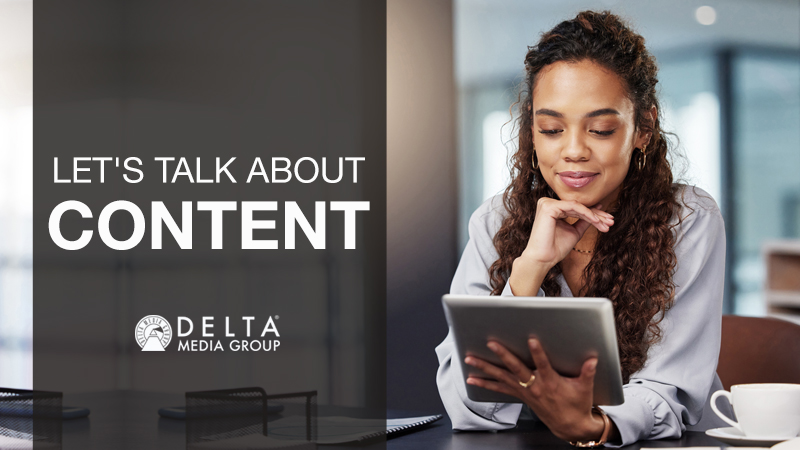 If you're looking for a way to build your online visibility, you've probably heard about content marketing. But what is it exactly and why should you use it?
Content is any useful, informative material you publish online to help your audience answer a question or solve a problem. Content is crucial to your digital marketing for two main reasons:
It serves as a preview of the value you have to offer those who ultimately choose you

It enables you to appear in higher result positions for searches related to your business
To create a flourishing practice with a full pipeline and the right measure of work-life balance, you'll need to make the most of both these advantages.
Previewing your value is critical because most people who encounter you for the first time aren't ready to buy or sell just yet. It may be weeks or even months before they decide to make their move. Thanks to content, you have a way to strengthen your relationship throughout all that intervening time.
On the other hand, more prominent search positioning means more people will be exposed to your message. The more prospects you have, the more leads you may acquire in a given period of time.
Content doesn't solve every major quandary you'll encounter during your marketing. Your real estate website still needs to be optimized to convert first-time visitors into appointments. Without that piece of the puzzle, greater attention from search traffic won't translate into bottom-line value.
But content does establish the foundation you can build on for many years to come.
The Four Most Important Things to Know About Content Marketing
If you're new to content marketing, it's not unusual to be intimidated by all the different methods and tools. It seems like everyone has their own approach to the subject. Instead of trying to decide which is the best, it's most valuable to pick a place and dive in.
To make that easier, here are the things about content marketing you absolutely must know:
There Are Many Different Types of Content
In the broadest sense, everything is content: Blogs, videos, social media posts, photos, infographics, and the rest. But when you're just getting started, it doesn't mean you need to do "a little bit of everything." On the contrary, it is often best to choose one or two methods that you can stick with reliably.
To begin, you might decide to publish one new blog post a week. These can focus on topics relevant to your audience, such as home financing or local neighborhoods. From there, you might decide to add one video a month based on the previous month's most popular blog and so on.
It's essential not to go overboard in the early stages, as you might burn out before you see real results. One way to keep that from happening is to use only the social media network where you know your ideal customers are found. Instagram is a good start, with LinkedIn for high-end luxury properties.
All Content Should Have a Call to Action (CTA)
Content helps deepen trust and raise online visibility as a matter of course. But that's not all content can or should do for you. Every piece of content has the potential to move people through your sales funnel. Doing so depends on having the right call to action at the end of every content piece.
For example, your blogs might end with a CTA to join your email marketing list for a weekly round-up of the most valuable content. Your email messages, on the other hand, could have their own CTA aimed at getting your subscribers to set up an appointment and give you a call.
One strange piece of selling psychology has been proven over and over again: People won't "take the next step" unless you specifically spell out what it is! So, be certain you know where each content piece fits in your overall strategy and craft your CTAs accordingly.
Your First Six Months of Content Should Be "Evergreen"
Evergreen content is any content that's relevant to the vast majority of first-time website visitors and rarely needs to be updated. For instance, if you develop a series of blogs about getting your finances ready to buy a home, this will be very valuable to first-time homebuyers, and the fundamentals rarely change. Remember: Every piece of content can have an impact for years to come!
Visual Content Empowers Promotion
Content works best when you have means of promoting it, which is where social media marketing and email come in. But getting people to slow down and pay attention is no easy task. Ideally, all content should feature photos. All in all, videos get more attention than plain text content.
Contact us to learn more about content marketing today.