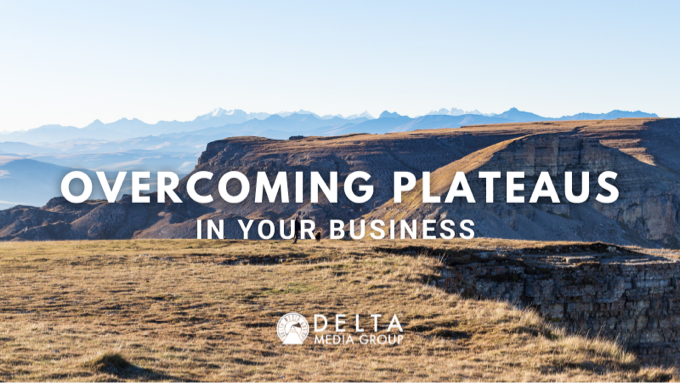 One of the most challenging and satisfying aspects of leading your own business is finding new ways to make what you do even better. When you reach a plateau, it's especially important to look at your work processes in a spirit of experimentation. This is what helps you go to the next level.
A plateau is a situation where:
Your business fundamentals are all working well

Your outcomes in key areas tend to be consistent

But you are not advancing toward better results
Plateaus can take many forms and look different for everyone. Sometimes, overcoming a plateau may be a simple matter of changing your time management basics. As time goes on, however, it becomes more likely a business plateau is driven by structural issues.
At that point, big change is needed to unlock your full potential.
Business Plateaus Tend to Strike in the First 3-5 Years
The first few years of any real estate professional's career are generally focused on finding and improving areas of weakness. There's plenty to learn, and you need a command of all of it to see a client through a transaction.
Once you have confidence in your skills and clarity in your brand, it's a whole new ball game. Years 3-5 are about putting reliable processes in place and finding ways to draw customers to you instead of chasing them.
There are two common ways to get stuck at this point:
You might already feel like you're doing everything you can but can't seem to build momentum

Having so many options about how to build your practice, it might not be clear what to do next
Whatever a plateau looks like for you, there is hope.
The truth is, virtually every real estate professional will reach plateaus now and then. It often takes months before you realize you've hit one! And though the middle years are the most likely time to hit your first plateau, it can happen earlier or later. After all, it's just a signal to evaluate what you're doing.
Luckily, you can equip yourself to manage plateaus and reach ever-greater heights!
Making the Best Use of Your Time is Crucial to Overcoming Any Plateau
All plateaus require new ways of thinking. Thinking about your time is the best way to start.
Your schedule might be so jam-packed with urgent tasks – especially related to finding new leads — you can't do one more thing well. That's a sign it's time to prioritize: narrowing the scope of your attention so you spend most of your time on the things that yield the greatest impact.
"Easier said than done," you might think, especially as a one-person shop.
But there is a way to get more time in your day: automation.
Digital marketing automation with a high-performance AI-driven center of excellence can eliminate hours of work every single week. The right software provides a dependable, all-in-one marketing experience with seamless integration into the applications you already use. The results are twofold:
You spend much less time managing social media, email marketing, blog posts, and the rest

You get consistency and superior results because these tasks are automated to high standards
Let's examine some of the ways digital marketing automation can work for you:
Leave the plateau behind and contact Delta Media Group today to get started with DeltaNET™ 6.