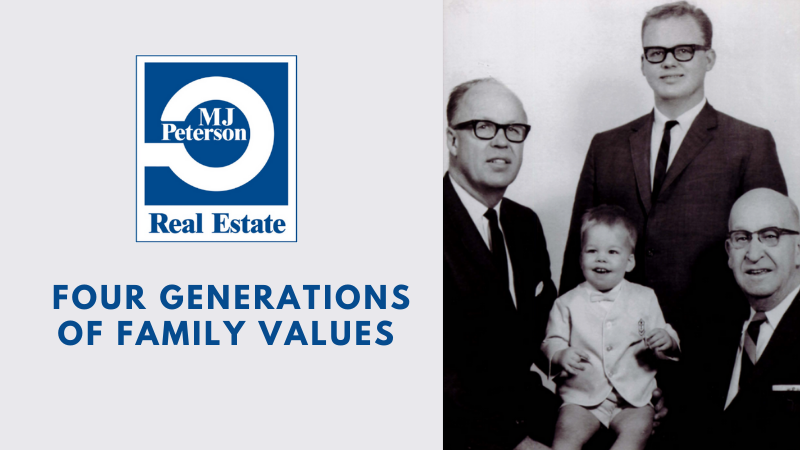 They say that family is the heart of the home. And for MJ Peterson Real Estate, a family business serving the Western New York region for over 91 years, that certainly rings true.
In the early 1930s, following the Great Depression, Marvin Peterson and his family moved from Detroit to Buffalo and started building houses. What began as a simple home-building venture ultimately became one of the most successful real estate companies in Western New York. With Victor (Pete) Peterson III being the current owner, four generations later, the Peterson family still owns and operates the business they started many years ago.
For over 91 years, MJ Peterson Real Estate has been serving the Western New York region. The company saw a huge expansion and achieved substantial growth during that time. Today, MJ Peterson has eight office locations and over 200 agents. They have over 3,300 units for rent — including apartments, condos and houses — along with residential properties, commercial properties and new construction for sale.
"With the Peterson family, we really take people all the way — from getting college kids into their first rental, to their first condo, to their first home, to their golden years home, and then downsizing," says Bret Llewellyn, General Manager at MJ Peterson.
What Makes Them Special
"At MJ Peterson, we do more than list and sell houses...we make our client's dreams come true," says Pete Peterson.
Since the company was founded, MJ Peterson has built more than 6,000 single-family homes. They developed some of Buffalo's oldest neighborhoods and have contributed to HUD-sponsored moderate and low-income housing developments. Following World War II, MJ Peterson built starter homes in Tonawanda and Amherst. They also built luxury condominiums, family and senior housing developments and commercial properties, such as office buildings and retail shopping centers.
MJ Peterson's efforts were recently recognized by community organization Buffalo Business First with a 2021 Family Business Award. The honor highlights "multi-generational and family businesses in Western New York for overall excellence, innovation, ethics, philanthropy and strength of the region."
Unlike most other real estate companies in the region, the work at MJ Peterson doesn't start and end with renting and selling properties. The organization's long list of services includes new home construction, property management, domestic and international relocation services, land development, lease option and trade-in programs, property appraisals and mortgage placement.
Partnering With the Community
MJ Peterson offers so many services because of their incredible partnerships, one of which is with Premium Mortgage. MJ Peterson strives to work alongside their clients to help them move forward. In cases where people have been renting for two or three years to save up for a home, MJ Peterson will pair them up with Premium Mortgage to assist them with credit counseling and help prepare them to buy. Once they are ready, the company will release them from their lease and automatically pair them with an agent to help them find the perfect property to buy. This partnership is not only useful and educational for clients, but agents appreciate it as well.
"I think that's a good model. It keeps our tenants engaged in the process of homeownership versus renting," says Terri Campbell, Branch Manager at MJ Peterson. "It gets them some credit counseling with our mortgage partner, and it keeps some of our agents on their toes."
For MJ Peterson's unique building division, they work with local builders. They have been partnering with Chris Tucker of Tucker Homes for over 30 years and have since added several other builders. According to Campbell, the building division has made a huge impact on the company's growth, considering "if you've got the land, you've got the listing." This is especially important in the current market, where inventory is particularly low. At the moment, they have about 250 lots in Lancaster, NY.
MJ Peterson has also established an effective partnership with Robitaille Real Estate, which was acquired in 2018 to form MJ Peterson – Robitaille Relocation LLC. That same year, Mike Robitaille, former NHL defenseman for the Buffalo Sabres, signed on as VP of Public Relations.
Thriving in the Digital Age
It's no secret that technology has changed the way we do just about everything in our lives, and selling and buying real estate is no exception. What was once accomplished through direct contact or putting an ad in the local newspaper is done almost completely digitally now. With websites, social media, email and third-party real estate apps like Zillow and Redfin, there's nothing you can't accomplish with the touch of a button.
"If you're going to survive, it's got to be in the social media aspect. It's got to be in the IT at this point," says Llewellyn.
At MJ Peterson, the staff understands the importance of adapting to the digital age, that the days of print ads and yard signs are behind us. The company recently hired its first-ever Social Media Director and has a skilled IT Director on staff, Bill Trautman. Bill is there to help the agents at MJ Peterson with all of their technological needs, whether that be with DeltaNET® or something else.
"Now that we have the internet and the wonderful opportunities that we have through programs like DeltaNET, it's a no-brainer," says Campbell. "And sometimes I think that teaching old dogs new tricks is difficult, but I will tell you that Bill Trautman in our IT department will sit one-on-one with any agent in the company and get them up to speed."
Finding the Right Agents
There is a lot to consider when it comes to finding the right agents. For instance, some recruiters look for industry experience, while others have no problem hiring someone new to the real estate game as long as they fit in with the company culture.
For MJ Peterson, it's the latter. When hiring a new agent, they consider qualities like community involvement and likeability. Whether they have experience in the business or not isn't the issue; it's whether they have the skills and the right personality for the job.
"I like recruiting people from other aspects of business in this town, and two of the very successful, rising stars in one of our offices that we were able to recruit, one is an attorney who works in the trust department at the local bank," says Campbell. "The other was a branch manager of a bank for 20 years and then was an office assistant in a legal firm. These are the people you want. These are people who get business in town. They know a lot of people, and this is a great opportunity for them."
When recruiting new agents, they also seek out those who exemplify true passion and motivation. They believe this is particularly important in an industry like real estate, where you won't necessarily have instant success, and people tend to weave in and out.
"I really like to go ahead and start out with an agent that's been in the market a year or two who is doing that $1 million, $2 million, $3 million, because taking somebody from that $2 million to $4 million or $6 million with the right tools is much easier," Llewellyn remarks. "And it's like we want to go ahead and know that they have the motivation and they have a passion for this because nine out of 10 new agents are gone after year two because they don't want to pay their dues, because they only sold two houses."
Training New Hires
Once an agent is welcomed aboard, the training process begins. At MJ Peterson, they have a comprehensive program that allows new hires to quickly and effectively get up-to-date with the industry and the company processes. MJ Peterson has a "Leap into Success" program, which is a five-week course. During this program, participants have the opportunity to listen to various speakers on different subjects.
For new agents, training also includes learning the technology and setting up their custom website, customer database and digital marketing campaigns through DeltaNET. Overall, the training process is meant to cater to each agent's individual needs. At MJ Peterson, they believe that this is the best approach, considering every agent is different and has a unique set of skills and experience.
Once an agent completes the onboarding process, the training doesn't end there. MJ Peterson offers continuing education courses throughout the year. One of their favorite events is the Breakfast of Champions, a Q&A series with the more experienced agents where they discuss topics like luxury living and how to survive tax season over coffee and pancakes.
Maintaining a Family Culture
"We remain committed to never lose[ing] sight that our business is people," states Pete Peterson.
MJ Peterson may have grown quite a bit since its early days, but that doesn't mean it doesn't strive to maintain the same family culture that the company was founded on. Pete Peterson prioritizes instilling the same values in his current staff that his family had when they first arrived in Buffalo and began building houses. One way that Peterson does this is by having an open-door policy that allows agents to stop in at any time. Whether they want him to attend their event, give his two cents or answer a question, he's always there.
"If anybody ever needs anything, Pete's always available. His door's always open. He'll address whatever your concerns are and make sure he takes care of you," says Trautman. "So that's one of the good things about coming to a family company, and that's why I'm here. I've seen both sides, family companies, and I've seen corporations where the family company is far better because you're out one-on-one with the owners, and it's a first-name basis."
Being located in a smaller city like Buffalo also helps MJ Peterson maintain that family feel. Having a more tight-knit community enables them to use a community-oriented approach and achieve a sense of trust and community among agents and staff.
Addressing the Issues
Shortage of inventory. Inflation. Interest rate hikes. These are just a few of the issues that may come up when working in real estate. That said, it's important always to stay ahead of the curve.
For MJ Peterson, that means a lot of things. First, during a time like this, when inventory is low, they can rely on their rental properties to keep things moving. They have more rentals than just about anyone in Western New York, and they are close to the University of Buffalo, meaning young adults are constantly moving to the area looking to rent. Their building division also helps prevent a shortage of inventory from becoming a problem because if you build houses, you will always have houses to sell.
When it comes to navigating issues like interest rates and inflation, it helps to ensure that clients are educated and prepared financially. Hence, they're ready to buy in any climate. That's why MJ Peterson's partnership with Premium Mortgage is so essential. These partners will come to their offices, sit down with a client and work out a path for homeownership that works for them. So, when the time comes, whenever that may be, the client has what they need to buy, and the agent can make a sale.
Another way they keep momentum is by making sure they are placing their offices in the right locations and that those communities continue to thrive. MJ Peterson recognizes the importance of seeking out clients in areas with profitable, growing businesses. For example, in Buffalo, there is an M&T Bank that is currently hiring over 2,000 new employees. This growth has paved the way for a surge of new homebuyers to settle in the area. MJ Peterson is also centrally located in Amherst, which happens to be the second-largest city in Western New York, providing them with a vast pool of potential clients and businesses.
"They're Here Because of Delta"
MJ Peterson believes that working with Delta Media Group® has had a huge impact on the success of their company. They feel that Delta is why so many agents want to work there and why they stick around.
"I've talked to so many agents that [have said] they're here because of Delta," Trautman says. "They don't have the technology anywhere else. And then once they see everything that Delta has to offer, they love it."
One of the main reasons they love Delta is its impact on recruitment. This is largely due to Delta's patent-pending SEO, which puts agents on the map.
"Google your name and then google your competitor's name and see where you land in the search results. Every time we're in the top two," says Trautman.
Another game-changer provided by Delta is how simple it is to find sales leads. At MJ Peterson, they have found that over 50% of their leads are generated through Delta. They have also noticed that Delta is particularly beneficial for new agents when finding their first leads, enabling them to hit the ground running.
The staff at MJ Peterson is also very fond of the digital marketing tools Delta offers, such as blog posts, email campaigns and electronic postcards. They've found that these resources assist them both with finding new clients and retaining current ones.
Where Are They Going?
Over the past three years since using Delta, MJ Peterson has brought in over $140 million in new agent business. And in the past three months alone, $45 million. They feel confident that with Delta, they can continue to grow even more.
"We're planting seeds out there. We're growing them. We're going ahead and watering them," says Llewellyn.
The company plans to expand to have nine or 10 offices in the near future. However, they plan to stay local. Their ultimate goal is to become the person to go to in Western New York, not to extend to places like Syracuse or New York City that have completely different markets.
Over the past 91 years, MJ Peterson has come a long way. The previously small family construction business is now one of the top real estate organizations in the region. It has so much more than just building and selling homes to offer. It's an organization that people in the community want to work for and work with. But despite seeing tremendous growth, MJ Peterson's original vision remains the same: to build strong neighborhoods based on family values.