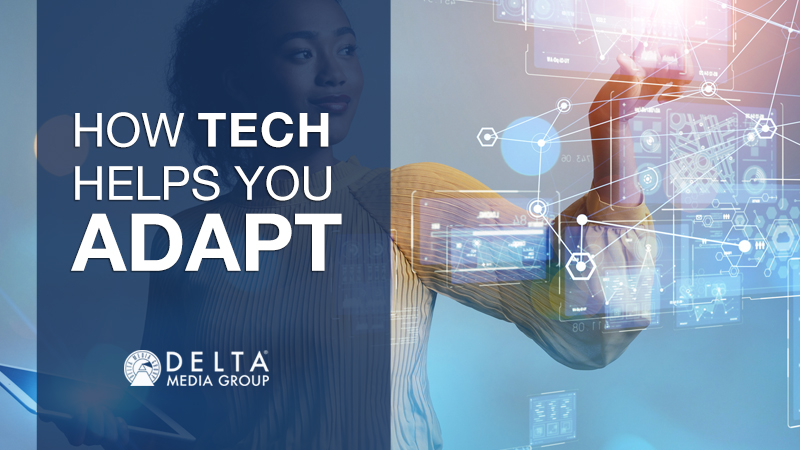 Real estate is an industry that requires innovation, adaptability, and ingenuity in order to thrive. Just look at the last few years alone. Agents went from conducting business normally to handling everything virtually in the blink of an eye, and now we're transitioning to another new era that blends both worlds. Yet many agents have found ways to post some of the best numbers of their careers, even as the wider world has changed so rapidly.
Throughout the roller coaster of recent years, one of the few constants has been that technology is the key that allows agents to adapt and thrive. As an agent, technology can both help you adapt right now and provide the template for you to thrive in the years to come.
Meeting the Needs of Modern Real Estate Clients
Over the last few years, real estate clients have become more comfortable than ever with shopping for homes from a distance. Consider tech like Properties in Motion, as well as the virtual open houses and showings which have helped buyers find a new home from the comfort of their current one. Even as in-person showings and open houses return to prominence, these online tools provide a valuable supplement to seeing a home in person while allowing buyers to shop in markets located far away from their current location.
While the focus of many online shopping tools is on the buyer, they can help you attract sellers, as well. Showing a seller all of the ways that you can market their home, both online and through traditional channels, is essential to earning their business. If you want to provide the best possible service to all of your clients, tech is a dependable way to up your game.
The Present and Future of Artificial Intelligence
Once a dream in science fiction novels and movies, artificial intelligence (AI) now has a growing impact on many aspects of our day-to-day lives. We're just scratching the surface of what AI can do, and its present-day applications are already very exciting for the real estate industry. Take marketing, for example. Within the DeltaNET, you can already use AI-driven print and email newsletters to keep your clients informed on the topics that matter most to them. You can also keep clients up to date with auto-generated Market Watch, My HomeFinder, and Seller Reports.
In the future, AI will have even more applications, from marketing your brand to analyzing data and helping your clients find the perfect home. No matter what other new tech emerges in the future, there's a good chance that AI will be leading the way in helping agents adapt to the times.
Automation to Make Your Life Easier
Time is money, and the right real estate tech can save you both. Allowing you to save time on repetitive tasks and reduce your marketing workload are two more ways that tech can help you adapt. In addition to the AI-driven tools that we've already discussed, tech can also make your life easier through automation. Wouldn't it be nice to set up automated smart drip email campaigns to supplement your AI-driven newsletters? Couldn't you save a lot of time and effort with automated lead segmentation paired with interactive lead visibility? All of these things are possible with today's real estate tech, leaving you with more time to serve clients, close deals, and focus on the parts of the job that you enjoy most.
Gaining an Edge Over the Competition
One general point to remember about technology is that not everyone in the real estate industry adopts new tools at the same speed. This can be a disadvantage if you are slower to adapt to new changes, but it can also be a major advantage if you're willing to stay ahead of the technological curve. Agents and real estate firms who make the most of new technology are able to gain an edge over the competition.
Tech like automation and AI can save money, time, and energy, leaving more time to provide the best possible service to clients. The latest lead gen tools can give you a leg up on attracting new clients and create opportunities that your competition might miss. Behind the scenes, new ways to collect, search, and parse key data can reveal insights that impact every part of your business. All of these opportunities are only possible if you embrace real estate technology.
Integrating the Tools You Need in One Convenient, Easy-to-Use Package
Of course, tech is most valuable when it's easy to use and available when you need it. The DeltaNET combines the latest real estate technology in one convenient package, all designed to be easy to use for you and your team. Why wait for tomorrow when you can benefit from the best real estate tech today?