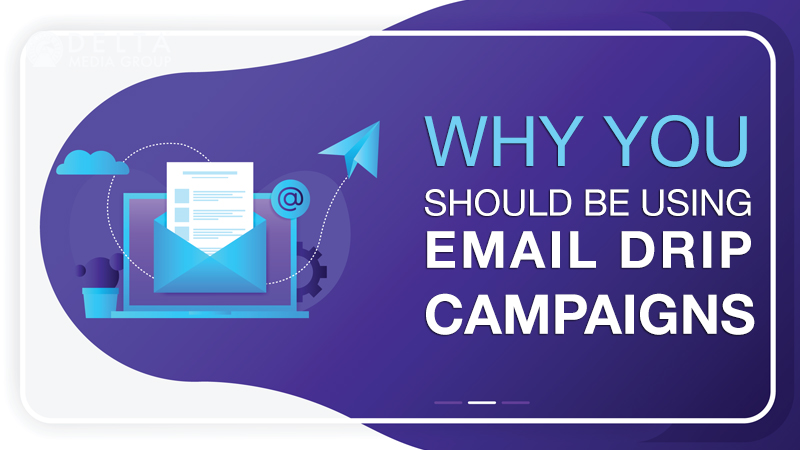 Keeping in touch with clients and nurturing leads doesn't have to be a chore. Email marketing doesn't have to take too much time from your busy day. You really can increase the success rate of your marketing and save time without compromising on quality.
Email drip campaigns provide potent, reliable solutions to some of the most common marketing challenges faced by real estate agents, allowing you to stay in touch in a way that makes more sense for both you and your audience.
Here's why you should be using email drip campaigns, along with some proven tips to help you make the most of this powerful marketing tool.
What Are Email Drip Campaigns?
Email drip campaigns are built around automated email series which are sent to clients or leads over time, with little effort required on your end. Rather than sending out individualized email blasts or overwhelming your audience with content, drip campaigns provide timely, tailored content designed to appeal to different segments of your audience. The content in email drip campaigns is built to inform your audience, help them make decisions, and provide the information they want to see at just the right time.
The Advantages of Email Drip Campaigns
Keep in Touch Without Overwhelming
One of the challenges with email marketing is that we all get so much of it in our inboxes each day. It's easy to start tuning out that marketing when you see the same messages, from the same brands, with the same content, every time you open your inbox. In the case of email drip campaigns, less is more. Rather than overwhelming your audience with email, you send content that they want to see at just the right frequency to help cut through the noise of crowded inboxes and stay top of mind.


The Right Content at the Right Time
Perhaps the biggest reason that email drip campaigns are so effective is that they are designed to educate your audience with informative content that they actually want to see. Whether you're directing a campaign toward buyer leads, seller leads, or past clients who've already closed on a home, email drip campaigns can provide helpful hints at the right time to simplify the next steps of their real estate journey. When you send content that your audience wants to see, you'll leave them looking forward to the next message in your campaign.


Save Time and Improve Marketing Results
What agent wouldn't like to save time without compromising the quality or effectiveness of their email marketing? With email drip campaigns, little input is required on your end. The process is automated, so you don't have to worry about sending emails manually or picking the perfect time to reach out. All of that is handled for you, so you're free to spend more time focusing on providing great service to your clients.
Tips for Setting Up Effective Email Drip Campaigns
The first step for successful email drip campaigns is to segment your audience. Campaigns are designed to appeal to different segments of your audience, like buyer leads, seller leads, and past clients, so it's important for the right campaign to reach the right group. Planning ahead in this way will increase open rates and enhance the impact of your email marketing.
Campaign Ideas for Buyer Leads
Buyers crave information on markets and homes, so the best campaign ideas tend to focus on those topics. Whether you're sending the latest listings, updates on market trends, resources to help them make informed decisions, or community guides on the places where they're shopping for homes, knowledge is power for buyers.


Campaign Ideas for Seller Leads
Sellers want tips to help them sell their homes quickly and for a great price. This can include tips on preparing their home to list, home staging, open houses, market trends to help them price their home correctly, and educational resources to help guide them through the process.


Campaign Ideas for Past Clients
Email drip campaigns can also help you earn more referrals and future business from past clients. New homebuyers will appreciate tips on home maintenance, home improvement ideas, interior design, and the latest happenings in their neighborhood. You can also keep them up to date on any changes to your business, like new services or expansion into new markets.
Leverage Email Drip Campaigns and So Much More with the DeltaNET
Ready to enjoy the benefits of email drip campaigns and enjoy access to tons of other easy-to-use tools that can help you grow your real estate brand? The DeltaNET, our real estate all-in-one solution, integrates all of the tools you need to level up your marketing game. With the right real estate tech, you can maximize your marketing, provide better service to clients, and save tons of time in the process.