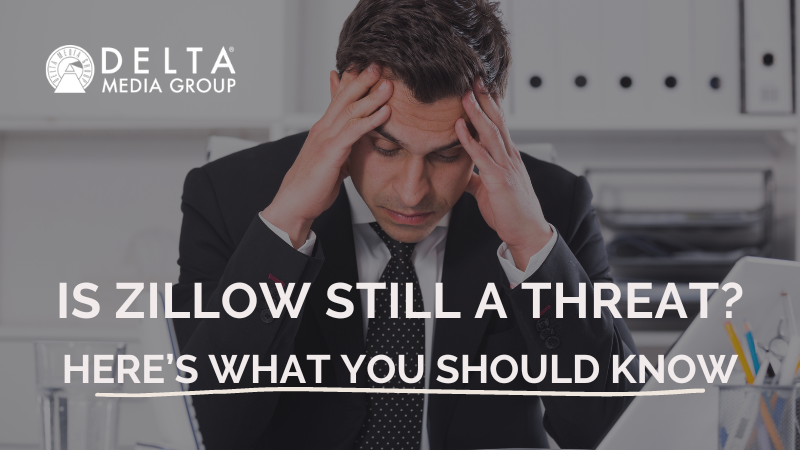 Zillow has endured some notable failures recently, including shutting down its Zillow Offers iBuying program after consistently taking losses when flipping the homes that it purchased. But does that mean that the threat of Zillow is over for real estate agents? Not quite. While Zillow is no longer in the business of purchasing homes, it's still a popular, well-known platform that many people turn to for real estate information.
The good news is that, while Zillow is still a threat, there's plenty that you can do to stay out in front and provide a level of service that big platforms can't match. Zillow's clout comes from its name recognition and size, but agents and smaller real estate firms have the advantage of being nimble. With the right tools to boost your marketing and provide personalized service, you can stay ahead of big-name brands like Zillow.
Your real estate CRM, like DeltaNET®6, is one of your most powerful, reliable tools for overcoming the threat posed by companies like Zillow. Here are some of the many ways that your CRM can help you stand out from the crowd.
Provide Personalized Service by Knowing Your Leads and Clients
Whether you're gathering data on new leads or keeping track of the needs of your clients, your CRM allows you to keep all of the information that you need to provide great service in one place. With all of your key data in one place, you're always ready to provide personalized service and connect with clients in meaningful ways. It's not just about remembering names and contact information. The data that you compile lets you know what your clients want, where they stand, and how you can help them move forward with their real estate goals.
Take Advantage of AI and Automation to Boost Your Marketing
As an individual agent or small real estate firm, simply finding the time to stay ahead of brands like Zillow can feel like a tall task. DeltaNET 6 offers many time-saving benefits to help you stay ahead, from auto-generated, AI-driven newsletters to smart drip email campaigns that can help you reach out to large segments of your audience with content that converts. All of this can be done with little effort on your end, leaving more time for you to provide the level of service that keeps clients coming back again and again.
Segment Leads to Send the Right Message at the Right Time
Automated lead segmentation is another tool that both saves time and leads to better results with your marketing. One of the biggest challenges with marketing is making sure that the right message reaches the right person at the right time. Every lead is at their own place in their real estate journey, and knowing where they stand can help you reach them with the content that they want to see. Segmenting leads also makes it easier to know which leads to prioritize so that you can invest your effort where it will make the biggest difference.
Track Data to Improve Results
We've already touched on how being nimble is an advantage compared to big companies like Zillow, and part of being nimble is a willingness to find out what's working, as well as what could be improved. With analytics and tracked email marketing, your CRM can provide you with the data that you need to make informed decisions about your business. You don't have to guess what's working and what's not. You can easily learn more about your strengths and discover insights that help improve upon your weaknesses.
Integrations Put Countless Tools at Your Fingertips
The tools within DeltaNET®6 extend far beyond the basics, including integrations with dozens of popular platforms that can help you market your business, promote your listings, build deeper connections with your clients, and make your life easier in the process. Why scour the internet to find every tool that you need when you can have it all available in one place? Just one more way that your CRM can help you stay ahead of Zillow.
Zillow May Be a Threat, but You Have the Tools to Overcome It
Even with some very public failures, the threat of big-name online real estate platforms like Zillow is unlikely to disappear completely anytime soon. That's why it's so important to take advantage of the tools that you have available, like DeltaNET®6, to attract new leads and provide the best possible level of service to your clients. There's no one magic fix to overcome big brands like Zillow. Instead, it's the sum of all of the small things that your real estate tech provides, along with the ability to innovate and adapt at a much faster pace than the big, corporate brands.