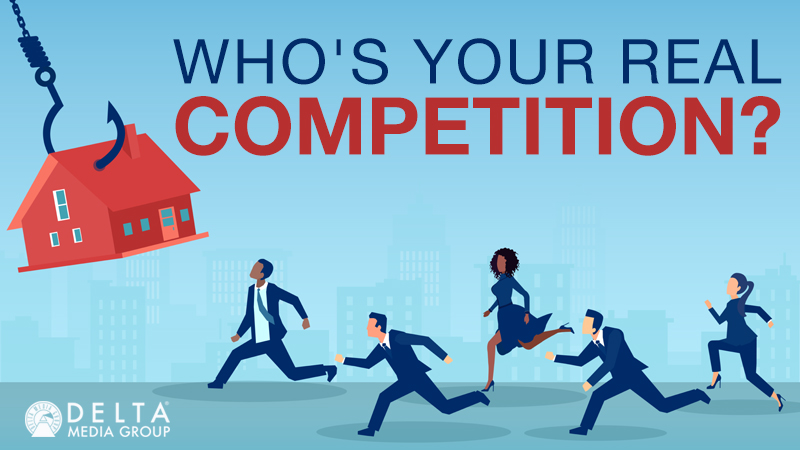 In the digital age, competition for real estate agents and brokerages comes from every direction, from other brokerages in your region to massive, online platforms like Zillow aiming to capture as much of the market as possible. With dramatic fluctuations in interest rates and inventory, the volatile nature of many markets only increases the level of competition.
So, how do you get ahead? It starts with having the right tools to generate leads, market properties, promote your brand, and stay one step ahead of the competition. Reliable real estate technology can make an enormous difference in an industry that's more competitive than ever, and here's how.
Who's Your Real Competition?
In order to excel compared to the competition, you need real estate technology that's easy to use for team members of all technology levels. With the latest edition of our real estate CRM, DeltaNET 7, we've made it easier than ever for real estate pros to adopt the latest tech. We've leveraged AI (artificial intelligence) to make the platform even easier to use than ever before, and created an experience that's just as functional to use on the go with mobile devices as it is on the desktop computer in your office.
Save Time and Boost Productivity with AI and Automation
There's no doubt that providing outstanding service can help you thrive against the competition, and that's easier to do when you don't have to worry about tedious tasks clogging up your schedule. With DeltaNET 7, you can automate email marketing with distinctive drip campaigns, automate social media posts, send automatic listing alerts to clients, and share AI-driven newsletters with your audience. You can also create auto-generated to-do lists to help you manage your schedule and focus on the tasks that matter most each day.
Streamline Your Workday to Focus on What Matters Most
Every moment counts in an industry as competitive as real estate, so it's important to focus your time and energy where they will have the most impact. With DeltaNET 7, we've added some new tools to help you manage your time while further optimizing all of your favorite tools from previous versions of the DeltaNET. No, you can benefit from automated, AI-driven to-do lists, which make it easy to organize your day, manage your time, and tackle key tasks. You can even design specific roles for team members within DeltaNET 7, focused on the tools and features that they rely on the most.
Create Meaningful Marketing with Just a Few Clicks

Speed matters in a competitive industry, but not at the expense of quality. The marketing tools within DeltaNET 7 offer both, allowing you to create customized, modern marketing materials. Delta Create can help you make everything from listing brochures to custom graphics, flyers, eCards, and more. Start with a pre-designed template, then customize it to suit your brand and your audience. For agents, Delta Pitch simplifies the process of creating CMA reports, allowing you to create detailed reports for your clients in just two clicks.
Easily Create and Share Social Proof
Social proof is one of your greatest assets for generating and converting leads, so it's more important than ever to be able to easily share all of the positive feedback you get from clients with the world. With a built-in testimonial system, DeltaNET 7 simplifies the process of gathering and sharing your social proof in the form of client testimonials. These testimonials are ideal for posting to your real estate website, sharing on your social feeds, and integrating into your marketing materials.
An Easy Transition to the Latest Real Estate Tech
Now, the best real estate tech in the world is only valuable if it's easy for your team to adopt and use. When you have one eye on the competition, you don't want to waste too much time getting up to speed with all of your new tools. Within DeltaNET 7, you will find DeltaNET Academy, our virtual training platform which streamlines the process of getting your team on board with your tech.
Team members can take advantage of built-in training courses that teach them how to use the extensive list of tools and features in DeltaNET 7. We also offer the Delta Transition Guarantee to ensure a smooth, streamlined transition to your new real estate CRM.
Is Your Real Estate Technology Truly Working for You?
When competition is this fierce, can you really afford to rely on anything other than the best for yourself and your team? The tools in DeltaNET 7 are all designed to help you outshine the competition, whether you're a small, boutique brokerage or a huge national brand. With the right tools for marketing, time management, productivity, and relationship building, you can help your team thrive no matter what type of competition is waiting around the next corner.