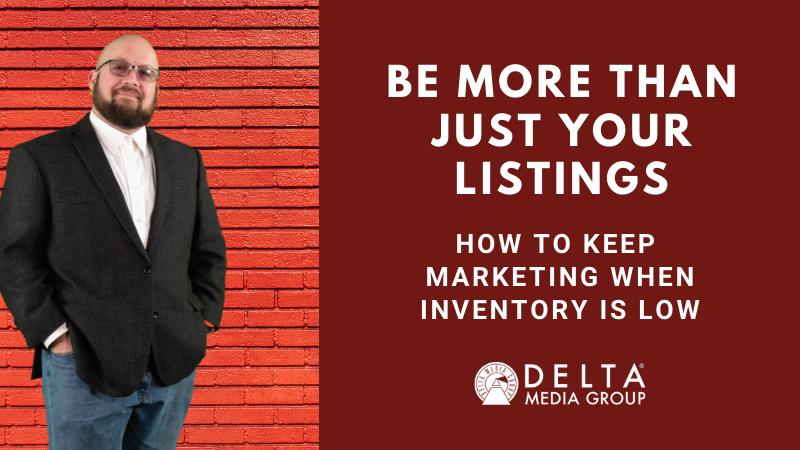 In the past few months, you've probably noticed that listing inventory has been extremely low, at least in most of the country. As if it wasn't enough that current homeowners are less apt to sell during these uncertain times, labor shortages and supply chain issues have slowed new home builders down. When you're used to most of your real estate marketing being centered around new listings, it can be tough to keep the leads coming in with limited listings on the market.
But fear not, because I've laid out some tools you can use to keep marketing your brand so that when people are looking to sell again or for those that are still looking to buy now, you're the first name that comes to mind.
Use Ad Wizard to Post to Social Media
Even when you don't have any active listings, you can still market yourself and your website on social media. There's nothing wrong with a Facebook or Instagram ad that just features you and links prospects back to your website instead of features a listing. Even when inventory is low, plenty of buyers are still looking, and your website can still provide them with a lot of value, given that buyers must find and inquire about a new listing fast if they want to have any hope of getting it in today's market.
Suppose a customer comes to your Delta website and saves a search. In that case, they can be notified immediately via both email and push notification when a new listing that matches their search criteria comes on the market. That has always been useful, but with how fast listings are selling at the moment, having that kind of edge is more important than ever. Ad Wizard is a feature that can be found in DeltaNET® that allows you to create several different kinds of ads and post them to Facebook or Instagram. It includes simple branded ads to market yourself and get people coming to your website to save those searches or even just look around.
Set up "My Customer For Life"
The My Customer For Life (MCFL) system is another great feature of a Delta Media Group® website and CRM that can keep your customers engaged even when you don't have listings to show them. If you've read any of my articles before, then you know that the MCFL system is a common topic for me. What can I say? It works. We even have the data to back it up. Whether they're buying, selling or are happy right where they are, clients like these articles, and the open rates prove it. There's no better way to keep a customer engaged than sending them the information they actually want.
For those unfamiliar with the MCFL system, this system allows you to share informational articles related to buying, selling and homeownership via email, social media and your website. Even those past clients that are no longer in the market will find a lot of value in reading them. The best part is that, in addition to making them available to read on a page of your website, you can add your clients to a mailing list to have a few of these articles sent directly to their email each week. The system then keeps track of the articles they engage with so that it can send them more of those kinds of articles in the future. New articles are created in-house each week by our extremely talented content writers. Did I say they're talented? Well, they are.
Start Blogging
If you'd rather create your own content, Delta websites also include a blogging platform. Like the MCFL system, these articles can be shared in ways beyond just your website. You can subscribe past clients to your blog, or they can subscribe themselves on your website so that they're notified every time you write a new article. You can also share these articles on social media or, even better, configure the Social Connector system in the DeltaNET® to post them to your Facebook, Instagram, Twitter and LinkedIn pages for you every time you write a new article.
Share Good Reviews
Next to listings, there's nothing that brings customers directly to you more effectively than good reviews. Not only can you store your customer reviews in the DeltaNET and display them on your website, but you can use the Email Campaign or Eblast system to solicit them from your past clients. You can even configure Social Connector to share them to your social media accounts automatically as they come in. This is a great way to market yourself and your website when there aren't a lot of listings, and like MCFL, it's almost entirely hands-off after a little configuration.
Make eCards and Flyers
Don't forget about ecards and flyers. Creative Studio, along with the legacy eCards & Flyers system found on the Marketing Center page, might be something that you're accustomed to using for sending out ecards for listings. However, there are numerous templates in both systems designed to help you market yourself too. Some are just branded marketing pieces, but there are a wide variety of designs for occasional greetings like holidays and birthdays as well. There are even designs meant to celebrate pet birthdays. Every time you send a "Happy Birthday," "Happy Easter" or "National Donut Day" ecard to a past client or prospect, it becomes that much more likely that you're the person they'll call when listings start coming back on the market.
This all goes to show that, even in times when there aren't many listings available, there are plenty of ways you can continue to market yourself. Real estate marketing isn't entirely about listings. Content related to homeownership and even things as simple as a holiday greeting card can help put your brand on top when the listings return and buying and selling ramps up again. It's coming, and your diligence will pay off when it does.