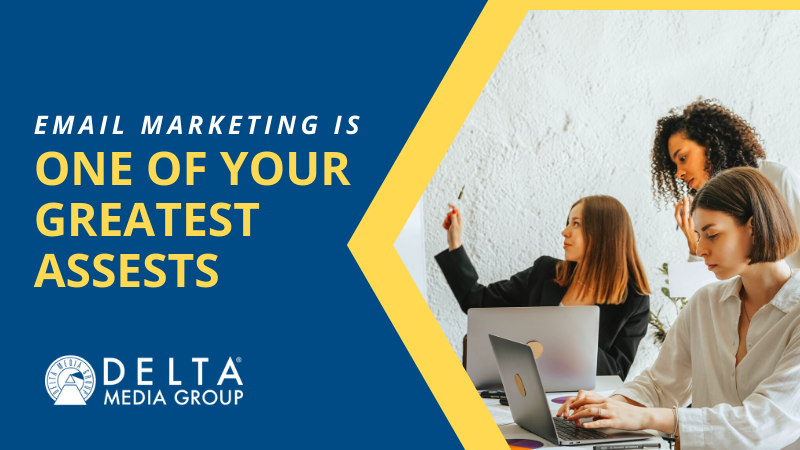 One of the most powerful digital marketing approaches is also the least expensive.
Once you set it up, email marketing costs only pennies a month. With an all-in-one real estate solution like DeltaNET®6, you automate the process. That leads to a constant flow of targeted emails that deepen relationships with your prospects, leads, and current customers.
Not sure email is right for you? Experts estimate email offers more than $30 of ROI for each dollar spent. With email, you have the power to inspire your potential customers, helping them get off the fence and onto the market.
Some real estate agents worry about rules and regulations that apply to email marketing. Luckily, all the compliance issues are handled by your CRM as long as it's configured correctly. That gives subscribers a one-click solution for unsubscribing, which represents the bulk of your responsibilities.
In exchange for this little bit of digital housekeeping, you can leverage a powerful opportunity to stay in contact with your entire network all at once — providing targeted, valuable content to each individual on your list based on their specific needs and interests.
That helps you transform your brand and position as a true local authority.
What Email Marketing Drip Campaigns Are and Why They Work
When you look at email marketing as part of your overall digital marketing strategy, you will probably see the term "drip campaign" frequently. A drip campaign consists of emails you send on a regular basis, typically once a week, but sometimes every two weeks or once a month.
With a drip campaign, you are consistently staying in touch. Each subscriber gets useful, informative content that helps them make informed decisions. At the same time, they become more familiar with your brand and what you can do for them.
For a drip campaign to be successful, there are some key aspects to be aware of:
Email List Segmentation
Segmentation means creating smaller "sub-lists" within your email marketing list to ensure the right people get the right information every time. One of the most obvious examples is having a segment catering to would-be homebuyers and a separate segment for those who have completed the buy.
With email list segmentation, you can laser-target each person's questions and worries wherever they are in the process. Segmentation enables you to get more repeat business than you otherwise would and centralizes the process of asking for referrals, too.
Email Timing
Most email subscribers are recruited through the content on your website, though some may join your list through a current home listing or after signing up for an open house. Whatever the case, it's crucial to set expectations upfront, so they are opting in with complete consent.
If you promise emails once a week, email only once a week. Change things up only in the most serious of circumstances. When people understand what to expect, they are less likely to unsubscribe since they trust you to do exactly what you said you would do.
Another aspect of timing is sending out your emails when your target audience is most likely to be active. You can optimize these settings directly from your CRM. For most working adults, online activity jolts upward around lunchtime and again in the early evening after work.
Calls to Action
Every piece of content, from your blog posts to your individual emails, is meant to inspire action in some way. Most blogs will direct people to sign up for your social media or email, for example. Your email, in turn, usually focuses on getting people to call you for the first time to set up an appointment.
You make this explicit with a call to action or CTA. A CTA can be very simple — "add to cart" is probably the most common one along with "call us today." Each email should have one CTA, though it can be repeated throughout the text if the message is long. Without it, most people simply will not take action.
Limited Time Offers (LTOs)
Limited time offers (or LTOs) are common in retail and other industries, but they need a special spin to work in real estate. It makes sense when you take a step back and look at it strategically: The point of an LTO is to motivate people by giving them a sense of scarcity. The same can be done with your listings.
When you have a hot listing that you know will stand out, promote it to those in your list you know are looking in the area. You can make it even more effective by using a video walkthrough or virtual tour to help them see for themselves just what makes the property special.
Contact us today to get started with email marketing drip campaigns from digital marketing experts.