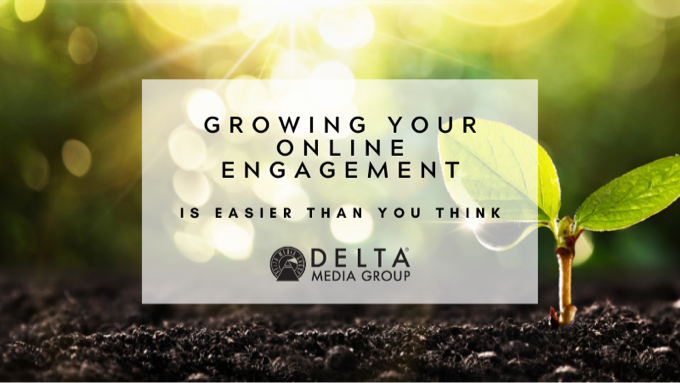 The end goal of your online marketing is to create a reliable source for converting clients, and generating engagement is one of the most important steps that leads to that goal. But with so much competition for attention online, increasing your engagement can feel like an uphill climb. The good news is that growing your online engagement is easier than you might think, with the right tools, tactics, and a willingness to invest consistent effort into achieving your engagement goals.
Know Who You're Trying to Reach and Where to Find Them
Before you get busy with specific engagement tactics for your online marketing, it's critical to understand exactly who you're trying to reach. That's because the best tactics for generating engagement will differ depending on your target audience. Whether you're planning out your website content, social media strategy, or paid advertising, start by considering the needs and online habits of your target audience.
When you know who you want to reach, you can get busy learning about the best places to find them online. This is especially important for social media because different demographics favor different platforms. Research any social platform you're planning to use ahead of time, integrate best practices, and ensure that you're investing your energy in the places that will deliver the best results.
Invest Your Time Wisely on Social Media
While there are many places to grow your engagement and guide people to your website, it's tough to top the efficiency of social media. With the right tactics, you can spend more time generating engagement on social platforms and less time thinking about what to do next.
Less Promotion, More Conversation
Spending too much time on promotion and not enough time on conversation is one of the easiest mistakes to make with social media marketing. That doesn't mean that you can't showcase listings or highlight all of your great content. It just means that the most successful real estate brands and agents on social media invest significant time in engaging with their audience. Always remember that engagement is a two-way street, especially on social.


Want Engagement? Start by Asking Questions
If you want to inspire conversations and get your social connections to engage, asking questions is the perfect place to start. Think about questions that speak to the needs of your target audience, ask them often, and encourage your audience to ask questions, too. By answering questions, you can advance the conversation and build trust by demonstrating your real estate expertise.


How Social and Your Website Work Hand in Hand to Generate Engagement
Ideally, you want a seamless experience between your social media pages and your real estate website. The content on your website should be easy to find on all of your social channels, and visitors to your website should be able to connect with all of your social accounts easily.


Create a Social Schedule and Stick to It
Achieving your engagement goals is so much easier when you have a plan for how to get there, and a social schedule so that you'll always know what to do next. When you know how to reach those goals, you can use your social media time much more efficiently and effectively.
Create Content That Tells Stories and Encourages Conversations
The content that you create for your real estate website, blog, and social media should be one of your best sources of engagement. When you share content on social, jump into the comments to start the conversation. When you're thinking of content ideas for your blog, focus on topics that will encourage your audience to ask questions and leave comments.
And don't be afraid to branch out into new types of content! Video content is easier than ever to create, and it's a great tool for generating engagement. People are more likely to feel a connection when they can see your face, listen to your voice, and hear directly from you. In addition to attracting people to your website, your content is a powerful tool for keeping them there once they arrive.
Track Results to Find Out What Works Best for Your Brand
Not every engagement strategy will be the right fit for every agent or real estate business. That's one reason why it's so important to track your results, look at your analytics, and refine your strategy over time. It's easier to grow engagement when you have data-based insights on what works best with your audience.
No matter what else you do to grow your engagement, remember that authenticity is key. When your audience feels like they can connect with you on a human level, they're more likely to engage. That's true for social media, your website, and all of your real estate marketing efforts.