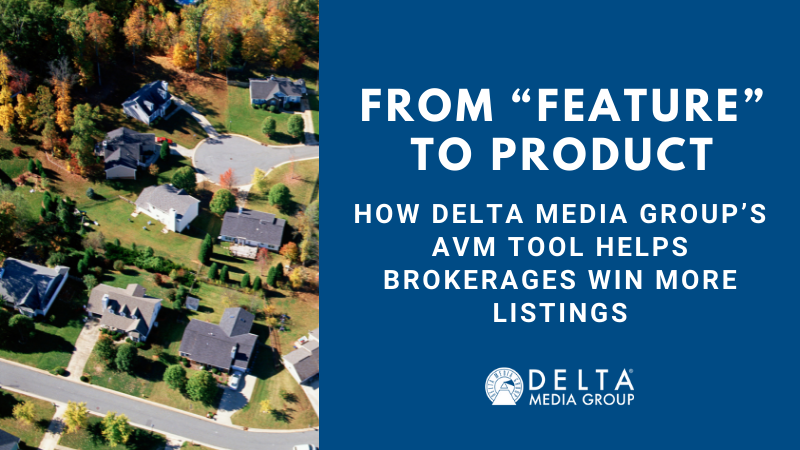 Let's start with the basics. What is an AVM? AVM stands for Automated Valuation Model, and in today's marketplace, it is one of the best tools at a brokerage's fingertip to help win new listings. For years, I have heard real estate agents push back on the idea of providing consumers with automated home value estimates being worthwhile. After all, those automated home value estimates used to be way off and lead to more uncomfortable conversations for real estate agents than positive ones.
That status quo has most certainly flipped in the last couple of years. Automated home value estimates have only continued to get more and more accurate. Certainly, they will never beat an estimate given by a licensed professional able to see the house in person. However, the industry has learned how to turn a potential home seller's curiosity into a new listing. This knowledge didn't come overnight, nor did the automated tools provide these curious prospective home sellers with a real-time home value estimate.
Delta Media Group® has been in the real estate technology software space dating back to the mid-90s (1994 to be exact, when we launched the first website in the country providing live MLS data & photos). It was shortly after the company moved from Sunnyvale, California, to Barberton, Ohio, in the early 2000's that the idea for automated home value estimates started to surface at Delta. A recent review of our Delta AVM platform revealed a history dating back to 2002, when the work first began on what would eventually turn into our built-in automated home-value tools.
Back in 2002, Delta Media Group was looking for a way to bring more accurate market data to the forefront of our website visitors' minds along with reverse prospecting tools. We looked to build tools to compile automatically generated email reports and landing pages that would feature up-to-date data about market trends in specific areas around the country. Building these types of reports and then further automating them to be emailed directly to potential home buyers and home sellers was a major project that was ultimately completed and launched in 2006 under our "VMA" product — otherwise known as Virtual Market Analysis.
The Virtual Market Analysis tool allowed customers on brokerage and agent websites to complete a short form, filling out details about their own home and information about the city and state where the home was located. While filling in these details, the customer would be prompted to fill out how often they'd like to receive automated updates about the market. The VMA would then provide the customer with a real-time market report showcasing how many homes were for sale in the market their home was located in, the average asking price for properties in that market, recent homes sold in the area and the buyer interest in that market. This system would also automatically generate a lead for an agent to be able to create a true Comparative Market Analysis (CMA) and reach back out to the prospective client.
The VMA tool was a hit, generating thousands upon thousands of leads for agents using the DeltaNET® platform for years. As with most tools in the DeltaNET, development never stopped. The VMA system saw continual refinement through the years, ultimately culminating in a partnership with a long-time Delta Media Group partner to expand our VMA product.
The project to expand the VMA into a full-fledged automated home value estimate service ultimately evolved into the AVM tool we have today. The product allows website users to enter their address directly from the website's homepage and be given a return of multiple home value estimates powered by data from sources like Collateral Analytics and RPR.
Since launching the AVM tool, we have delivered over 33,000,000 home value estimate requests.
Shortly after the full rollout of the AVM, we continued the expansion of the product. We added Zillow home value estimates (Zesitmates) as an option to the service, giving prospective sellers up to three different home value estimates with calls to action, getting the person to engage and become a lead opportunity. We introduced the concept of "Door-Knock leads" to help drive new listing potential. With this new concept, a client could enter an address and see home value estimates without filling out a contact form. This still would generate a new lead opportunity for the brokerage, who could add that address to their print-mailing rotation and try to farm engagement from properties that had been looked up online.
In the past few years, we expanded our AVM tool even further — this time redesigning the entire lead capture page from the ground up. Google maps street view of the property was refined, and buyer heat maps graphically showed the prospective home seller where potential homebuyers were saving searches that matched their property. The saved search data was compared directly against the AVM, giving us the ability to introduce reverse prospecting reports. For example, if a company had 500 potential buyers with saved searches running (EG; two bed, one bath, 300k max price in a specific school district) and a prospective seller ran an AVM on their property, that seller would be able to see that more than 500 people were looking for a property just like theirs if they listed the home. On the back end of the software, agents were able to run more detailed reverse prospecting reports to see all the homebuyers in their CRM that may be able to be connected with this prospective seller should they list their home.
We didn't stop there. More AVM data sources were also connected, introducing appraisal home estimates as another option for brokerages to connect. We developed our own in-house home value estimate tool and included it in the product at no additional charge, giving us a 5th home value report. This time, we also expanded our AVM tool to be included at no additional charge for all Delta Media Group website partners as a part of our SEO platform.
Ultimately, that brings us to today. More than 20 years since we first began working on our VMA product — which was designed to give automated marketing insights and generate CMA lead opportunities for agents — we at Delta are launching our own in-house CMA product: Delta Pitch. Delta Pitch is designed to be the industry's easiest-to-use, most automated CMA builder ever.
An agent using Delta Pitch would be able to generate a "quick-build" CMA in as little as one click. Enter the property's address, and click "build." You've now got a highly accurate, engaging CMA built into an interactive flipbook with comps, recently sold homes, information about the market and more. Delta Pitch comes pre-loaded with a variety of templates to select from, the ability to create your own CMA templates (with custom pages and more) and, of course, gives agents the ability to customize all of the information in that CMA to give an accurate recommendation to win the listing.
Here's the part that's even more exciting to us. Bringing things full circle, we wanted to push the envelope even further. One of the many features baked into the DeltaNET / Delta Pitch / Delta AVM platform will give us the ability to offer fully-automated CMA's. Picture this: a prospect visits your beautiful website and sees that they can enter their address to get home value estimates. They plug in their address and see a semi-accurate picture of their home's value.
Entering this address means that Delta Pitch has automatically built an interactive CMA and emailed it to an agent who gets this lead opportunity. No manual work is needed. Your CRM platform has already responded to the customer and let them know a CMA is awaiting their review and gives them the ability to schedule a meeting with you. You're given an automated task through your CRM to review the CMA prior to the meeting, and the call with the prospect goes perfectly. You win the listing.
This is the future of real estate technology. Your website is automated. The home values are automated. The CMA is automated. You're empowered to go prospect more business and focus on winning more listings. The most exciting part about Delta Pitch, and the future of our AVM platform, is that the innovation never stops. We aren't a technology company that has built our entire company around a feature. The VMA and later AVM were just features that grew into full products of their own. We believe in all-in-one, so existing Delta Media Group partners don't have to pay extra for these features. And more importantly, unlike other automated home value products on the marketplace, your data is yours. Rest assured knowing Delta Media Group is never reselling your prospective seller's address or contact information to third-party mortgage companies.
Keep an eye out for more information about Delta Pitch, Delta's AVM product, and more in the coming months. More exciting automation is on the way.