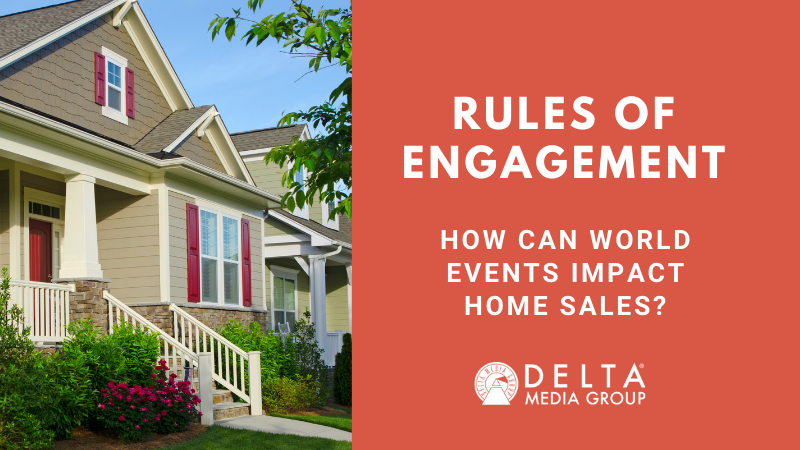 What's in the news sometimes feels like it has no connection to daily life. But world events can have a real impact on the housing market. Even though happenings overseas won't directly influence housing stock, they can change the perceptions of buyers and sellers.
Just think about how the arrival of COVID-19 transformed the real estate industry. Never before in history did so many professionals come together, questioning the basic assumptions they had relied on for so long. But to protect agents and their customers, nothing less would do.
Now, we live in a world with unprecedented virtual transformation.
It was once unthinkable that buyers would purchase a home without ever setting foot in it. But thanks to virtual tours and open houses, it's now a regular part of doing business. Change has arrived throughout the value chain, with "drive-through" closings still available in some areas.
Even as the pandemic fades into the rearview mirror and mitigation measures disappear, the industry has learned new ways of adding value that aren't going away. Buyers and sellers have come to depend on these innovations, and now they are a way of life in real estate.
All in all, it's safe to say real estate will never go back to the old way of doing things.
Of course, international events can positively or negatively affect housing. It's hard not to wonder about the ramifications of Russia's invasion of Ukraine, for example. We live in a world where nothing is impossible and unprecedented events can happen at any time.
For our customers and communities, real estate professionals must be ready.
With that in mind, let's look at how world events impact home sales. It's a big question, and even the most accomplished scholars often disagree on the answer. But if we break this down into a few core aspects, it'll become much easier to see what the future might hold.
How do Larger Economic Conditions – Macroeconomics – Affect Home Sales?
Over the last few years, the biggest economic indicator real estate pros have followed is the interest rate. Buyers and sellers alike have been waiting with bated breath to know when interest rates would rise and how quickly.
We all know that higher interest rates mean buyers spend more money servicing their mortgage loans over a lifetime. Historically low-interest rates drove millions of Americans into the housing market who might have otherwise had to wait.
Some prospective buyers will be pushed onto the sidelines if interest rates regain their former levels over time. Likewise, sellers will no longer expect to get caught up in the middle of a profitable bidding war. Yet, no one really knows what the future holds for interest rates, either.
That raises the question: What might happen with home sales if the global economy shifts?
World economic conditions often follow the United States, not the other way around. An upturn in the global economy is good for home sales, but the reverse is not always the case. Poor conditions abroad may have limited effects on the U.S. housing market or no impact at all.
Historically, housing inventory has an even greater influence on selling than world events or even interest rates.
Combined with buyer and seller demographics, housing inventory is the major factor that determines which way a housing market is going at any given time. Markets are so responsive to inventory that local, state, and regional sales trends can be markedly different.
This is one of the reasons why local expertise is so essential to successful real estate agents.
While problems like higher fuel prices will raise business overhead for agents and the people they serve, there is no reason to believe any of the global economic factors we currently know of are setting up for a dramatic or long-lasting impact on homeownership in the United States.
Low Inventory is Keeping Prices Up in Many Parts of the Country
Higher interest rates mean that financing packages are harder to come by for the average buyer, and some may need to put their homebuying plans on pause. At the same time, however, low inventory is helping to sustain lofty housing prices. In some hot urban markets, they are skyrocketing.
The growing prevalence of remote "work from home" jobs means that small towns and cities around the country are getting new interest from buyers who often have significant savings and disposable income. Along with investors, these buyers continue to make a brisk trade in markets from coast to coast.
All signs indicate that low housing stock will continue to be an issue for several years to come.
Like most other industries, home builders saw a demand slump. Many have slowed down their overall pace of operations and paused major developments. Even as businesses return to a robust schedule, they still face supply chain issues that could substantially drag their finances.
Hot housing markets may soon drop to a simmer. But the wise agent should not be discouraged by the sudden change. While others batten down the hatches, don't give in to the temptation to reduce your investment in your business. In particular, agencies and brokerages must continue to do marketing.
The last two years have seen an unprecedented pivot from traditional face-to-face marketing to a mix of digital methods. The nature of digital marketing is that each piece of collateral you create has a chance to make your website more visible in online searches relevant to your business.
In a world where most buyers go online to start their home search, it's crucial to commit your time and resources to online visibility. A brand new digital marketing strategy may take about three months to gain traction. Still, as it continues, it provides compounding returns – helping your website climb the ranks of relevant searches. That means more first-time website visitors every month.
Real estate agents are uniquely positioned to turn their websites into lead generation engines. They can also benefit more from social media than virtually anyone else online. A consistent digital marketing approach is the key to achieving work-life balance and ending the days of "hunting down leads."
But that requires real estate agents to prioritize their digital marketing, rain or shine. Even when there are market headwinds to hinder your growth plans, the agents that reap the most benefit from an economic recovery are those who have continued their marketing through the worst.
The Demographics Are in Your Favor
One of the biggest success stories of the pandemic era is the strong showing older Generation Z buyers made. With the elder cohort in their mid-20s, Generation Z is having kids and looking at homes. They also have a distinctly "old-fashioned" orientation to buying that may prove helpful.
Unlike much of the Millennial generation and Gen X before them, Gen Z sees buying a home as a key goal for their early life. Many say they want to get it done by age 35, some by 30. That puts them on track with their grandparents' generation, seeing a home as an essential asset for wealth building.
Don't count Millennials out, either.
While some Millennials remain wary of home buying (and big financial institutions in general), others recognize opportunity in the fast-changing housing situation. Now long past tired of renting, they are the largest demographic group in the market today and will remain so for some time.
Over the past few years, Millennials have been:
The largest group of homebuyers
The largest group of first-time sellers
That underscores the point above: Marketing is a sound investment. Savvy brokerages and agents must be marketing to Millennials. Make sure your real estate website is fast, modern, and looks great on a smartphone, which an increasing number of young people use as their primary form of online access.
No One Can Read the Tea Leaves on Interest Rates
From ordinary buyers and sellers to highly trained analysts, everyone waited to see what would happen with interest rates. And, sure enough, the general trend for a while was up. Then it was down. What's next? The truth is, no one knows.
Rising interest rates would have some very predictable outcomes for the housing market, which may be one reason why everyone is so focused on them. But when it comes to the actual timing of interest rate increases (or decreases), uncertainty is the only sure thing.
Recent events have proven that nobody has a crystal ball on interest rates, not even the Federal Reserve. So, if you find yourself thinking about the subject a lot or the planning around it, it may be prudent to step back and put things in perspective. No matter who you are or where you stand in your career, you'll always get the most done by focusing on the things under your influence.
Real Estate is Cyclical – Tune Into Your Own Sphere of Influence
Real estate agents rise by their local expertise. Because they know their markets well, they are trusted to set a steady course under any conditions. Instead of looking over the horizon or overseas, it's better – and much easier on your nerves – to zero in on what's directly in front of you.
There'll always be people right in your backyard who are ready to buy or sell a home no matter where you are. Some agents have seen both the best and the worst markets of their careers over the last few years, but the ones who got through with the greatest ease maintained a steady hand.
Change is the only constant, but you can continue to deliver the highest quality of service to your customers, deepen your network, and show others how you can help them both online and off.
There's Never Been a Better Time to Leverage DeltaNET® 6, the World's Best Real Estate CRM
A good Customer Relationship Management app provides complete visibility into your entire network. You can see at a glance where prospects, leads, and customers stand in their real estate journey. And you can continue strengthening relationships with a timely, relevant follow-up that makes a difference.
In a time of uncertainty, the best thing to do is improve your fundamentals. Many real estate agents are still tracking their relationships manually, spending hours figuring out when to follow up and how to do it. To save thousands of hours every year, a CRM suite is imperative.
DeltaNET 6 is the first real estate CRM developed by and for real estate professionals. In consultation with agents and brokers from across the United States, it was built with your needs in mind. And it brings world-class artificial intelligence and machine learning into your business like never before.
With DeltaNET 6, you never miss a beat when others interact with your brand or show interest in your listings. It brings together user behavior data from your website, social media, email, listings, and open houses, so you are with leads every step of the way as they move closer to choosing an agent.
Plus, it helps you establish the rapport that makes you the most trusted agent in town.
Providing event-driven updates to your subscribers and followers based on their interests and behavior, DeltaNET 6 ensures you are always in touch and always adding value. You no longer need to work into the night manually writing your emails, blog posts, or social media updates – it's all done for you.
2020 introduced a new era in real estate, and the pace of change hasn't slowed down since. It's normal to feel worried or confused. But while there's little you can do about the state of the world, you can always elevate the state of your business. The most effective way for agents and brokers is to make sure they're using the right technologies to realize their top priorities.