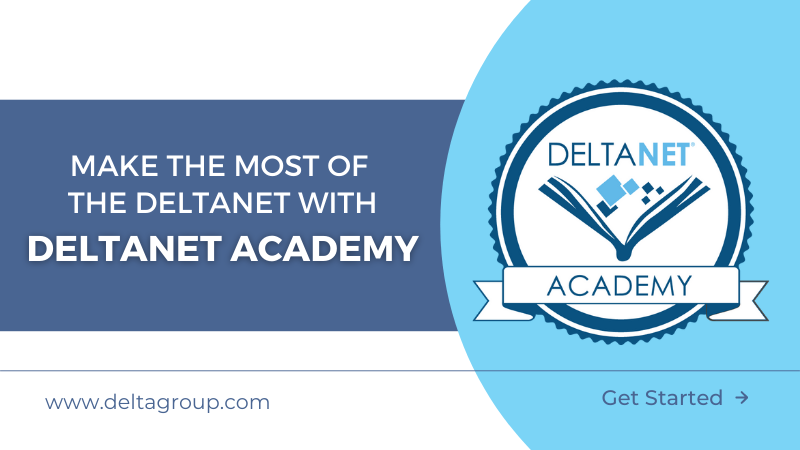 When it comes to training options for real estate technology, there are a few different schools of thought on what works best. Some want videos, others swear by user guides. At Delta Media Group®, we're big on easy, on giving you — the one using all of that tech — the power to transform your training into exactly what you want and need it to be. 
That's why we're thrilled to announce the launch of DeltaNET® Academy, available directly within the DeltaNET CRM. With DeltaNET Academy, users have access to slideshow-based training courses that break down Delta Media Group's industry-leading, all-in-one CRM and wealth of features to their basics, making them simpler than ever to understand. Only a few clicks and admins can easily:
Assign specific courses to specific sales associates
Send courses to an entire office to help them master certain tools
Use modules in multiple courses in order to spotlight tools more than once
Custom course creation also allows admins to set the metaphorical syllabus. Building your own courses is easy: Choose what you want to highlight and assign it to your team. Then, when a course is completed, associates can take a quiz to ensure they've got a handle on all the information. Plus, DeltaNET Academy tracks who's doing what within the system, so you'll know exactly where everyone stands. Consider it a progress report — we're sure everyone will be a pleasure to have in class.
Don't forget our promise of easy, either. DeltaNET Academy provides a user-friendly, intuitive platform that doesn't feel like a hassle or homework. We're still offering videos and guides, but we're also giving our clients more options with hands-on, engaging learning that gives the power of training back to brokerages. 
"When building DeltaNET Academy, we weren't looking for a tool that 'checks the boxes' when it comes to its capabilities," Director of Partner Success Harley Wolfarth says. "DeltaNET Academy gives our users control over course content, visibility, assignment, and even tests/quizzes while keeping those controls and settings in places where you expect to find them. We think we've made something that will make your life easier, not just because your agents and staff can be better trained by the courses you create, but because the process to create those courses is clear and easy as well."
Evolution is part of our Delta Media Group-DNA, so you can be sure we're already working on plans to expand the training offerings within DeltaNET Academy as well. And best of all? DeltaNET Academy comes without any extra cost. No hidden fees. No surprises. Just comprehensive training that gives you and your associates the knowledge to make real estate's most powerful CRM and tech tools work for you. 
No one wants to get schooled by their tech. So, jump to the head of the class with DeltaNET Academy and learn the ins and outs of Delta Media Group's game-changing features. 
"DeltaNET Academy is a platform to not only educate team members with pre-populated real estate CRM and marketing training, but it is also the platform to empower firms with the ability to create their own custom training programs for anything," Delta Media Group CEO/Owner Mike Minard says. "I'm excited to see how DeltaNET Academy transforms how real estate professionals leverage technology further as they are more empowered in their understanding of how much powerful technology is available to them today."