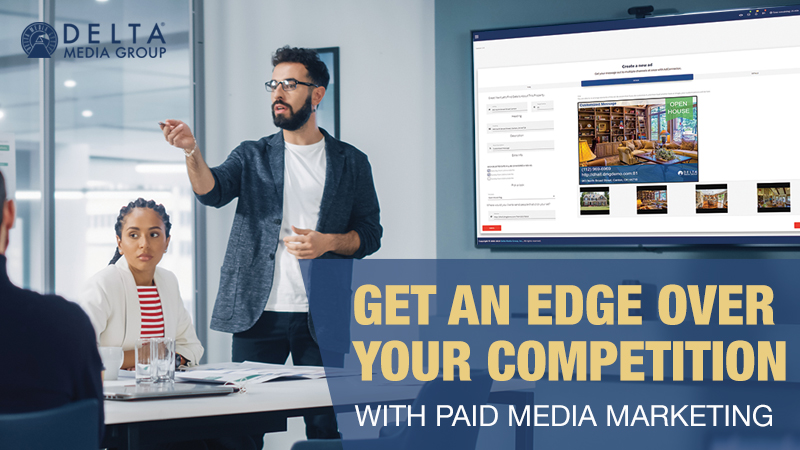 From Instagram and Facebook to LinkedIn and Google, Paid Media Marketing can help you gain new leads and recruit top talent. 
Everybody knows that in this day and age, digital marketing is the key to business success. However, that's only if it's done right. Your ability to gain traction online can make or break your real estate business. That's why you need Delta Media Group's® Paid Media Marketing Services. 
The Benefits of Paid Marketing 
There are many benefits to paid marketing that you won't get through organic media posting. Having the right message and good-looking graphics can only take you so far if they aren't shown to the right audience — or even worse, they aren't reaching an audience at all. You may think posting to your feed on social media is enough, but your lack of leads likely begs to differ. Organic posts on social media are only shown to approximately 2-3% of your followers and rarely to anyone who isn't following you. Plus, your ads are almost guaranteed to get buried in their feed and never resurface. With paid ads, your content never gets buried at the bottom and is directly shown to those looking for the real estate services you provide. 
Even if you have a well-designed website and some great listings, prospects won't find you immediately. With Google Ads, your ads find them. Utilizing audience targeting and keyword research, paid ads are sure to reach the right demographic, allowing you to quickly and effectively land new leads by positioning your brand in front of high-value customers.  
Why Choose Delta for Paid Media? 
Now that you're sold on the benefits of paid marketing, you might still be wondering why you should work with Delta as your paid media provider. First, Delta Media Group is a Certified Google Ads Partner, one of only a few hundred in the United States to be recognized for our high ad performance. With Delta's top-tier technology, your website connects automatically to your Google Ads account, Facebook Business Manager, and Google Analytics, so everything seamlessly works together. 
When choosing Delta, you get the assistance of leading real estate technology and the knowledge of a licensed Realtor® and Paid Media Strategist. We use the most up-to-date marketing practices, keeping an eye on what ads are working for brokers and agents across the country. We also invest in privacy to keep you ahead of the curve. 
The experience of working with Delta for paid media is extremely hands-off, giving you more time to focus on conducting business elsewhere. Similar to our other tech offerings, you can "set it and forget it." Our specialists will take care of all the rest. However, unlike third-party agencies you rarely communicate with, you're never left in the dark with your paid advertising efforts when working with Delta. Although we do the heavy lifting for you, as a family-owned business, we also understand the value of communicating with our customers. When you choose to work with us, you will receive one-on-one care from our specialists and have regular calls or Zoom meetings to discuss your campaign progress and goals. Additionally, unlike most third-party agencies, no long-term contract is required for our paid media services. We operate on a month-to-month basis. 
Another benefit of working with Delta is having everything — from your CRM to your website and digital marketing toolkit — in one place. Having to piece together different providers is not only a hassle but can also hinder your marketing efforts. When working with an all-in-one provider, there's no need to go anywhere else.  
Get to Know Our Paid Media Specialist, Winston Widdes 
Winston Widdes has impressive credentials as a digital marketer and 17 years of experience as a licensed Realtor®. He knows the ins and outs of both paid advertising and the real estate industry. 
Winston's grandfather was a builder and contractor; his father worked for their family's construction business. Since working in the industry seemed to be a family tradition, in 1998, Winston started an apprenticeship with a real estate flipper. Then in 2005, he got licensed as a Realtor®, joining Century 21 Award in San Diego, CA. During his time at Century 21, Winston quickly learned that the way to become a top producer in real estate was to have great marketing. His hard work and skilled marketing efforts ultimately landed him the titles of Top Producing Agent and Top Listing Agent in 2007, just two years after starting his career. 
"I was always looking for a way to become a top producer, to do the best I could and get an edge over my competition, and I discovered that marketing was the way to do that," said Winston. 
Leveraging the skills he acquired throughout his time in real estate, in 2009, Winston transitioned into marketing. He began working as a Marketing Manager for a kitchen and bathroom remodeling company. There, he first gained experience with paid advertising by managing ads on Google, Yelp, and various other platforms. Three years later, in 2012, Winston started working with real estate investors, and in 2016, he started working for FortuneBuilders, a real estate investment consulting firm owned by the stars of HGTV's "Flip This House." In this role, Winston worked as an Internet Marketing Consultant for real estate investors. During his time at FortuneBuilders, he completed over 6,000 consulting calls. 
Pick the Package That's Right for You 
Delta's Paid Media Marketing Services include four different marketing package options. Paid Media Marketing packages can be purchased as an add-on to your digital marketing toolkit in DeltaNET®. Let's look at what they are and what they have to offer. 
Google Ads for Buyers and Sellers - With Google Ads for buyers and sellers, you get custom-made targeted ads for potential buyers and sellers in your area displayed throughout the internet. These ads will increase brand awareness, drive your website traffic, and earn you new leads and customers. 
Luxury Listing Ads on Google - Do you have luxury listings struggling to reach the right audience? Get your listings seen by high-end customers seeking a new home through targeted Google Ads, and start seeing your luxury homebuyer leads skyrocket. 
Facebook & Instagram Ads – The average online user spends about 2.5 hours daily on social media. Instead of only showing your ads to a select few people with organic social media postings, touch tons of prospective buyers and sellers through targeted posts on Instagram and Facebook. If you're already creating content to post organically, you can see what might perform the best and use that for your paid ads or have our team create your ads for you! 
LinkedIn Recruiting Ads – Recruiting top talent is an important part of growing your business. With LinkedIn Recruiting Ads, reach a whole new pool of talented real estate professionals and those new to the industry looking to join a team like yours. Through using precise market data, multiple ad formats, sponsored content, text ads, sponsored InMail, and dynamic ads, we help you recruit talent by bringing your brand front and center. 
Start Reaching the Right Audience 
While Delta's paid media services cover many different aspects of marketing, each tool is tailored for the same express purpose of reaching the right audience. Every process step is finely tuned and accounted for, from creating marketing materials sure to spark engagement to customizing your ads to speak to your ideal customers. Not only is everything taken care of for you, but it's performed by an expert who knows how to get you results. When trying to do it yourself, you will likely need to do more trial and error and waste time researching and learning how to design a good ad. By allowing us to handle your paid advertising, you'll have more time to focus on other areas of your real estate business.  
To start using Delta's Paid Media Marketing Services and reach the right audience, contact Franklin Stoffer at sales@deltagroup.com.