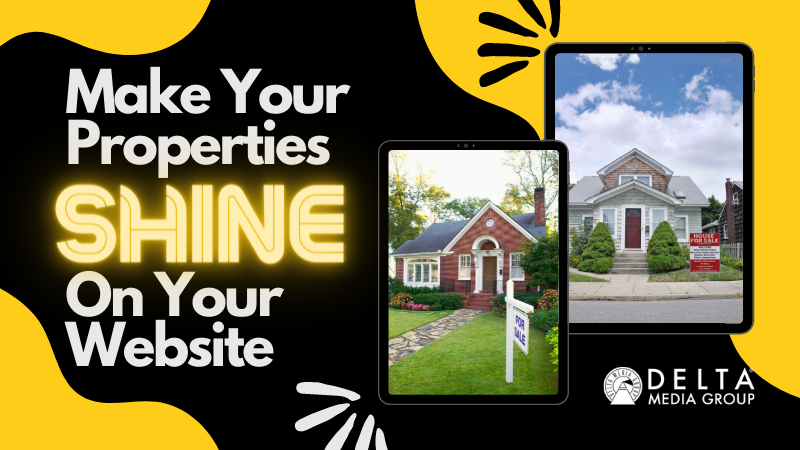 The days when buyers needed to set foot in a house to fall in love with it are long gone, thanks to all of the online resources now available to shop for homes. Many buyers spend countless hours browsing listings, analyzing photos, taking virtual tours, and finding reasons to fall in love before they even consider going to an open house or showing. Are you doing everything that you can to inspire confidence in buyers who discover properties on your website?
Properly showcasing your properties online is an essential step in generating interest, inspiring action, and standing out from the competition. Here's how to make your properties shine on your website and help modern buyers fall in love with your listings.
Start with Great Listing Photos
While buyers spend significant time checking listings specs, descriptions, and agent comments, there's no doubt that they focus on listing photos above all else. Professional, high-quality listing photos are one of the most reliable ingredients for generating interest in properties online, so it's critical to have a real estate photographer you can count on to make properties look their best.
There are a few key factors to remember for producing great listing photos. Ideally, the home will be staged in advance in order to highlight its best features. Every photo should be well-lit, and everything in the image should be clearly visible. Of course, you also want to make each room look as large as possible. These are just a few of the many factors that a professional photographer will consider when presenting a home in its best light.
Be Descriptive and Take Advantage of SEO
You want buyers to be able to easily find your properties when they're searching for homes in your markets and be able to learn as much as possible about the property when they arrive. Taking advantage of real estate SEO by conducting keyword research and integrating the right keywords will help your properties stand out from the crowd online.
The listing description is your opportunity to use creative content to highlight anything that's not captured in listing photos and go in-depth on the features that appeal to buyers the most. Sending a draft of the listing description to the seller before you publish is a great idea because they can point out any features that you might have missed. Lastly, make sure that your listing title is catchy, captivating, and highlights the best features of the home.
Showcase Features that Make the Home Special
When describing a listing on your real estate website, try to capture all of the things that make the home unique. If the kitchen is loaded with high-end appliances, include the brand names. If there's a beautiful breakfast nook, a great place to enjoy a morning coffee with a view, or a well-equipped outdoor living/entertaining space, describe it in detail. When a buyer is considering two similar homes, these features can make all the difference in their decision.
Never Forget that Location Matters
For the overwhelming majority of buyers, location is a critical factor in choosing a home. So if you want to make your properties shine, it's worth pointing out all of the perks of where the home is located. Is it a walkable neighborhood with great parks and restaurants? Is the home located in an excellent school district, with ample attractions for families to enjoy? Just as with the home itself, you want to point out all of the things that make the neighborhood special.
Share Your Listings in All of the Right Places
SEO isn't the only tool for helping buyers find your properties. If you've been keeping up with your social media marketing, then you already have a built-in audience on the biggest social platforms. Make sure that you're sharing your best listings on any social platform where you've built up a presence.
Enhance the Online Shopping Experience with Virtual Tours, Showings, and Open Houses
Not every buyer who's interested in a home will be able to drop everything and come visit it in person. Virtual tours are great for helping buyers fall in love with homes, while tools like virtual open houses and showings can help encourage buyers to take the next step by making an offer or traveling to visit the home in person.
The Bottom Line for Making Your Properties Shine
There's no one magic tool or solution to guarantee that properties shine on your website. Instead, it's a combination of all of the little things that you do to present a property in its best light. Start with great listing photos, captivating descriptions, and a focus on all of the things that make the home/neighborhood special. Mix in the right promotional strategies, and you have the recipe for generating maximum interest in your properties online.