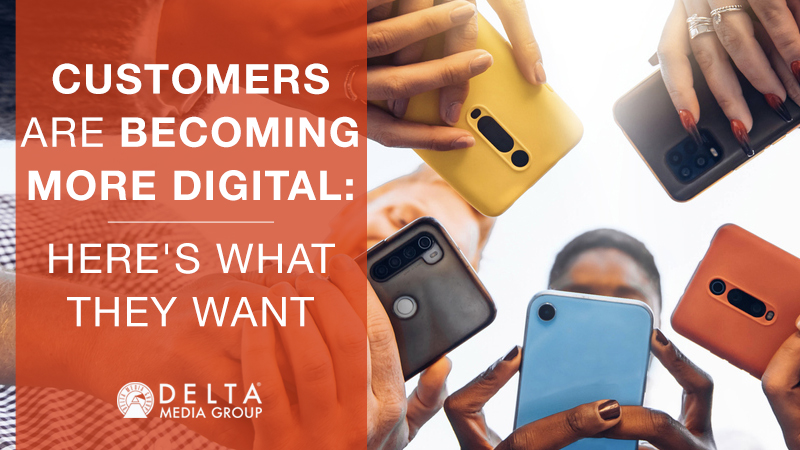 Your real estate customers still want to accomplish the same dependable goals that buyers and sellers have been aiming to achieve for generations. However, the way they go about accomplishing those goals is much different than it used to be, and your digital presence can go a long way toward accommodating their shifting needs. Today, it should be easier than ever for them to learn about homes, neighborhoods, communities, and your team from the comfort of their favorite devices.
Customers are becoming more digital than ever before, and you have an important role to play in ensuring that they can find everything they need online. Here's what they want and how to provide it for them.
The first and most important fundamental thing that you can provide for your digital customer base is a modern, informative, educational real estate website. You want your website to be a place where customers can easily search for homes, learn about neighborhoods, consume your content, and take the next steps to connect with an agent.
If you haven't updated your website in a while, now is the time to bring it up to a modern standard and provide a robust digital experience that your audience will love. Don't forget to make it mobile-friendly so that your customers can enjoy a smooth, seamless experience no matter which device they use to access your website.
Creative, Educational Real Estate Content
A regularly updated blog is one key feature that can help take your website to the next level, and the best blogs include content that caters to the diverse needs of your audience. Some people might be visiting for real estate advice, others for information on the communities, neighborhoods, events, and attractions in the places where they're shopping for homes. Your customers want digital resources that help them make informed decisions, and your blog is the perfect place to share your expertise.
The Ability to Explore Homes from Anywhere
Digital customers are more open than ever to exploring and falling in love with homes online as long as you provide them with the resources to do so. This might mean virtual open houses, virtual showings, or detailed, professional-quality property videos that you can easily create with our powerful Properties in Motion tool. The easier you make it for customers to fall in love with homes and neighborhoods online, the more likely they are to do just that.
Social Proof and Your Social Media Presence
Naturally, social media platforms are among the most popular places to connect with customers who have a digital mindset. In addition to your social media marketing, social proof is another key element in convincing digital customers that you're the right choice for their needs. Integrating reviews and testimonials into your online presence provides an easy way for anyone to discover more about what you have to offer. Both your social media pages and your real estate websites are ideal places to showcase the social proof that you've worked so hard to earn.
Responsiveness and Easy Ways to Connect with Your Team
One of the great things about the digital world is how easy it makes it to stay in touch and communicate through the channels that are most convenient to you. Today's customers don't just want to be able to reach you by making a phone call or showing up to the office in person for a meeting.
Whether through email, social media, SMS text messaging, or through more traditional communication channels, our DeltaNET real estate all-in-one solution makes it easy to stay in touch in all of the most convenient ways. Of course, having a robust CRM also makes it easier for you to keep track of what each customer wants so that you'll always be ready to respond in a personalized way.
Detailed Data on Homes and Markets
With the way that inventory, pricing, and demand have fluctuated so much in many markets in recent years, customers want the latest, most detailed data to help them shop for homes. You can provide all of the data that they need with our easy-to-use, AI-driven AVM Platform. Provide valuations from up to 5 independent sources with the detailed, relevant, timely data that your customers want to see. Of course, AVM reports also include multiple calls to action to encourage customers to take the next step.
You Don't Have to Face the Digital World Alone
If creating a distinctive, exceptional digital presence sounds like a lot of work, remember that you don't have to do it alone. From building the best modern real estate website to creating content, growing your social presence, and integrating the latest tools from DeltaNET, our team is here to help your team master the digital world for your customers.