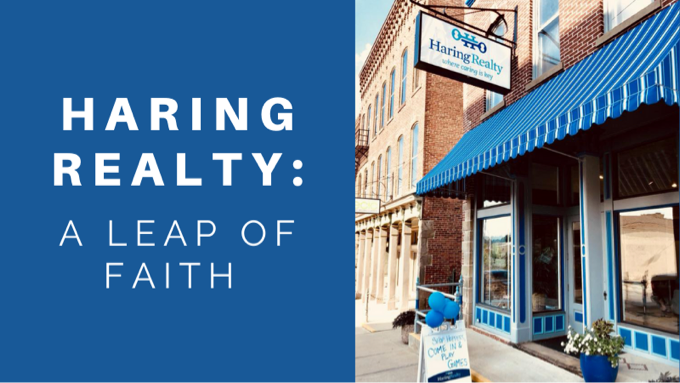 Nearly 40 years ago, a school principal took a leap of faith and started a small real estate firm in Mansfield, Ohio.
They say it's never too late in life to switch gears and try something new. While many people talk about changing their careers, very few actually do it once they get comfortable. Arnold Haring, an Ohio elementary school principal, started selling real estate as a side business in the late 70s. A decade later, in 1983, Haring Realty was born. Now, nearly 40 years after the firm's conception, Haring Realty is led by Arnold's son, Peter, and is still operating in Ohio. Arnold's courage to make the change led to success for both himself and his family.
"My dad started the business. He was an elementary school principal, and he decided he wanted to earn a little extra income," says Peter. "And before he knew it, it took on a life of its own, and he decided to throw out a shingle and get started."
Over the past 40 years, Haring Realty has grown substantially. The company now has three office locations along with a welcome center in Mansfield on North Main Street. Haring Realty provides home buying, home selling and relocation services for their clients. They offer well-developed, strategic programs to bring buyers and sellers to the top of the market. They also do commercial real estate.
"Where Caring is Key"
The staff at Haring Realty feels that caring for one another and their customers is of utmost importance. That's why their motto is "where caring is key."
"Caring is kind of in our DNA," says Peter. "My dad had that kind of mindset of caring for the customer. And so, we try to hire people that have a servant's heart or a servant's mindset."
Everyone at Haring is considered part of a family, and they believe that "a good family is on the same page." That means being a team player, which comes with certain characteristics.
"I read a book a while back called the Ideal Team Player by Patrick Lencioni, and in it, he suggests that the ideal team player has three characteristics," says Peter. "Team players are hungry, humble and people smart. So, if we want to have a cohesive family, we all need to be team players."
Hunger is the willingness to go after business, and humility is the willingness to learn and listen to what the customer wants. At Haring, they consider humility "key," therefore, it is what they look for most when recruiting new agents. People smart refer to interpersonal skills and a person's core values. Haring Realty has a specific set of core values they practice and instill in their agents. These values are respect, thankfulness, reputation, community, productivity and excellence.
"While Haring Realty is not a Christian business, my faith in Jesus Christ has greatly influenced me and my organization's core values," says Peter. "So, one of our first core values is respect. And that's because everybody is made in God's image. And so, we hold our customers in high regard, and we hold our coworkers in high regard, so they're important people."
At Haring Realty, they foster these values at their weekly sales meetings. They also build on this culture they are creating by hosting "lunch and learn" sessions, where they will come together to develop proficiency with their technology platforms, like DeltaNET®, or work on their selling skills.
When speaking about the lunch and learns, Peter says, "We'll bring in some pizza, and we will not just have a training presentation, but we will actually workshop, work on some of our technology tools, practice the use of those technology tools and learn from each other."
The Power of Marketing
According to Peter, entrepreneurship seemed to run in the Haring family. His grandfather was in the meat business; he was the owner of Haring Meats. As a business owner, he always stressed the importance of marketing and advertising. Because of this, when Arnold started Haring Realty, a marketing manager was one of the first positions he hired. This focus on marketing was key to the initial growth of the company and one of the reasons the company is so successful today.
"One of the things my grandfather always preached was, you want to make your sign as big as possible." Peter continues, "And he always preached to my dad and his siblings when laying out the meat in the meat cooler that it's all about merchandising and setting that up to look really attractive when a customer walks in the door."
Due to his grandfather's advice, having stunning photography and video to appeal to clients was a big part of Haring Realty's marketing strategy from the very beginning.
"We decided a picture's worth a thousand words, so we always did color photography. And we were the first company in our market to think we had to have good photography."
That being said, Peter mentions that his mother was their first-ever photographer. He recalls a time before everything went digital, and photos still had to be developed.
"She was our first photographer, and I remember her making trips to Walmart every day to develop stacks of photographs," says Peter. "Since that time, we've had professional photographers take our photos."
Peter believes that one of the key components of good marketing is rolling with the punches. Whenever there is a shift in technology or a shift in the industry, Haring shifts with it. For example, they were one of the first real estate companies ever to have a website in the late 90s. None of their competitors had them, which gave them a huge advantage in the market. They were also one of the first companies to have a magazine to advertise their listings. These were distributed through the mail and in local stores. Aside from making their own, they advertised in other real estate publications such as Harmon Homes.
"As the market changes, our culture is changing, and the profile of our buyer is changing. We also have to change, and we have to be relevant," says Peter. "So, we've always tried to identify, okay, are there any new tools or approaches that more effectively reach today's customers? Where are the opportunities."
Tapping Into Tech
As mentioned before, Haring Realty tends to move with the times and quickly adapt to the new way of doing things. This is also true when it comes to technology. They have found that with Delta Media Group® they are always up-to-date with the latest technology, which has been a great benefit to their real estate business.
"We tend to be an early adopter of new technologies and different marketing techniques." Peter continues, "For years, we included floor plans with all of our listings. We were the first agency in the Mansfield market to start using Matterport 3D virtual tour technology. Today, we include Matterport with most of our listings, and because it is increasingly imperative that we effectively interact with our clients digitally, our relationship with Delta Media has become more critical."
There are certain features in DeltaNET they've found particularly useful in retaining and seeking out new clients.
"Something that we were able to quickly adopt for everybody in our organization was the My Customer for Life Program," says Peter. "And through that, we're not just sending our past clients or sphere of influence a newsletter, but we're sending them relevant content that's of interest to them individually."
Staying Positive
Even with all the issues and changes they face in the uncertain world of real estate, Haring Realty always makes an effort to stay positive. For them, it's not just about looking on the bright side but being a calming force for their clients.
"As we think about serving our clients, it's about being the calm in the midst of the storm," says Peter. "There's a lot of provocative news out there regarding the real estate market, sensational news. And if we can remind our customers of the long view, we essentially can be the people walking on water in the midst of the storm."
When thinking about this, Peter recalls a situation he once found himself in on a flight returning from Hawaii, a situation in which he could have certainly benefited from some positive thinking.
"I remember I was on a flight from Hawaii one time. I'd never had this kind of turbulence before. There's got to be six people throwing up around me, and this lady I haven't spoken a word to, she's gripping onto my wrist like we're going to die," says Peter. "I'm looking up at the flight attendants, thinking, 'Okay, is this normal?' They were nervous, and you could tell they were freaked out. And so, all of a sudden, consequently, I'm more freaked out. So, it always reminds me, as we're serving our customers, to make this a positive experience for them. We have to be the calming influence in that transaction."
The Future of Haring Realty
As they approach their 40th year, Haring Realty looks to continue its growth and success. The first way they plan to accomplish this is by using their technology tools, primarily through Delta, to generate growth and professional development for their support staff and sales team.
"We want to be more effective at using DeltaNET and some of the technology tools we already have to serve both our sales team and our clients more effectively through better communication from contract to closing," says Peter.
They are also implementing several new marketing initiatives, one of which is promoting their properties' communities.
"Each property we're selling is in the context of its community," says Peter. "We have a big emphasis this year on promoting and providing better community information for each of our listings and telling the story of each of our communities as buyers look to where in particular to locate."
Improving their multimedia content for listings is another priority for them. After all, top-notch photography, copywriting and video are all essential to good advertising. Along the lines of enhancing its brand, Haring Realty also plans to upgrade its facilities this year as they continue to meet with more customers in person.
Arnold Haring's leap of faith started this wonderful company back in 1983, and the core values that came with it remain at the forefront of everything they do today. With their positive outlook, care for their customers and unmatched marketing and technology, there is no limit to how high Haring Realty can fly.