Buoyed by that confidence, training throughout the Cora Bett Thomas Realty acquisition was another victory for the brand-new collective company.
"From the Cora Bett Thomas side, we were LeadingRE and luxury portfolio, and that had great training," Nix says. "It built a good network, but I think Berkshire Hathaway offers so much more, so we were very excited about that potential. I know as staff, as well as the agents, once they learned what was available under the Berkshire Hathaway name and network, it became, 'Oh, this is going to be a better situation. This is going to be an improvement. We're going to have access to so much more.'"
Now, more than a year removed from combining forces, training remains one of the most consistent practices across the company's offices. Agents can fine-tune their approach with a host of learning opportunities, and, as McDaniel says, the company prides itself "on our agent support in both staff and technology."
"Whether an agent is new to real estate or has been practicing for years, when they come to our brokerage, it's the common trait of hard work that adds to our overall culture and success," McDaniel continues. "Being a part of such a great network, Berkshire Hathaway HomeServices already offers a great resource for agent training. As a brokerage, we've taken it a step further to offer brokerage-level training and one-on-one training to ensure our agents understand all the tools available to grow their business. We have found that continual and consistent training yields the best results and growth for our agents."
Cultivating Culture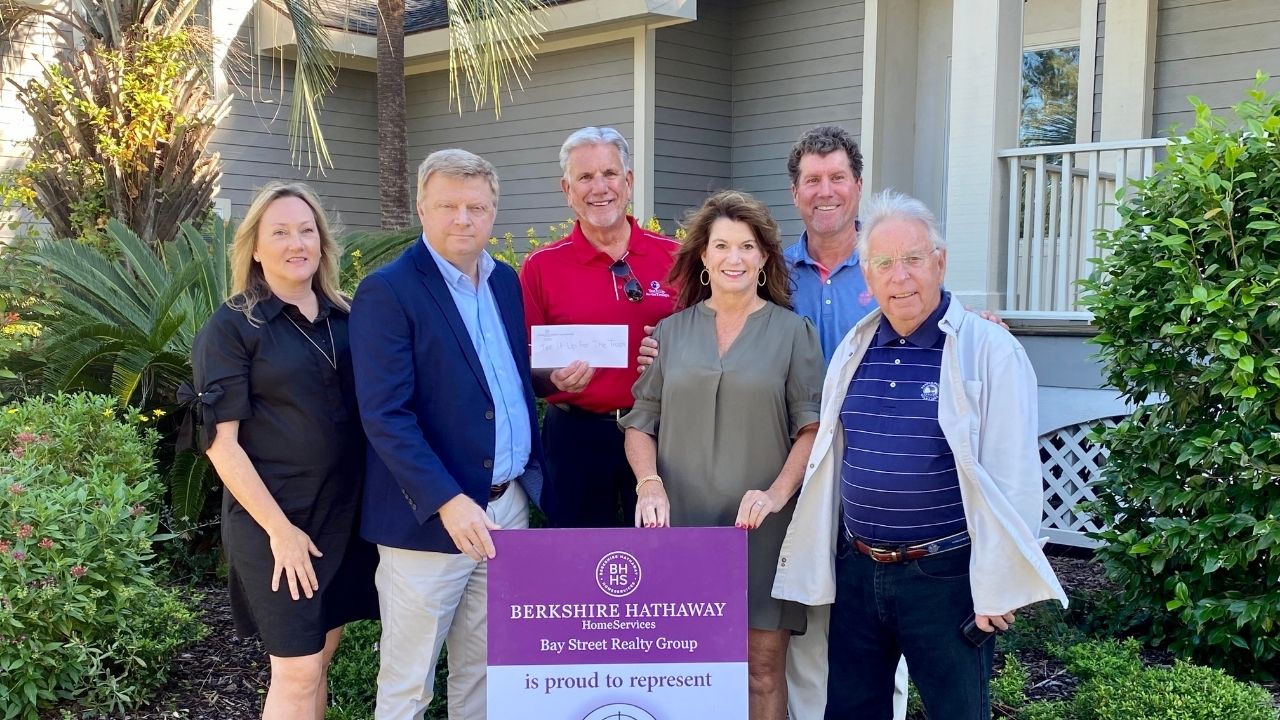 From the very first day in the company's history, Bay Street Realty Group has built its success on the foundation of a strong family atmosphere. People are more than the next transaction opportunity they represent or the numbers they bring in, and every acquisition, every next step, has been a way to expand that family.
But, just like any good family, combining different traits and traditions has required a bit of balance, a hint of patience, and a little determination to see it all through.
"We have a running joke," Nix says, "Chatham County is the county we live in, in Savannah. We always say, 'Oh, well, that's just the way it's done in the state of Chatham.' Some of the things and trends do cross state lines. But sometimes, Meg and I will have a conversation and be like, 'Well that's not how we do it in Beaufort,' and I'm like, 'Well it's never going to fly in Savannah like that," so that does have an impact on our agent culture as well."
Although there are differences between offices and past trends, Nix adds that the biggest similarity is also the most important, saying, "[Everyone] is so hyper-local in a lot of ways."
Finding common ground hasn't always been easy, but Wynne and Nix have prioritized it. The family mindset hasn't changed, but the family itself has, and that's required some getting used to.
"It's almost like Savannah is a New York City compared to Beaufort sometimes, but then there's a perfect middle too," Wynne says. "It's different, but between the two of us, we have done a great job to make sure that the cultures fit together and that we have a happy medium for all of our agents, too."
And when it comes to finding agents who mesh with the Bay Street Realty Group culture, it all comes down to initiative — much like Willis and Hornsby had when they first started on Fripp Island. Bay Street Realty Group is looking for agents who want to put in the work, who understand the markets and the areas, who want to foster relationships. Because it's those relationships that make all the difference.
"People don't often realize that real estate is an entrepreneurial business. You're running your own little business," Nix says. "Of course, there's support from your brokerage, and that's why we're the best because we offer that support, but it's a two-way street. We want agents to show up. You have to produce and do things like that. For us, we're looking for the agent who wants to learn, who shows initiative because if not, there's going to be another agent who's going to come along, and they're going to have that, and they're going to be better."
Bay Street Realty Group has also welcomed the youth movement amongst its agents. Real estate is a constantly-evolving industry, so it only stands to reason Bay Street Realty Group has embraced every shift. Growth is something of a tradition within the company, after all. And by bringing in new agents, those who want to make a name for themselves, agents Wynne describes as having "the drive... the want...and the sales ability," Bay Street Realty Group has built a corps of consistent producers.
"That's one of [our] favorite things, to see when brand-new agents come in, and we get to watch their growth," Wynne says. "I'll get a text and be thrilled because it says, 'Meg! So-and-so just put $2 million under contract.' These young agents in their twenties, you watch them grow from coming in and not knowing anything to being successful and making more money than they have in their entire lives. That's one of the coolest things to see, in my eyes."
Don't forget about that family-focused mindset, though. As new agents stretch their wings with Bay Street Realty Group, they can do so knowing they have the backing and support of those who have been there for years. Experienced agents often serve as mentors and advisors for the newcomers, offering suggestions and cultivating a sense of camaraderie that's apparent in every corner of every one of the company's offices.
"We see a lot of teamwork," Wynne explains, "where we can get an experienced agent who knows the tricks of the trade, knows the language. They can mentor younger agents, but the younger agent can help them with technology or other things, and we see great relationships form that way too."
Creating a Sense of Community
Melding companies, finding similarities between first-time and experienced agents, and setting a tone that crosses state lines has been the driving force behind Bay Street Realty Group's success over the last few years. And that success is clear in just about everything the company does. Boasting a diverse group of agents — ranging from 25-75 years in age —who know the SC Lowcountry and Coastal Georgia region like the backs of their hands, Berkshire Hathaway Homeservices Bay Street Realty Group/ Cora Bett Thomas Realty finished 2020 with combined sales of $320 million.
But while the numbers are impressive, this is not a company that has ever spent too much time focusing on the numbers. Instead, it's that family focus, the need to provide every client the best experience possible, and to be a constant presence in the communities it serves that stands as a marker of success for Bay Street Realty Group.
"We think long-term and want [our clients] to be our friend and neighbor, not just our most recent sales transaction," McDaniel says. "Our desire is to be your forever agent and help you for decades make the wisest real estate decisions."
Building that sort of company-wide attitude comes from years in the business and by bringing in the sort of people who share a similar point of view. Life beyond the transaction is important, as is remembering that agents are people who have interests in things outside the scope of their desk and real estate CRM.
With that in mind, Bay Street Realty Group has focused its social media efforts on more than just simple new listing posts. Agent spotlights fill the company's Facebook page, alongside posts touting the beauty and opportunities the South Carolina Lowcountry and Georgia Coastal region presents.
"We call [the area] our slice of heaven," Nix says. "We want to showcase that it's not just about the house. If you move here or if you live here and you don't know about some of these opportunities, how can you get plugged in in this community? How can you, again, go beyond that transaction?"
The work is important, naturally. Berkshire Hathaway Homeservices Bay Street Realty Group/Cora Bett Thomas Realty has filled decades with successful work, helping couples find their first homes or families find their forever homes, working on the commercial and luxury side of the industry, and even teaming up with new developments across the 100 Mile Coast. But the work has always been the starting point, a stepping stone for something bigger and, often, better.
Because it's by doing the work that the company can build those all-important relationships and become more than a realty company. These days, it's a group of like-minded individuals with a common goal and shared beliefs.
"We still believe in showing up at the office to work, monthly sales meetings, and time together outside the office for company events," Willis says. "With four offices and two states, we couldn't achieve unification without our yearly brokerage event and holiday parties that keep the lines of communication open to all. Our agents carry that sense of family and honor over to their business relationships, and the Bay Street Realty Group local brand shines. The sense of community we've built within the office is mimicked in each transaction."
Community has always been an important facet of Bay Street Realty Group's company-wide personality. This all started by building the community on Fripp Island, and, really, the only things that have changed in the ensuing years are the location of the communities and how Bay Street Realty Group is giving back.
"Service is at the heart of real estate, or at least it is for us," Willis says. "We know it's just as important to serve our clients and our community. Between both states, we are involved in monthly community events that allow us to give back beyond property transactions. We can't live up to the Berkshire Hathaway HomeServices brand without a sense of community."
The company regularly partners with area schools, helping with athletics and school programs. This past holiday season, agents adopted a local child, purchasing items off their wish lists. Cora Bett Thomas Realty also recently served as the primary sponsor for the American Red Cross in Savannah, participating in the organization's annual golf tournament. No matter what they're doing, Wynne says the most important thing is that it's being done, and someone benefits from it.
"We engage our agents," she adds. "It's important that we don't just write a check. We want to be out there, doing what we can."
Taking Tech to the Next Level With Delta Media Group®
Bringing together two of the most prominent real estate names in the SC Lowcountry and Coastal Georgia region
during the COVID-19 pandemic required Bay Street Realty Group to depend on technology more than ever before. And with more moving pieces than ever before, Bay Street Realty Group needed a tech provider who could meet its every need, for every office, in two different states, as soon as that need arose.
That's where Delta Media Group came in.
Before the acquisition, Cora Bett Thomas had worked with Delta, Nix says, while Bay Street Realty Group was partnered with a different company. When the two joined forces, both providers were looked at, as the company's newly-melded leadership team examined what sort of tools and products each offered.
"We said, 'Okay, which [company] is going to serve our new mass?'' Nix recalls. "Somebody was making a transition, one way or another."
In the end, it was the Delta CRM, DeltaNET® 6, and website offerings that stood out. The easy-to-use technology within the DeltaNET gives Bay Street Realty Group agents a stress-free way of staying top of mind with clients and providing current listing information to prospects. And Nix adds that the "pairing of a website and a CRM" has been especially beneficial for agents. No matter what their experience or tech know-how may be, DeltaNET 6 gives them a one-stop shop to maintain all their information, allowing them to take stock and tackle to-do lists with ease.
Training has also been key, with both Nix and Wynne utilizing Delta-provided resources, as well as Tech Tuesday videos and YouTube how-tos, to get the entire Bay Street Realty Group on the same page.
"We take time on an individual level with each new agent to make sure they know the in's and out's of the CRM and website," Thurman says. "With a wide variety of technology skills within our brokerage, agent adoption ranges, but Delta does a great job of providing something for every skill set. Agents are becoming more and more accustomed to using technology in their everyday business."
And, should an agent encounter a problem or a tool they aren't quite sure how to use, Nix credits Delta's industry-leading tech support for answering the call. Sometimes literally.
"That constant communication was a big pro for [Delta] versus another third party company where they were like, 'I don't know, I haven't talked to so-and-so. I don't know how to do this,'" Nix details. "[Delta has] more internal resources."
Change has become a habit for Bay Street Realty Group, and with one of its biggest changes — acquiring Cora Bett Thomas Realty — came another: Redesigning the company's website. Updating the site was, as Nix detailed, one of the main reasons Bay Street Realty Group opted to partner with Delta, and, months after making that decision, the company has never second-guessed itself. Filled with new features and designs, the site embraces Bay Street Realty Group's need to showcase everything the company offers. From history to property searches, relocation resources, and the company's blog, the retooled site gives would-be, past, and present clients everything they're looking for.
"When Delta Media shared some of the new features and design updates, we were quick to make sure these changes were implemented on our website," McDaniel says. "Not only are the new changes going to improve our overall look and feel, but they will also make the user experience better, which is most important. We want our clients to feel at ease navigating our website."
Staying current with their tech is always Bay Street Realty Group's goal, and, with Delta, that's easier than ever. Just like Bay Street Realty Group, Delta has long embraced that family focus and families often share. Even the tech-based ones. Because if a certain update can benefit more than one client, Delta is quick to implement it for everyone.
"One of the things that I've always loved and still love today about Delta Media Group is when a thought process from one brokerage comes out, and it can make the site as a whole better, Delta adopts it for all," Nix says. "It's not, 'Oh, we're just going to give brokerage A this neat thought and this custom whatever. We're going to make it where we take that, and we put it into all of our websites or all of our CRMs because it's going to better the whole real estate industry.' That's one of [Delta's] better qualities."
Looking Ahead
There are plenty of ways and words to describe the last few years for Bay Street Realty Group. Growth, of course, immediately springs to mind. Change, too. Occasionally hectic, with jam-packed schedules and brand-new mindsets, using tech in brand-new ways — those all fit the description bill. But there are good words, too. Decidedly positive ones like exciting and new and plenty of opportunities.
Together, all those words make up a mindset that is as focused now as it was during the early days on Fripp Island. Because while the markets have expanded and the world itself has changed, Bay Street Realty Group is still a company built on the idea of family, on offering the best possible real estate experience for clients and a professional home for agents to flourish.
And that won't change anytime soon.
"Beyond the obvious answer of keeping up with and exceeding our sales records, we want to continue to find more opportunities to aid agents in their marketing efforts and community involvement," Hornsby says. "Agent success is ultimately what creates brokerage success!"