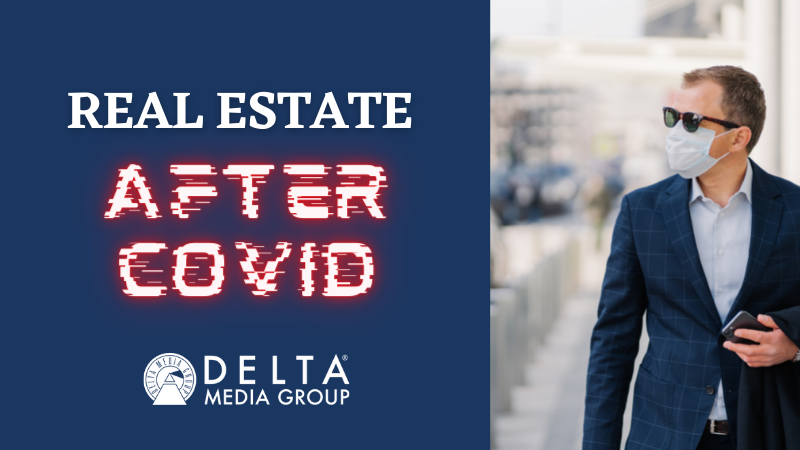 Few industries changed as much or as quickly as real estate at the outset of the pandemic.
Working together, real estate professionals from all walks of life were able to re-imagine traditional approaches. The drive to improve safety for colleagues and clients alike has had a tremendous impact. What started out as a matter of necessity has given rise to innovations like digital showings, poised to redefine business as usual.
With vaccinations increasing fast, real estate professionals will soon find themselves with the opportunity to return to something like "normal." But precisely what awaits in the future is a matter of considerable debate.
Real estate has been one of the biggest bright spots in a pandemic-battered economy. While nobody can see the future, the general outlines of what tomorrow's real estate market might look like are fast becoming clear.
Here's what to expect from real estate after COVID:
Bankruptcies and Foreclosures Influence Housing Stock
Mortgage-holders and renters alike have benefited from several moratoriums to help them weather the effects of the pandemic. With those protections slated to wind down, bankruptcy filings are likely to increase sharply. Real estate professionals should brush up on the expectations around short sales and bank-owned properties.


Mortgage Rates Increase After Long-Term Record Low
Mortgage rates have had a historic low streak, enabling millions of Americans who might otherwise have waited to enter the housing market. Rate increases are inevitable, which will shut out some would-be buyers. Still, it may be a long time before rates rise dramatically and restructure the availability of financing.


Millennial Buyers Will Continue to Drive High Demand
Robust demand has been one of the engines behind real estate's standout success in 2020. Millennial buyers make up an expanding share of homebuyers, and they will continue to be alert for market opportunities. The younger cohort is aging into homeownership while many elders make strong progress on savings and debt.


A Proposed Tax Credit Is a Powerful Wildcard
Congress is now considering legislation known as the First-Time Homebuyer Act. If it becomes law, this bill will provide a tax credit for first-time homebuyers equal to 10% of the property's purchase price, up to $15,000. The bill is targeted to lower and middle-income individuals and families.


Down Payment Assistance May Be Coming, Too
Separate legislation is in the works that may make down payments more attainable, too. First-time, first-generation buyers could qualify for substantial down payment assistance in the form of a grant at closing. Both bills will expect a buyer to use the qualifying property as a primary residence.


Millions of Renters May Still Become Buyers
The cumulative effect of the two legislative proposals on the housing market suggests more than nine million people may still seize the opportunity to buy their first home. Demand is expected to vastly outstrip supply, creating intense competition in the most desirable housing markets around the country.


Video and Virtual Tours Will Remain Common
In 2018 and 2019, video was already seeing massive growth in popularity for real estate marketing. Now, buyers and sellers alike are accustomed to video in the form of digital open houses and tours. Their convenience, along with the ability for buyers to stretch their search into a wider radius, mean these trends are here to stay.


Brace Yourself for the "Big Box" Model of Real Estate


Large digital brands are consolidating their influence over buyers and sellers and extending their operations into more areas of real estate. They will continue to press for a less personal and more homogeneous real estate experience that prizes volume over value — deep local expertise is the antidote.
An Exciting New Era of Change Awaits Real Estate After the Pandemic
Just as they discovered opportunity in the midst of tragedy, real estate agents and brokers have a vital role to play in tomorrow's economic resurgence. In late 2021 and beyond, real estate could grow from an isolated success story to a bellwether of future prosperity for a great recovery.
Whatever changes, one thing is sure to remain the same: the importance of digital marketing.
Real estate agents who spend time implementing and learning marketing automation technologies now will be more resilient against the unknowns of the future. Done right, your real estate website can become a lead engine that informs, educates, coaches, and qualifies leads — bringing them to your door when they are ready.
A strong lead pipeline will help agents maintain their independence and strengthen relationships in the community, essential considerations as large digital-first brands and speculators seek to transform real estate to their advantage. Your digital marketing highlights your unique skills and perspective, which are irreplaceable.
To learn more about the future of real estate digital marketing, contact us at Delta Media Group today.