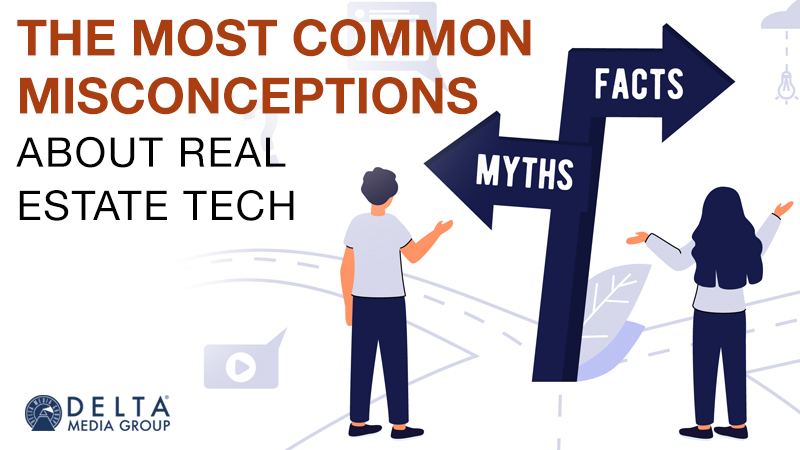 Real estate technology is becoming more advanced with every passing day. Capabilities that were once restricted to only the top agencies and brokerages are now available to smaller teams and independent players. As the landscape changes, though, there's plenty of misinformation out there.
Whenever a new industry develops, there are bound to be many different takes on it. And although real estate as we know it is hundreds of years old, real estate technology itself is very new. Established real estate professionals of today didn't grow up with many of the technologies becoming common now.
Artificial intelligence and machine learning, to name just two examples, have certainly stoked the public imagination. But in the midst of all that, there are real questions about their practical impact.
Real estate agents know how important it is to move with the times. No one is using overstuffed file cabinets or Post-It notes to organize their transactions as might have been the case 30 years ago. In recent years, real estate has had to adapt faster than almost any other industry.
While surveying the technology landscape, be aware of these misconceptions:
Misconception: "Real Estate Technology is Difficult to Learn and Utilize"
Without a doubt, there are some software programs out there that take thousands of hours to learn, even if you consider yourself "good with computers." But well-designed real estate technology is the opposite. It helps you learn the basics in a matter of days so you can produce value quickly.
At Delta Media Group, ease of use is always one of our core concerns. The new version of DeltaNET, the premier real estate all-in-one solution, makes it easier than ever for anyone to leverage the power of total visibility into your contacts, leads, and customers. It does this through the revolutionary "role-based system."
Under the role-based system, each DeltaNET user can have customized access to only the features they want or need to use. Each role can be tailored to the individual or to a job role. As work responsibilities grow, a user's role can be expanded to take advantage of more of the system.
All in all, this means anyone can get a running start without feeling overwhelmed.
Misconception: "Real Estate Technology Is Too Expensive for the Average Agent"
It wasn't that long ago when only large brokerages had access to the best real estate technology. Now, times have changed. A high performance real estate center of excellence like DeltaNET is far easier to afford at any size than the pre-packaged software of the past. Plus, no advanced hardware is needed.
Using the power of distributed computing, DeltaNET keeps your data accessible from anywhere. From the office, your car, or all over the world, you'll enjoy a safe, seamless, and stable connection that puts all the features you need at your fingertips while minimizing the cost of ownership.
If you have a work laptop and a smartphone, you've already made much of the investment necessary to leverage an AI-driven real estate toolkit. Compared to dozens of apps a full-featured suite like DeltaNET can replace, you may find you end up saving thousands of dollars in licensing fees.
Misconception: "Real Estate Technology Undercuts the Human Element of the Industry"
When all is said and done, real estate is about relationships. No matter whether you work with buyers or sellers, clients reach out to you based on your experience and local expertise. Oftentimes, this leads to a concern technology will homogenize the process and make it impersonal.
Nothing could be further from the truth. Technology doesn't replace the human element; it enhances it.
Thanks to marketing automation features in areas like social media marketing and email marketing, you can improve the quality of your communication with prospects, leads, customers, and your past customers. This helps you connect consistently and deliver insights that make a real difference.
For instance, social media automation can post helpful, informative updates that draw attention to your listings as they change. This isn't useless fluff: It's the kind of content that can support future customers who need to make an informed decision in a quickly evolving market.
Automation ensures that you will spend more time helping people and less time figuring out how to make it happen from a technical perspective. You can design an email campaign once and rest assured that it is working through the weeks and months to follow.
Technology also bridges the gap between the digital world and the physical one. With tools such as Open House Connector, you can capture useful details from everyone who registers for an event. If they're unable to attend later on, you'll know exactly how to follow up (perhaps to show them a recording of that event.)
Contact us to learn more about how real estate technology can exceed your expectations.