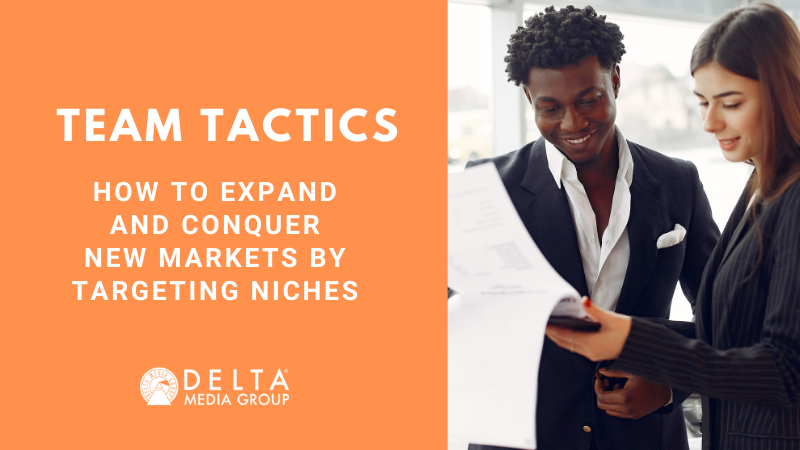 Is your team taking advantage of every opportunity to expand into new niches, unlock new markets and reach new clients in your existing ones? Targeting niches is one of the best ways to expand your real estate brand and create new opportunities for your team. But it's not something that your agents will do automatically. There's competition in every major real estate niche, so success requires a plan for your team, motivation from team leaders and modern marketing tools to help you effectively target every niche that matters to your business.
The first step to successfully targeting niches is getting your agents on board with the process. This may require a little bit of convincing, but savvy agents will ultimately recognize the value of targeting niches for their own career as well as the team as a whole. So, you can start by asking each team member to take on an extra specialty – ideally, one that suits their skills and ambitions as an agent.
Depending on what types of properties are available in the markets you aim to conquer, your team should have quite a few options when choosing a niche. Luxury real estate, new home sales and land/lot sales are always popular choices, but they're far from the only options. Also, consider specialty property sales like waterfront homes, equestrian properties, agricultural properties, condos and golf course homes.
Find the Niche That's Right For You
These are just some of the most popular niches that your team can target. The best niches to target will depend on the types of properties and opportunities available in the markets you wish to reach, which will naturally vary from one market to the next. Here are some tips to help team members pick a niche that fits their passions and skills:
Choose a Specific Geographic Area
Expanding can mean establishing your brand in a new geographic area that you haven't served before or expanding into a niche that you didn't previously cover within your existing markets. Either way, choosing where you want to target a new niche is the perfect place to start.
· Research Demographics and Market Trends
Once you know where, it's time to discover which niches are available in that market. Demographic research can help you find out more about the potential clients in a market and whether there could be a niche targeting a specific generation of clients like Millennials or Baby Boomers.
Researching market trends and the types of properties available within a market is another key step. That's how you'll find out whether it makes sense to target one of the many property niches that we have already mentioned above.
· Pursue a Passion
Naturally, as an agent, it can be helpful to pursue a niche that you already have a passion for. If you tend to gravitate toward a specific type of property and have built up a strong knowledge base around it, that niche will likely be a great fit to pursue further. Remember, though, that having an initial passion for a niche isn't a requirement for success. If you identify an excellent opportunity to cater to a niche and find success within it, that passion will likely develop over time.
· Identify Opportunities in Existing Networks
Along the same lines as pursuing a passion, evaluating your existing personal and professional networks can also provide insight into which niches are the best fit for you. If you already have extensive connections within a specific niche, that can provide a big advantage compared to starting from scratch.
Create Opportunities by Specializing in New Ways to Buy Homes
Specializing in specific types of real estate is a great start, but it's not the only way for your team to target niches effectively. More than ever, buyers have an increasing number of options for how to purchase a home. Having one or more team members focus on new ways to buy homes can help you unlock new markets while showing your target audiences that you can accommodate all of the needs of modern, market-savvy clients.
Though they cater to people who want to buy or sell homes through technology, iBuyer services rely on local agents to supplement their online services. Power Buyers provides unique financing options for purchasing homes, with a larger national footprint and a more agent-focused model than iBuyers. With such a fast-paced modern real estate market, providing Cash Offer solutions can also be a great area to target.
With how quickly real estate evolves — especially in recent years — it's critical to keep your finger on the pulse of the many ways people are buying and selling homes. Being an early adopter of new buying/selling tools does come with risk, but gaining an early foothold can give you a major leg up on the competition when a new way to buy homes becomes more mainstream.
Leverage the Right Real Estate Tech
Of course, choosing the right niches is just an important first step in the process. In order to expand and truly conquer those new markets, you're going to need to back your team by providing the right modern marketing tools to help them thrive. Our DeltaNET® 6 CRM combines the best modern real estate tech in one convenient, easy-to-use package, allowing each team member to market their niche confidently and unlock sustainable ways to attract new clients.
· Virtual Tours, Open Houses and Showings
With more buyers expecting to be able to tour homes in detail online, providing virtual tours, open houses and showings are a must for breaking into your new niches. Providing these modern options will help you appeal to tech-savvy buyers and anyone shopping for a home in a market far from their current location. It also adds appeal to sellers, who will see that you provide the best tools available for marketing their listing.
· Lead Management, Tracking and Automated Lead Segmentation
No matter the niche, it's so much easier to accomplish your goals when you know which leads are ready to pursue, which ones will need some nurturing and which ones can safely be put on the back burner. Automated lead segmentation makes life easier for agents and boosts productivity by allowing them to focus on the right leads at the right time.
· Smart Drip Email Campaigns
Email marketing is one of your best tools for nurturing leads within a new niche, allowing you to send timely, relevant content that helps to convert leads over time. Even if they're not ready to buy or sell right now, smart drip email campaigns make them more likely to think of you first when they're prepared to take the next step.
· Customizable eCards and Flyers
Whether you want to send an eCard online to promote a new listing or create a more traditional flyer, we make it easy to create appealing, informative marketing materials with hundreds of templates that are easy to customize to suit your niche. In addition to promoting properties, eCards are excellent for recognizing your clients' special days and reminding them that you're always there to help with their real estate needs.
· AI-Driven Email Newsletters
Keep your clients informed on the latest market happenings in their niche with auto-generated, AI-driven email newsletters. Clients benefit from having relevant, up-to-date information on the markets that matter to them, and agents benefit by having an automated, timely tool for keeping clients in the loop.
· Digital Marketing Services
In addition to all of the tools found within DeltaNET® 6, we offer comprehensive digital marketing services to help you conquer new niches. Whether you want a fresh, modern website with excellent SEO, a more robust social media presence, niche-specific content for your blog or an easy way to launch paid advertising campaigns on the biggest platforms, our digital marketing services are here to help boost your brand as you expand into new markets.
Remember That Conquering New Markets Requires Time and Commitment
In some cases, if a niche is truly under-served in the markets you aim to reach, team members can find something close to instant success in targeting that niche. However, most of the time, expanding into new markets isn't an overnight process. It takes a certain level of effort and commitment to establish a lasting place in new markets.
As we've covered extensively, choosing the right niches and providing your team with the best real estate tech for marketing to those niches will go a long way toward establishing your brand in new markets. The long-term benefits of conquering new markets are more than worth the effort for individual team members and your real estate brand.