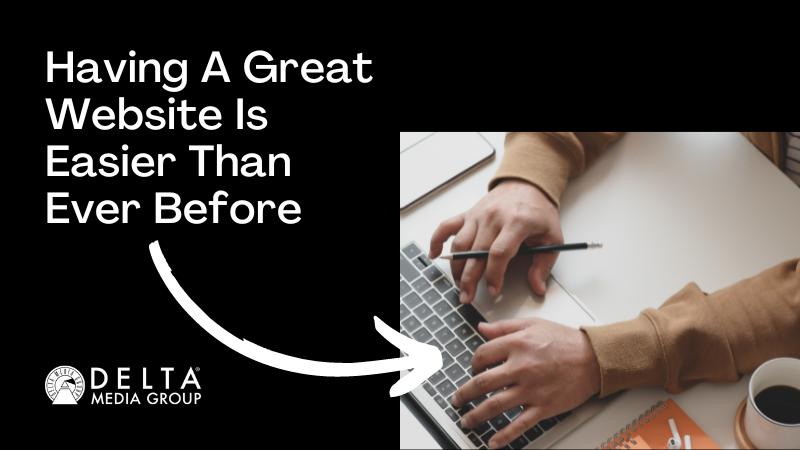 A great real estate website is a must in today's industry. Millennials and Generation Z are the majority of homebuyers, and virtually all real estate transactions start online. A website creates an opportunity to build trust with potential customers you haven't even met yet.
Website design is a big topic, and it might be a long way from your interests. But a website is your digital first impression, so every detail should be thought out with care. Luckily, everything gets easier once the planning and setup are complete. Then, your website can start building momentum.
It's no secret some of the most successful real estate agencies find most of their business through their website. By attracting the right prospective customers at the moment they are most interested in what you have to say, a website supercharges your relationships.
Since a website is working for you 24 hours a day, seven days a week, it extends your ability to win leads and move them through your sales funnel. Combined with a repeatable strategy to get regular referrals, a good website means less time chasing down leads and more time really connecting.
Features a Modern Real Estate Website Can't Do Without
It may seem like lots of work to launch a website or improve one that isn't performing. With a plan in hand and the right technology on your side, however, it's easier than ever. Your website is much more than an ordinary brochure: It should make your life, and those of your clients, easier.
Include these features in your website, and you'll be off to a powerful start:
A Video Introduction
Video is the next best thing to being there. It helps you form a humane relationship before you even get a chance to talk to someone in person. Independent agents need to work even harder to establish their brand and identity, and a video intro is the right way to do it. In three minutes or less, you set the tone and explain who you are, what you do, and who you do it for — zeroing in on your ideal customers.


Helpful, Informative Blogs
Your website is your very own publishing platform. By writing and sharing helpful, informative content, you can preview the expertise you'll provide to customers who choose you. What's more, each blog is a fresh way to get attention from search engines. You're more likely to appear in online searches relevant to your business if you are answering questions and solving problems with your blog.


Easy Ways to Contact You
When it comes to first contact, speed makes a difference. You maximize your odds of getting a customer if you respond to them within five minutes. With that in mind, it's wise to set your website up so it can text you the moment someone uses it to send you an email or schedule an appointment.


Your Hot New Listings
Naturally, your website is also a place where you should highlight all the terrific new listings you have to offer. You can use your MLS access to show active listings directly within your own website. Plus, putting listings on your own site enables you to capture more details about how people reach those listings and interact with them. This can help you optimize listings and appeal to your unique customers.


Complete CRM Integration
Today's real estate agents are turning away from time-consuming, old-fashioned approaches to keeping track of their network. A Customer Relationship Management suite for real estate is the key to growth, giving you complete visibility into your customers, leads, and contacts. Your site should communicate with your CRM, so the details people enter as they browse your website are automatically imported to the CRM.


Your Social Media Presence
If you're blogging and posting new listings on your website, then you have all the fuel you need for a bustling social media presence. Whether you find your customers on Instagram, LinkedIn, or even Twitter, be sure your social media credentials are on full display on your website. A live social feed showcasing your recent posts makes it unmistakable that your brand is active and on-trend.


Your Email Marketing List
If you're not using email marketing yet, the time to start is now. The average business can yield more than $30 in ROI for every dollar spent on email, and the potential returns are far higher in real estate. Trade useful, informative content like a neighborhood report in exchange for visitors' emails, and then contact them weekly with helpful content so they'll choose you when it's time to buy or sell!
Delta Media Group combines all the features and technologies you need for your breakout real estate website under one roof. Contact us to learn how a better website can empower you and your practice.