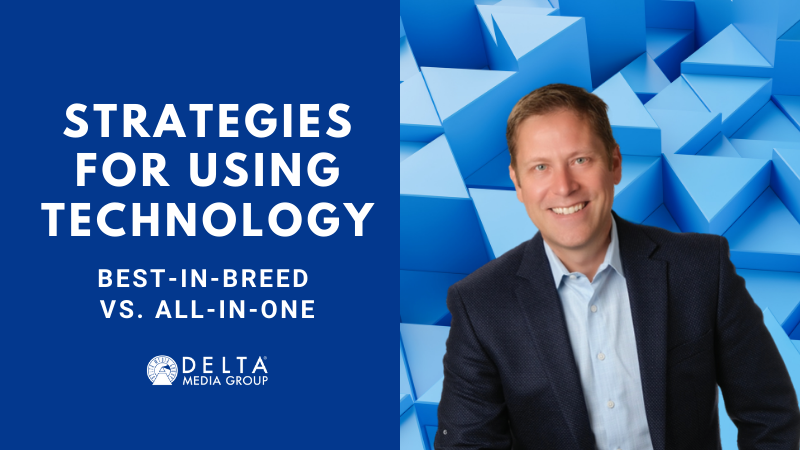 As I sit in my home office, I find myself gazing out the front bay windows staring at the bright green grass that's starting to grow, the Bartlett pear trees that are beginning to flower, the pine trees blowing in the wind and the oak trees lining the streets. Spring is finally here after what seems to have been a long Ohio winter.
The picturesque, almost mesmerizing view is perfect for clarity breaks. It makes me think of past times; it's hard to believe that Delta Media Group® turned 28-years-old this year. I don't know if there is a dog-years equivalent for technology firms, but 28 years seems like 100 in "technology years."
This got me thinking about how Delta has evolved into an all-in-one provider. In 1994, the journey started with simple real estate websites that contained property photos and data. Doing those websites was no small task back then, and I think we were the first to do it. Today the listing data and website thing is quite trivial to us, even though we handle nearly 100% of the listing data in the United States and some outside the country. We have evolved so far since then.
There is so much talk in the real estate industry around "all-in-one" versus "best-in-breed." I want to explore this dichotomy a bit.
First, let me try and clearly define both terms:
All-in-One — This is a term used to describe technology firms with a broad technology offering where many technologies are bundled together in one package that solves multiple needs.
Best-in-Breed — This is a term used to describe an approach where firms purchase multiple technology tools instead of purchasing all the tools from one provider.
If the technology entrepreneurs and the venture capitalists (VCs) are honest about it, what everyone is chasing is an all-in-one "holy grail" for the industry. I have been watching VCs pull together all the technology pieces needed over the past twenty years to try to bolt them together. That's why we see so many acquisitions of smaller niche technology firms in our space. I also know first-hand that VCs view Delta as a highly coveted hub that could pull off this all-in-one "holy grail," and I agree because that is exactly what I am trying to accomplish.
I believe the small niche technology providers have coined the best-in-breed phrase, and honestly, it is brilliant marketing. I mean, who doesn't want to have the best? I do. You do. Everyone does. The problem with this approach is that historically speaking, I have not seen where these small niche technology providers can survive long term.
Regardless of everyone's opinion and approach to technology, Delta will continue to pursue the all-in-one platform approach and allow the so-called best-in-breed approach with our platform. To me, the holy grail of technology is an all-in-one platform that is continually improving and evolving and that plays well with others. That's why today, we have hundreds of industry integrations, and the list continues to grow.
As time moves on, I believe that the all-in-one platforms will continue to mature and evolve and there will be fewer and fewer feature providers. What will drive this shift are three specific things.
First, healthy all-in-one providers continue to evolve and improve their systems. As one example, at Delta, we are working on DeltaNET® 7 CRM right now, and I believe it will be the best and easiest-to-use CRM in the industry.
Second, the all-in-one providers are automating more and more of the mundane tasks that should be automated. This simply is not possible outside the all-in-one ecosystem. As one example, at Delta, we are automating the whole AVM to CMA process. Salespeople will be able to configure how they want it all to work. Imagine someone visits your website, runs an AVM, and seconds later, you have a CMA delivered to your phone that you can share with that person and you didn't have to do anything. There are hundreds of automations like this inside the all-in-one platform ecosystem.
Third, an all-in-one approach is more affordable for the customer and more profitable for the technology firm. There is reduced overhead, shared resources, more seamless and deeper integration and everything is streamlined. I predict that we will see another wave of small feature technology providers going under during the next down cycle of the real estate industry.
At the end of the day, though, everyone has to implement a strategy for their business. If your strategy is best-in-breed, that's fine, but I would recommend that you at least partner with an all-in-one provider that plays well with others, such as Delta.
At Delta, we are all-in-one when you want it, and we support best-in-breed when you don't.