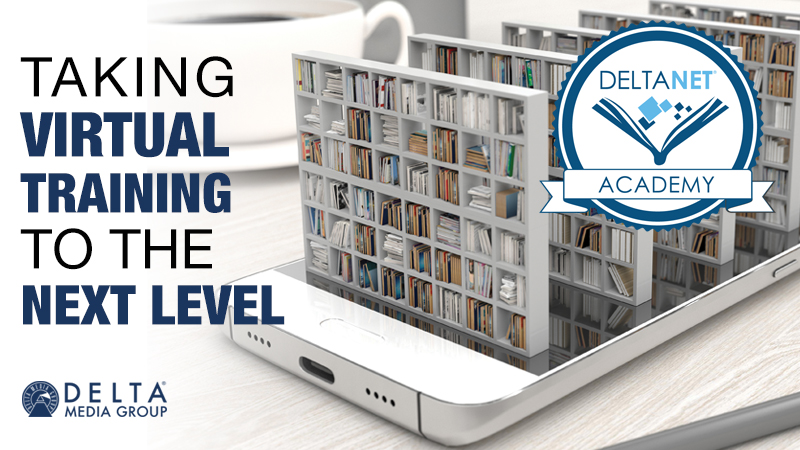 The pandemic changed the way we do many things, and one of those things is how companies train employees. The days of in-office face-to-face training are nearly over, and a new method, virtual training, has been widely adopted. Virtual training is the new norm, but with endless emails and Zoom calls, it's growing tiresome for many people. 
What if there were another way to train your agents and staff virtually that also saved both parties a great deal of time and energy? 
This past spring, Delta released its first-ever training platform: DeltaNET Academy. This unique interactive virtual training platform helps agents get acquainted with their new technology and company practices through slideshows, videos, and even quizzes. And better yet, they can participate on their own schedule. Without needing to commit to attending a training session ahead of time, they can train whenever it's most convenient for them. 
Train Agents with Built-in Courses 
When logging in to DeltaNET Academy for the first time, you'll see that four pre-built courses are already available to get sales associates up-to-date with the DeltaNET and Delta's various marketing and technology offerings. 
These built-in courses include: 
Welcome to the DeltaNET!

– This course introduces agents to the DeltaNET and its tools and features.

 

Let the DeltaNET Do it for You (Automation)

- This course shows agents how DeltaNET uses automation to assist with everything from lead generation to digital marketing.

 

Customizing Your Website

– This course shows agents how they can custom-create their website using DeltaNET.

 

Organizing Your Client Database

- This course teaches agents how to organize their client database in DeltaNET.

 
With detailed displays and engaging features, these courses are there to walk your real estate team through the ins and outs of Delta technology, so you don't have to. They are a great way to get your new hires accustomed to using the technology that will set them up to succeed. 
Custom Create Your Own Courses 
The built-in courses are just the beginning of DeltaNET Academy. As an admin, you can create custom courses that cater to your company. 
As the course maker, you are the teacher; you make the curriculum. So, your courses can be about anything you wish — from the office dress code to agent conduct or how agents can market themselves on social media. Designing new courses allows you to tap into your creative side and set the standards for your associates. 
To create a course in DeltaNET Academy, click "New Course." You can give it a name and choose to whom it will be visible — whether you want it to be for specific agents, offices, or everyone in the organization. Then you will need to add a description of the course. Next, it will take you to the course builder, where you can start designing the course. There you can make multiple "modules," which are like classes. These modules may consist of video content, slides, or both.  
In the course builder, you can create quizzes for agents to complete at the end of each course. To make a quiz, you just input your questions and possible answers and then mark the correct answer. When making a quiz, you get to decide what percentage of the answers need to be correct for the "student" to pass the quiz. So, depending on the subject and its difficulty level, you can set the bar higher or lower. 
Courses and modules can easily be rearranged on pages using the system's "drag and drop" feature. And don't worry if it takes you a while to make a course because, in DeltaNET Academy, you can save courses being built as a "draft" and continue to work on them over time. 
Admins Have Total Control 
With total control over your courses in DeltaNET Academy, you can assign courses to certain groups and set deadlines. 
Whether you have a small or large brokerage, you likely want the ability to train agents based on their strengths and weaknesses. Or you may want to assign certain courses to agents or staff in certain geographical areas or that do or don't come into the office. As an admin for DeltaNET Academy, you can choose to whom you assign specific courses. You can even make and assign courses specifically for administrators. That might include training on navigating the admin side of DeltaNET or how to lead a team. 
When you assign a course, you can also assign a deadline. You can track an agent's progress in a course and see when they finish it by visiting the reports page. There, you will get a list of all your agents, and by clicking on a name, you can see what courses that person is assigned to and what they've completed.  
Suppose, instead of wanting information on a specific agent, you want to know how many agents have completed or have yet to complete a course. In that case, you can just click on the course preview, which will tell you the names of the agents assigned to it and those who have completed it. 
Although the platform is called DeltaNET Academy, you have the option to rebrand it for your company with a new name. It's your training platform, so call it what you'd like. You can add new designs and import your logo to match your brand. 
As an admin, it's your job to activate DeltaNET Academy and create a tile for it to show up on the dashboard for your agents. New tiles can be created by going to the personal side, finding the landing page to which you want to add the tile, then clicking "Edit Tiles" and "Add Tile."  
Navigation is Simple for Agents 
Navigation is simple on the agent side. Agents can access Delta Academy through their dashboard in DeltaNET and complete courses with only a few clicks. They can begin a course and come back to it as they please. 
It's also easy for them to keep track of their courses. When agents log in to DeltaNET Academy, they automatically get a list of the courses they have been assigned, noting what courses have yet to be completed. Next to each course listed is a "start" button for them to click on to start or continue that course. Once they complete a course, it's removed from their list. Aside from having their courses and deadlines listed on their home page, the due dates for their assigned courses will also appear on their calendar, reminding them of what they need to get done. 
With simple navigation for agents throughout the training platform, your team will be more like-minded than ever. Your real estate team will operate efficiently, and you won't have to worry because everyone will be on the same page.  
An Even Better Version is Coming 
Although the platform is already full of awesome features to help your real estate business and its employees thrive, there are always improvements to be made. DeltaNET Academy will soon be launching into phase two, which will be complete with more actions and features to make training your team even better. 
With this new version, you'll be able to restrict an agent's access to certain features, depending on whether they completed a course. For example, if an agent has not completed the website design course, they can be restricted from making their website until they do. Or, if they have not completed the digital marketing course, they can be blocked from sending email campaigns. 
Phase two will also include "achievements," which are like badges. These will be displayed on DeltaNET after completing a course. Not only will this feature give associates a sense of accomplishment, but as an admin, you will be able to identify who is trained in what areas based on the presence of these badges. 
This update will also offer an option to host a "class." So, if multiple agents want to complete a course simultaneously, they can do so by joining the same training event. Attendees then pass the course based on their attendance rather than a test or quiz. That is unless you still wish to give one anyway, which you always have the option to do. 
Your Agents Will Love DeltaNET Academy 
DeltaNET Academy is built into the DeltaNET and requires no additional purchase or cost. It's entirely free; no surprises or hidden fees.  
So, instead of stressing over getting all your agents together for a Zoom call and checking to see that everyone shows up and pays attention, start designing courses through DeltaNET Academy and see if it improves your company's operations. Odds are, it will.