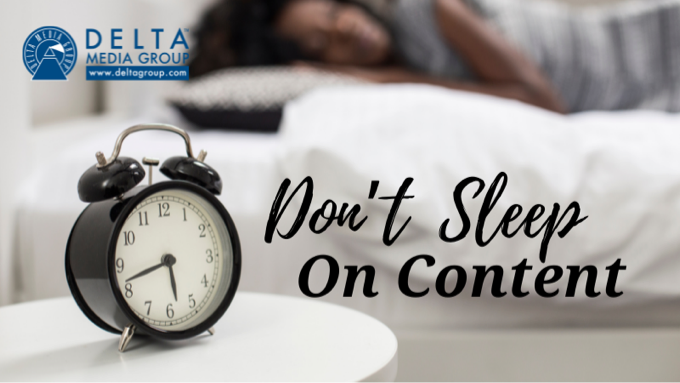 Every day, clients and prospects are searching for real estate content about the topics that matter most to them. They want tips on buying/selling homes, information-rich guides on the neighborhoods where you sell properties, home improvement ideas, and so much more. In addition to being great for informing and educating your audience, content is one of the biggest keys to growing your online presence. If you've been sleeping on content, now is the perfect time to wake up to the possibilities – and our team has some tips to help you get started.
Why Every Real Estate Business Needs Quality Content
Real estate content is integral to your overall online presence, impacting your website, social media, blog, and more. Google's algorithm favors websites with fresh, authoritative content, and your content is ideal for integrating SEO to boost the visibility of your online presence even further. And that's not the only way your content drives traffic.
In order to keep people coming back to your website, blog, and social media, you need to provide something of value. Informative content is just the thing. It adds value, helps you demonstrate your real estate expertise, and builds trust with your audience. The knowledge that you share isn't limited to the nuts and bolts of real estate, either. By creating content that showcases local neighborhoods, attractions, and events, you can inform your audience while also showing why the communities where you do business are such great places to own a home.
How to Get Started with Creating Real Estate Content
There are so many things to consider with real estate content that it can feel a little overwhelming to get started, but the process gets easier the more you do it. When getting started with creating content for your real estate blog, it helps to focus on building confidence with the fundamentals.
Know Your Audience
Who are you creating content for? Knowing your audience is the first step to success because it will impact everything else that you do with your content. Young, first-time buyers will naturally be looking at different types of content than experienced shoppers who are hunting for the perfect luxury vacation home. Understanding what your audience wants to see will help you choose the right topics and tailor your content to their needs.


Create Content That Answers Questions
Your audience has questions, and your content is the perfect place to provide the answers. Whether you're creating content for buyers, sellers, or people who are new to real estate, think about the questions that your audience want answered. Answering questions is a dependable way to create content that's relevant, demonstrates your real estate expertise, and provides value for your audience.


Create Content Related to Your Neighborhoods, Communities, and Cities
Creating localized content is a reliable way to boost your SEO and establish yourself as the go-to real estate resource in the communities where you do business. Focus on local events, attractions, services, and any other information that would be of value to people who are looking for a neighborhood where they'll love living.


Keep an Eye Out for Interesting Information
Coming up with a steady supply of fresh, interesting content topics is one of the big keys to success, and you don't just have to rely on your imagination for great content ideas. Keep an eye out for any interesting real estate facts, statistics, trends, and upcoming local events to gain some easy inspiration for your content creation.


Always Revise and Edit
Reminding yourself that you don't have to get content perfect the first time can really help remove some of the stress from content creation... as long as you remember to revise and edit your content after that first draft is complete. The editing process is key to making the finished product look as polished and professional as possible. You can even have someone else you trust take an unbiased look at your content before you post it and provide honest feedback.


Strike the Right Balance Between Information and Length
The right length for your content depends heavily on the topic, and for longer topics, it's important to make sure your content is easy to read. Using short paragraphs and bullet-point lists makes longer content easier to digest.


Share Your Content and Start Conversations
After your press "publish" on your latest piece of content, your job is almost done. But you'll still want to share that content on all of your social pages, and use your content to spur engaging conversations with your audience.
When creating your own content, remember that practice makes perfect. If you want great content without all of the effort, our custom content creation services make it easy to inform, educate, and excite your audience about all things real estate.