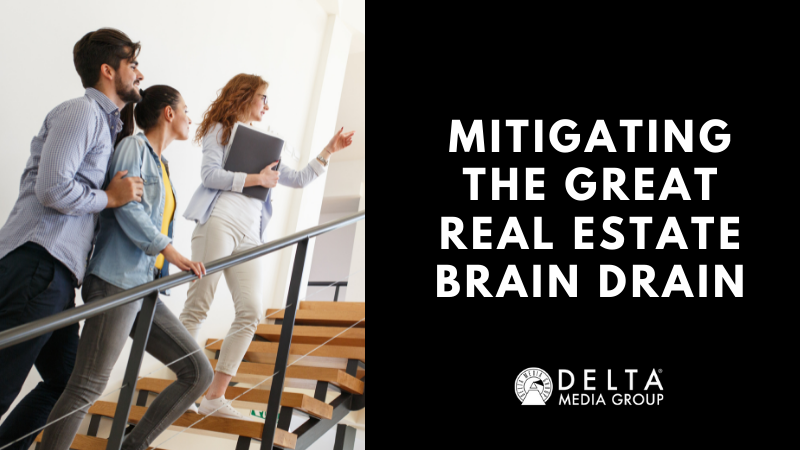 In the wide world of housing, "brain drain" is associated with a mismatch between financial capital and human needs. When young, educated people leave an area en masse, usually seeking more affordable housing, it means less innovation in the communities left behind.
This kind of brain drain often happens in the wake of a housing bubble.
But there's also a different kind of brain drain, a kind that strikes organizations. When talented people leave, two weeks is often not enough to replace them. And even if their role gets filled, they take with them valuable insights and best practices that are undocumented.
As a result, the next person in the role takes even longer to acclimate. Depending on the situation, they might never quite reach the performance of their predecessor. Meanwhile, other members of the team and even other departments lose the benefits of that person's special expertise.
We often look to standardized certifications as a measure of knowledge in real estate. Valuable as they are, though, they only tell part of the story. Soft skills are developed only through experience, which may be lost as colleagues retire or move on.
Once people are gone, it's often difficult to point to the full extent of their contributions. Brokerages and agencies do their best to train new hires well and find candidates with comparable skills. Still, there's always something irreplaceable – and they may not even know exactly what they lost.
Luckily, you can solve the problem of brain drain by being proactive.
By uniting the right hiring practices with the right technologies, it's possible to mitigate the impact of brain drain before it gets felt. It takes time, effort, and preparation to make this happen, but it will positively impact team performance and the future of your enterprise.
When you prepare for brain drain in advance, you can ensure:
New hires adjust to their roles and ramp-up to their full productivity more quickly
Retention improves, with fewer "cascades" of losses after a key figure resigns
There are no abrupt downturns in productivity arising from one person's loss
It is easier to keep people on track in their skill and leadership development
Your brand is better able to deliver consistent results to all of your clients
The brain drain problem might seem amorphous when it isn't happening – out of sight, out of mind. But when a talented individual at any level is lost, it often means others need to pick up the slack. If someone ends up doing two roles for the price of one, they can easily be lost ... and so on and so on.
Luckily, the inherent flexibility of real estate gives you plenty of ways to strengthen your team.
Let's look at some of the ways you can connect talent with talent, keeping your organization strong:
1. Create Advisory Groups to Keep the Different "Generations" of Your Organization Together
Real estate leaders are learning that offboarding their departing employees may be almost as vital as onboarding them. Just as onboarding sets clear expectations for the newcomer, offboarding creates a chance for an ongoing and productive relationship.
As a result, some of the most prestigious brands in real estate are making strides in turning their former colleagues into proud "alumni" who continue to support the organization years later, no matter where their careers take them. You might recognize this same vision at work in top strategic consultancies.
One of the ways to realize this approach is to create official "advisory groups" to link retiring leaders and the high-performing agents who remain behind. An occasional "roundtable" between the two groups is a powerful way to brainstorm and problem-solve emerging industry challenges.
Today's technology makes this easier than ever. A brokerage can build the right foundation by creating a private group on LinkedIn and inviting departing employees to join during their out-processing. This group allows them to continue to contribute to their departing organization and share their insights at any time.
Also, from the group, they will be invited to "high touch" events where they'll be able to discuss matters with agents in real-time. Facilitating this kind of event is now simple, thanks to the deep experience most agents have with Zoom and other video conferencing apps, making it truly ideal for real estate.
Some organizations shy away from the idea of vigorous networking with former employees. They worry that this will create a pipeline for existing talent to depart more quickly. But everyone must leave sooner or later. Being mindful of this can help instill greater loyalty driven by shared values.
2. Improve Retention by Using Real Estate Marketing Automation to Reduce Workloads
When one person leaves, the work they would have done and the results they would have produced get dispersed throughout the rest of the organization. This is even true in real estate, where agents tend to be more independent and self-driven than in other industries.
If there is an upside to this, it's the fact that – unlike in other workplace settings – it's very rare for just one person to end up "picking up the slack." Still, the need to work harder and do more can negatively impact the whole team. That's true even with the schedule flexibility many real estate agents have.
Luckily, there is a way to achieve more in the same amount of time.
When real estate agents want to go to the next level in optimizing their productivity, AI provides them with the answer. With AI, you can automate many rote tasks that you perform every day or every week.
That may save you thousands of hours a year, but the results don't end there.
With real estate marketing automation, you:
Continue to build relationships with leads and customers 24 hours a day, seven days a week
Extend your brand's reach in social media and email marketing with event-driven updates
Gain more insights into the behavior of your network and how to serve them better
Ensure everything you communicate delivers the highest standards of professionalism
A modern real estate technology strategy starts with Customer Relationship Management. A CRM suite gives you complete visibility into prospects, leads, and current customers. You'll no longer have to spend hours each week apprising yourself of where everyone stands or what needs to happen next.
The power of machine learning makes a real estate CRM even more effective. Your CRM can connect the dots between millions of data points as you work, surfacing patterns no human would notice. That enables them to score leads more efficiently and cue you at the best follow-up times.
3. Pass on Wisdom to Newcomers Through an Internal Mentoring Program
In the first two years, a new real estate agent learns a tremendous amount of information.
That first year is usually dedicated to learning the ropes. With a good command of the basics, year two is the beginning of defining an individual brand. The agent must decide which clients, transactions, and key problems they specialize in. The right level of specialization allows them to attract their ideal customers.
To prevent burnout, it's essential that this process flows along without delay. New agents may feel the temptation to work late into the night and skip weekends, but this must end sooner rather than later. Mentoring is a way to accelerate talent development and keep new agents from reinventing the wheel.
An internal mentoring program is one of the most cost-effective ways to identify high-potential leaders and help them rise. It also positively affects senior agents and leaders who do the teaching, bringing them to a new level of understanding and sophistication.
It is said that you don't "really" understand something until you can explain it to others, and mentoring shows the truth of this. Both sides of the mentor-mentee relationship will see higher productivity and greater confidence, setting the stage for deeper, more meaningful relationships.
In the competitive realm of real estate, it is essential to set the right tone from the very start. When a mentoring program has a firm support and robust participation at all levels of the organization, it shows new hires "we are all in this together" in a way few other perks can.
Naturally, you'll need to adjust the specifics of your mentoring program based on the individual skills of your team members and the ways in which your organization aspires to excel. In the beginning, it helps when a mentoring program has an executive sponsor who can show top-level buy-in.
4. Acknowledge Your Valued Managers and Agents to Keep Morale High
By now, it is fairly well-known that positive reinforcement works better than negative reinforcement. People love to have their hard work and contributions acknowledged. They remember how they feel when recognized, adding to the complex motivational stew that results in higher performance.
Social media is an apt way to drive recognition for your managers and agents. Real estate agents are the most active of all the professionals on social media. They're also most likely to build a business where social media is a robust and reliable part of their marketing mix.
So, a social message – from a leader or directly from your brand account – can be a terrific way to give a "shout out." But be aware that everyone varies in their communication preferences. Some people might react even better to a personalized, face-to-face interaction that provides specific feedback.
Slack, email, and video are other potential methods for recognition. Whatever you choose, be careful to align it with the other person's preferences so that it will never feel impersonal or rushed. Whether it's a peer, report, or client, the key to social relationships is to take a genuine interest in the other person.
5. Use "One to Many" Video Education Centered on Your Seasoned Leaders
Over the last few years, video has become an indispensable tool in real estate. Video is used throughout the value chain, from listings to open houses and everywhere in between. Experts also realize that, by and large, a video might be the most effective choice for educating agents.
Studies suggest that people remember the content of a video much more clearly and for longer periods than with text content alone. They are also more likely to take action on the information they hear. These advantages translate very effectively to your internal training initiatives.
Video education might seem like a substantial investment. But just like your marketing materials, every piece of video collateral you create has the opportunity to make a positive impact for many years into the future. A full library of video content is a formidable asset that can be used in many ways.
As with other talent development initiatives, video education is almost as beneficial for trainers as it is for students. Trainers who've had difficulty adjusting to being on camera in the past may see this as an opportunity to get to another level, making virtual tours and video marketing more compelling.
Video education also allows agents to build rapport with organizational leaders they might rarely see in person. This is another plank in the effort to create consistency and camaraderie. Each person within the hierarchy can see their colleagues as trustworthy resources with important contributions.
A Multi-Layered "Generational" Approach Helps Head Off Brain Drain Before It Happens
What brings all of these ideas together?
Simply considering they prevent people from getting siloed off, it is all too easy for some of the best minds in any business to be isolated based on their experience or seniority. With these methods, you can make sure your organization becomes fully integrated.
In the near term, it means everyone feels more supported. And in the long run, when it's time for someone to bow out, they will be "gone, but not forgotten" – as others continue to reap the benefits of their contributions.