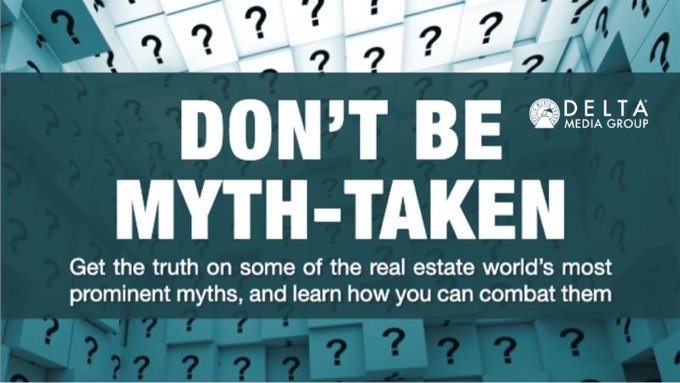 Myths are everywhere in the real estate industry these days — and not just for your clients. In an industry with so many resources and news sources available, it's also easy for agents to believe some common myths about their own careers. Whether you're talking about buyers, sellers, or your own career as a real estate agent, combating myths is an important part of the job that is also sometimes overlooked. Cutting through the myths will help your clients achieve their real estate goals and can help you grow within your own career for years to come.
Common Myths for Real Estate Agents
Before we get into buyers and sellers, it's time to take a look a bit closer to home. There are certain myths about being a real estate agent that regularly make the rounds on social media, during water cooler talk, and in other prominent places. Don't listen to them. These myths can hold you back from growing in your career, attracting new business, and providing the best possible service to your clients.
Here's what to be on the lookout for:
The Real Estate Market Will Always Be This Strong
When things are good with real estate markets and your pipeline is always full, it's easy to feel like that will always be the case. Over the last decade, market trends have generally been positive for real estate agents. While we're not predicting doom and gloom, it's important to remember that the pendulum will eventually swing the other way. In order to succeed when real estate markets eventually cool off, it's critical to be prepared and have a plan.
There's Too Much Competition to Stand Out as an Agent
One consequence of the positive trends in real estate over recent years is that more people than ever are deciding to try their hand at real estate careers. NAR membership statistics seem to grow every year, and in 2021 there were more than 1.5 million members. But how many of those real estate agents are taking advantage of all the best marketing tools and doing everything that they need to do to thrive? The truth is that, according to those same statistics, the average agent worked 35 hours per week in 2021. If you're willing to put in the extra time, carve out your niche, and make the most of your marketing — with tools like the ones you can find in the DeltaNET® — there are plenty of opportunities to stand out from the competition.
What Worked in the Past Will Always Work
This myth goes hand-in-hand with the first two on our list, but the truth is that you don't have to look too far into the past to see a totally different real estate industry. Twenty years ago, the iPhone didn't
exist, social media wasn't a thing, and online marketing was largely in its infancy. What will the industry look like five, 10, or even another 20 years from now? The agents who continue to thrive are the ones who are willing to learn, adapt, and evolve with the times.
Past Clients Will Automatically Call You for Real Estate Needs in the Future
After completing a real estate transaction, the vast majority of clients say that they will return to the same agent for real estate needs in the future. They may mean it at the time, but the reality is that they follow up with the same agent far less often than those initial numbers would suggest. If you want to keep clients for life, you need to continue to keep them engaged. With email marketing, social media, and so many other tools for maintaining relationships, you have all the tools you need to keep clients coming back long-term.
Real Estate Marketing Is an Expense, Not an Investment
It's easy to look at real estate marketing as an expense, with money going out. But are you also accounting for all of the revenue your marketing brings in? If you think of your marketing as an investment, then it's also important to track ROI. Make sure that you're taking advantage of analytics and checking your metrics to ensure that your marketing investment is well spent.
Myths That Buyers and Sellers Believe
While some myths make the rounds among real estate pros, they're nothing compared to the number of tall tales that buyers and sellers believe. Helping buyers and sellers understand the realities of real estate and dispel the myths are important parts of any agent's job. When clients are equipped with accurate information, it's easier for you to help them accomplish their goals.
Selling a Home FSBO or Buying a Home Without an Agent Will Save Money
No matter how clear it is that this myth is untrue from the agent's perspective, many buyers and sellers still believe that they can save money by handling everything themselves. Maybe they've even been through the process of buying or selling a home before and think they already know everything that they need to know. Of course, the truth is generally quite the opposite, with most people losing money and gaining frustration when they try to handle the job themselves. That's why it's so important to show prospects all of the ways that you add value and help them save money in the long run.
Online Resources Provide All of the Information That Buyers and Sellers Need
Some people think that they can go without an agent because there's so much information about real estate available online. But online information can only take them so far, and there is also so much misleading real estate info online. Insights they find online might help them in many ways, but online research won't equip them with the tools and skills to handle every detail of a complex real estate transaction.
All Real Estate Agents Are the Same
Similar to the myth about too much competition that we mentioned in the agent section, some buyers and sellers believe that real estate agents are interchangeable. Of course, that couldn't be further from the truth. Make sure that your marketing helps differentiate you from other agents and that you clearly communicate the many ways that you can help clients.
Always Set an Asking Price/Make an Offer That Leaves Room for Negotiation
While it's true that leaving some room to negotiate can be a good thing, many buyers and sellers take the concept to the extreme. A buyer who always starts with a lowball offer or a seller who sets an unrealistically high asking price is only setting themselves up for disappointment. This is one area where the market knowledge of a real estate agent can make life much easier for both buyers and sellers.
Why Busting Myths Will Always Be Part of Real Estate
With how quickly the real estate industry evolves for agents and how many varying sources of information your clients have access to regarding real estate topics, there will always be myths that need to be dispelled. Staying on top of the accurate information and discarding the fake facts will serve any agent well, whether you're helping a client or thinking about ways to advance your own career.