Overcoming Obstacles
Although Badger Peabody & Smith Realty's merger was ultimately a success, that doesn't mean it came without challenges — some of which they were prepared for and others they weren't.
First off, getting the agents up to date and answering their many questions wasn't easy, but the staff from both teams came together and made it work as effectively as possible. One thing that made the transition easier was the agents in both companies were already accustomed to using DeltaNET. Plus, the staff could do most of the reworking in the back end, making things far less complicated for them.
"We ran parallel, and we did it behind the scenes," says Jessica. "Most of the time, our agents didn't even know anything was going on or was different, so they were not interfered with on a day-to-day basis. Our goal was to do everything and try to get those pieces aligned and connected as much as possible and get everything flowing before we made any tweaks or changes that would interfere with their lives."
While the plan to merge had been in motion for years before making it official, most things did not go as planned due to the COVID-19 pandemic. The team had to meet virtually instead of in the offices and rely solely on technology.
When speaking about the impact that COVID-19 had on the merger, Jessica says, "I think it prolonged a little bit of the personal connection, not so much with the management team because we kind of still saw each other, but with the agents. It's hard to connect on Zoom."
For Andy and the rest of the team at Peabody & Smith Realty, going remote wasn't much of an issue considering they were 100% paperless and used technology for most of their work already.
"We put all that technology into place so when we couldn't come into the offices and we had to do closings in the parking lot, we were able to continue along pretty well from a functionality standpoint," says Andy.
But for the staff at Badger Realty, it was a bit more difficult. They hadn't quite reached their technological goals prior to going remote, thus finding it more challenging to navigate at first. However, instead of letting it set them back, they used it as an opportunity to lean into the technology and virtual resources they had available to them and get on the same page as Peabody & Smith. In the end, they were happy they did so.
The pandemic also deeply impacted the economy as people were told to stay home and stay put. When the first shutdowns occurred, big cities like Boston and New York took the biggest hit. Luckily, Badger Peabody & Smith Realty saw the perfect marketing opportunity as most of their properties reside in more off-the-grid areas, ideal for social distancing. As people all over the country were fleeing big towns and cities, they were there providing a safe destination filled with peace and quiet.
"We're a second-home resort area for Boston and the Northeast feeder market in the White Mountain National Forest, both to buy for summer and year-round recreation," says Andy. "So, during COVID, we were the safe place to rent and buy, and our sales volume went up tremendously."
Onboarding New Agents
During the merger, both firms maintained their current staff, and with the opportunity to expand, there was room to hire new agents. For Badger Peabody & Smith Realty, while they wish to grow in some regard, it's not about bringing on as many agents as possible but rather finding the right ones. This is something else both companies have always aligned with.
"Both firms always looked for career-orientated agents. It was neither one of our goals just to have the biggest amount of agent licenses hanging on the wall," says Andy. "We had a commitment to a very high level, well-qualified client service. We always have and will continue to believe this is a career that requires good, educated full-time agents giving the very best level of service."
Instead of looking at numbers like years of experience, Badger Peabody & Smith Realty prioritizes finding a certain personality. They feel that the skills can be taught as long as an agent has the right mindset for the job.
"We are looking to grow, but that's not our first driver. The first driver is to find the right match with our existing agents," says Andy. "We try to hire on the personality and the skillsets they bring, not necessarily real estate experience."
Badger Peabody & Smith Realty's extensive onboarding program lasts about 60 days. They use the Leading Real Estate Companies of the World (LeadingRE®) training platform, and they provide a mix of internal, staff and management training. For agents stepping into the industry for the first time, they offer a valuable mentoring program in which a new agent gets paired with a more experienced agent to learn the ropes.
When speaking about the training program, Andy says, "It's a combination of everything depending on what the new agent needs. They may be a very experienced agent that just needs to get up to speed on our tech stack or a brand-new agent who needs full-service mentoring."
From a technology standpoint, they are excited about DeltaNET Academy and how that can help improve their tech training process.
Supporting Their Team
The support doesn't end after an agent finishes their training — it's only the beginning. As previously mentioned, supporting their agents is one of the top priorities for Badger Peabody & Smith Realty. Support means providing and assisting agents with using all the right tools and resources to succeed.
"Both companies have been focused on providing agents with the tools, resources and support that they need to best do their job," says Jessica. "We have staff members who assist the agents with the paperwork and putting listings in the MLS. We have our closing coordinators help with the closing process. We have our in-house marketing team, which is amazing because they can do projects that if we outsourced it, we wouldn't be able to do."
Supporting their agents also means supporting them as human beings, not just as talent. That's why they ensure agents are taking care of their mental health. In a time like this, in a pandemic where buyers are tired and listings feel few and far between, this is especially important.
"There's a buyer fatigue, and there's an agent fatigue; they're trying so hard to do right by their buyers and despite how hard they work, they can't do anything about it," says Andy. "I try not to use the word work-life balance because, in this industry, it's a balance of everything. You live and breathe real estate seven days a week if you're successful in this, but it's balancing all of that and understanding you just need to be able to encapsulate and walk away from it and take care of your own mental health."
The support at Badger Peabody & Smith Realty includes not only the staff supporting the agents but also the agents and staff supporting each other. And that support goes beyond the office.
"From a cultural standpoint, we rally to each other's causes and support each other professionally and outside the workplace," says Jessica.
The real estate company has found this support not only fosters a great work environment but also provides excellent results for agents.
"Our average agent in 2021 did 24 sides, so certainly higher, much higher, than the industry average, and of course, we have some that do three times that," says Andy. "For the most part, everybody shows up and takes their career very seriously, and we want to always provide them with the highest level of support so that they can do 20, 30, 40 sides."
Showing Appreciation
Although supporting your agents certainly goes a long way, showing appreciation can be highly valuable too. That's why Badger Peabody & Smith Realty makes sure to let agents and staff know they're appreciated on a regular basis. While that can simply be done through daily praise or words of affirmation, the company holds several annual events to show its appreciation for its agents and staff on a larger scale.
Each year, they hold a gala to celebrate their success from the previous year. This February, they held their annual gala at the Omni Mt. Washington Resort in the grand ballroom. Everyone got dressed up; they had a delicious dinner, a photo booth and a raffle to win prizes. During the event, they gave out awards to agents and gifts to the staff. Since they had just recently launched their new brand and firm, they wanted to make this year's event extra special for everyone, and it was.
In addition to the gala, they had a company event at Mt. Cranmore over the summer, where everyone got to socialize and take a ride on the chair lift overlooking the mountain. This was a great way for agents and staff to catch up, get outside and enjoy the great outdoors.
Badger Peabody & Smith Realty doesn't only believe in showing appreciation for those who work for the company but for their customers too. Another annual event they host is the Customer Appreciation Barbecue. They've been hosting this event for almost 20 years. This year, they brought in a food truck to offer free meals to customers.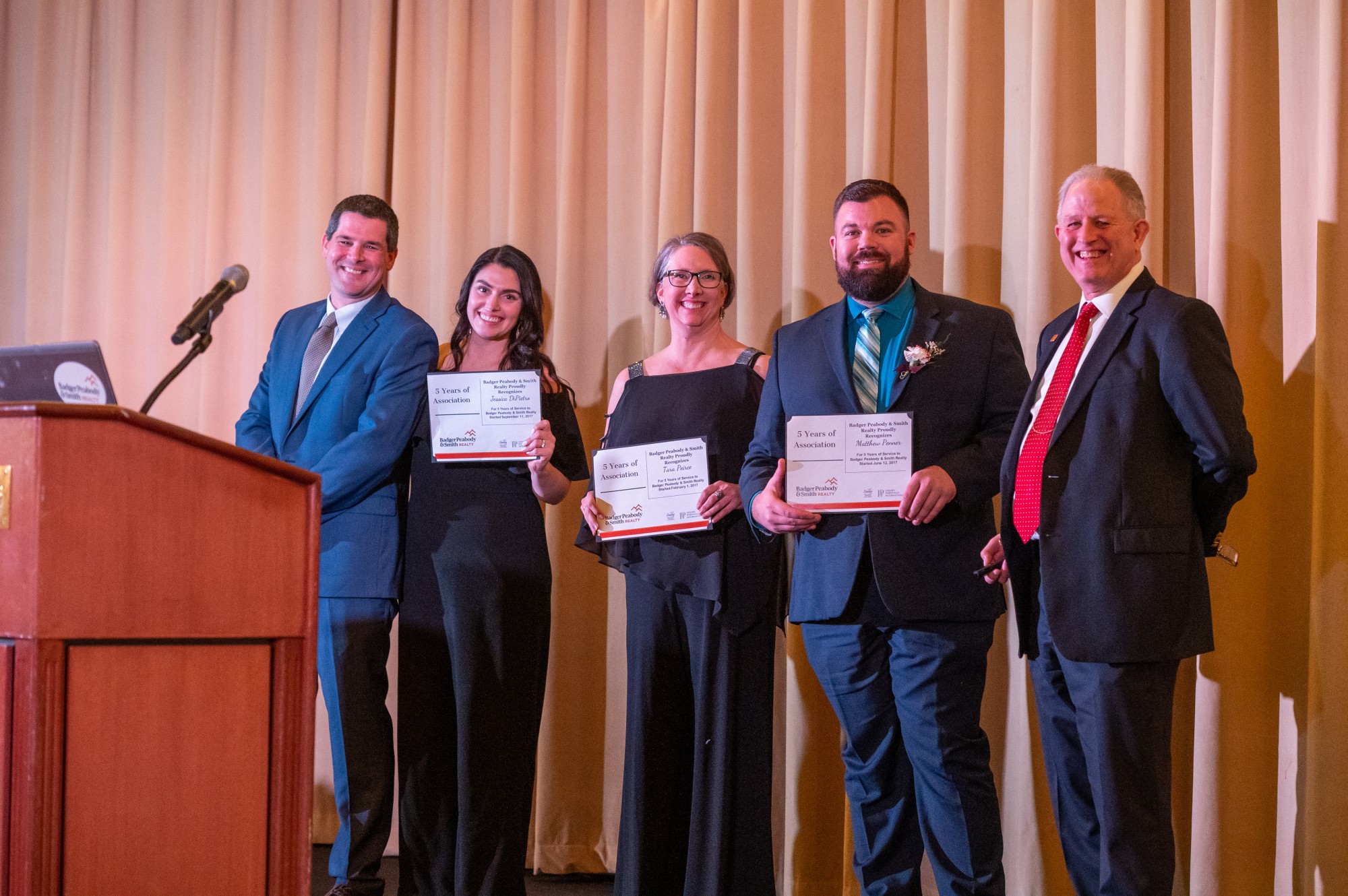 Connecting as a Community
Before the merger, both teams were made up of people who believed in serving their community and maintaining a community-oriented approach to their business. So, when the two came together, engaging with the community was a top priority for everyone.
One way they support the community is through providing sponsorship and donations. In 2021, the company gave over $35,000 to local community organizations. Some of the organizations they have supported include Pope Memorial Library, Good Neighbor Food Pantry, the Boys and Girls Club of North Country, Holderness Historical Society and the Colonial Theater.
Merging Has Its Perks
Aside from working well with one another, there have been some obvious perks to Badger Realty and Peabody & Smith Realty joining forces. First off, they can now expand their reach, covering more area. Before merging, although they worked within the same region, they never really crossed paths. They each had their own territory, and they stuck to that. Now that they are working together, the team has more space to explore.
"Covering such a large service area with the two companies together has been wonderful," says Debbie.
Also, with the merger, they are seeing growth on all sides. By combining referrals, they have been able to expand their customer base. This has allowed them to hire more agents and even add some new and necessary staff positions — such as a Manager of Agent Success. This position, held by Gaige Pequeno, has made a huge impact on keeping agents engaged and informed in all processes.
"We were both in the 30-agent range independently, which is a good size for the kind of rural area that we're in," says Andy. "But it still wasn't quite big enough to do some of the things we thought we could do if we joined forces and then it would just maintain our competitive advantage, and it certainly has done that so far very well."
Another benefit, particularly for the Badger team, was becoming part of Luxury Portfolio International®, the luxury division of LeadingRE. While they were always in that second-home and vacation market, they weren't part of Luxury Portfolio International, which Peabody & Smith Realty was. So, by merging with them, they could offer a luxury affiliation for clients and customers. With Luxury Portfolio International, they can now market globally, allowing them to advertise in higher-end magazines and on global websites for the first time.
"Although we could market locally and nationally, joining forces and being a part of Luxury Portfolio International has given us advertising opportunities that as a smaller company, just the budget allowing for that kind of marketing was difficult," says Debbie.
Couldn't Have Done it "With Anyone Else"
Badger Peabody & Smith Realty believes that Delta played a significant role in the merger's success. Jessica says, "I don't think we would've been able to do it with anyone else."
For them, it wasn't just about the technology Delta provided or the strategies. It was the dedication and commitment to helping them they valued most.
"Delta is more than just a tech platform," says Jessica. "They have been an integral part of the strategic portion, the advising portion of the merger and have been a reliable 11th-hour lifeboat throughout — providing that 'Oh my god it's 9 p.m., things are breaking down, and someone will hop on a Zoom call with me,' type of unparalleled support on more than one occasion. Plus, the fact that an agent can call the helpline and troubleshoot with a live person is unheard of these days and very much appreciated." 
The staff at Badger Peabody & Smith Realty feels that Delta has consistently kept their company goals in mind and shares the same values for customer service.
"Once the agent gets that relationship, gets the lead, sells them a house, whatever it is, we want that customer-for-life relationship to be forefront all the time," says Andy. "It's a good partnership with Delta because they feel the same way, and they have helped us refine that."
There are many tools and features that Delta offers that have made both the staff and agents at Badger Peabody & Smith Realty's lives easier as well. These include being able to work within both the back and front end of the CRM, view and comment on seller reports, make customized marketing materials and send campaign emails to lifelong and potential customers. Chrissy Smith, VP/ Sales & Marketing at Badger Peabody & Smith Realty, sees that the agents are happy and more productive using Delta.
"I think what's nice about the DeltaNET is the agents like it," she says. "Of all the CRMs they've used in the past, it's the easiest to navigate and to understand, and so the bottom line, the agents really like it."
Looking to the Future
Now that the pandemic is seemingly coming to an end, it's time for Badger Peabody & Smith Realty to look to the future. They are excited to be back in the office and be able to collaborate in person again. They are also excited to be back to hosting events and plan to continue coming together in 2022.
Even with all the fun, the work doesn't stop — the team is always generating new ideas. They have a few marketing and social media initiatives in the works they're looking forward to launching soon, such as a social media campaign to get to know their agents.
"It's nice because it's out there for the public to see who the agents are, but we're also able to use that internally where agents can read about each other in a more personal manner and kind of get to know a little bit of background on those agents as well," says Chrissy. "So, I think that'll be a really nice piece to help everyone learn more about each other."
While the industry will always be unpredictable, the staff at Badger Peabody & Smith Realty remains optimistic.
"I think our industry is going to survive the next couple of years in fine shape," says Andy. "We can't sustain 15% or 18% appreciation, that's not going to happen, but overall, I think the agents are going to have a good year in 2022. I think buyers that have been patient and struggled and put in 10 offers and lost, everyone will see more inventory coming in the next 60 to 90 days, and they'll be able to get into a house."
Managing to master a merger in the midst of a global pandemic is certainly something to be celebrated. The benefits of the decision are clear, and both companies' core values remain intact. With all the right tools, including DeltaNET, and their dedication to their agents, community and customers, there is nothing they can't accomplish.
We look forward to seeing Badger Peabody & Smith Realty continue to grow, and as they do, Delta will be there every step of the way to lend a hand.