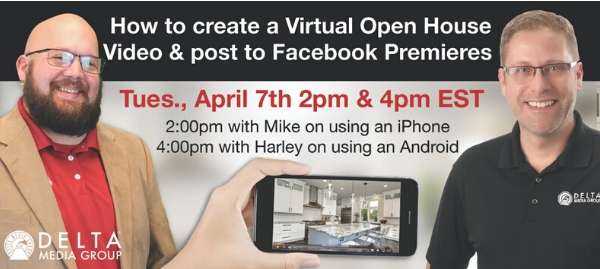 After conducting a few webinars over the past week and getting feedback from our wonderful attendees, we recognize some of you are intimidated, so we are showing how easy this is and providing useful tips on how to create Virtual Open House Videos, including recommended iPhone and Android settings.
On this webinar, we will take you step by step on how to create a video from your iPhone or Android and upload it to Facebook Premieres. Whether you are a broker or an agent, this is a must-watch webinar! 


For iPhone Users: 

Tuesday, April 7, 2020, at 2:00 PM EST - Hosted by Mike Minard


For Android Users: 

Tuesday, April 7, 2020, at 4:00 PM EST - Hosted by Harley Wolfarth
We all need to learn, grow, and step out of our comfort zone! We are all in this together! It's easy. You can do it!