The New DeltaNet-Version 5 is Complete; All Switchovers by March 27
After more than a year in development, the most recent release of Delta Media Group's exclusive intranet platform, the DeltaNet, is ready for our customers' administrators and agents to begin using.  You may contact our Tech Team today to make the change or wait until Monday, March 27 when all switchovers will be made automatically.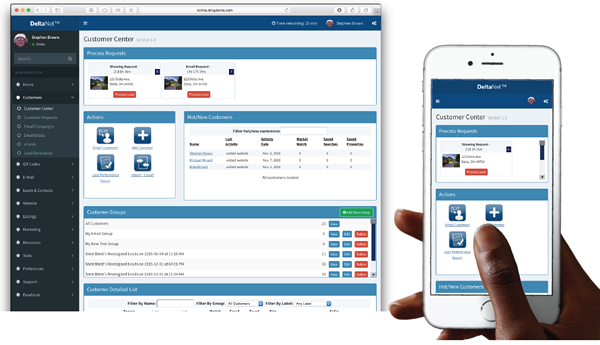 Mike Minard, President and CEO of Delta Media Group, shared what makes the DeltaNet - Version 5 so different. "Real estate is a business on the go. So, we designed DeltaNet 5 to be 100 percent mobile. Now, you have the ability to take your businesses with you. No more waiting to fire up desktops upon returning to the office. Now, brokers and agents have access to the DeltaNet directly from smartphones. As we developed the DeltaNet 5, our Team worked hard to make certain there was no loss of functionality from previous versions. Customers won't be losing any of the features with which they've become familiar. In fact, this is a Rapid Development Platform which means our Tech Team can respond to customer requests and launch new features quickly."
It's our goal to streamline our customers' businesses making them more profitable. We study how to blend emerging technologies with the real estate industry to provide innovative tools to better our customers' businesses and lives.
If you haven't already made the switch to the DeltaNet 5, contact us to do so or wait until Monday, March 27 when all customers will be changed automatically.