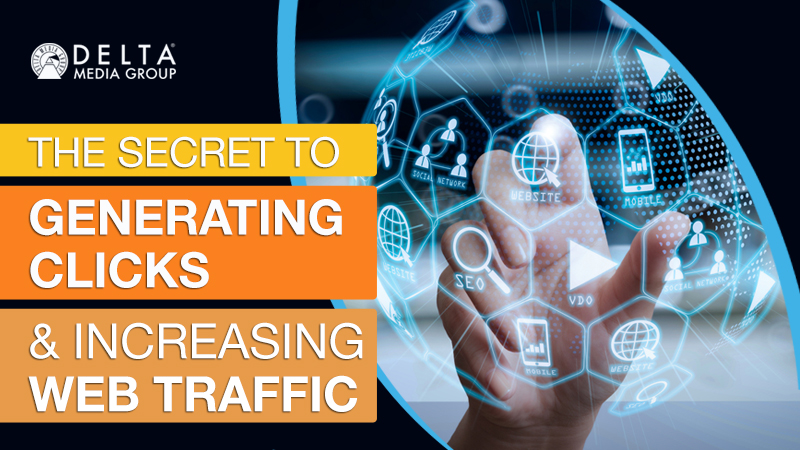 Is generating more traffic, clicks, and engagement for your real estate website at the top of your priority list as attention begins turning toward 2023? While how to generate more traffic might sometimes feel like a mystery from the outside, the truth is that there are plenty of concrete, actionable steps that you can integrate right now to improve the performance of your website. With these tips, you can look forward to unlocking the secret of generating more clicks, and substantially increasing traffic to your real estate website.
In some cases, increasing traffic may require branching out with new tactics for digital marketing and engagement. However, some dependable, familiar tools — like your real estate blog – can also be very helpful for boosting traffic when deployed in the most efficient, effective ways.
Start with Great SEO
There's simply no substitute for search engine optimization (SEO) for generating website traffic. Search engine results pages are still the most important place to be seen online because that's where most people start their search for homes, real estate advice, and agents. The higher you rank in search results, the more likely people are to click. In the end, it's really that simple.
The challenge comes in making sure you outrank competing real estate firms, and that's what SEO is all about. Through a combination of website design, content, and careful planning, SEO helps ensure that your website is climbing the ladder rather than falling behind. Since SEO can take time to yield its best results, now is the time to make sure that your website has a great SEO foundation.
Make Sure Your Website Is Mobile-Friendly
If it's been a while since your real estate website has had a fresh redesign, then you may be falling behind when it comes to performance on mobile devices. Given that mobile traffic makes up a huge percentage of all real estate-related online traffic, you want to ensure that your website looks and functions just as well on mobile devices as it does on larger computer screens.
A mobile-friendly website doesn't just attract more visitors, generate more leads, and boost your SEO. It also helps keep leads around your website for longer by making it easy for them to browse listings, consume your content, research communities, and connect with your team, all from the comfort and convenience of their favorite devices.
Create Content and Leverage Local Keywords
The content that you create for your real estate blog should be another essential element in boosting your website traffic. You want your website to be a resource for anyone who's thinking about buying or selling a home in the communities where you do business. Your blog is the perfect place to share your real estate expertise, help your audience learn more about your markets, and show them why your team is the right choice for their needs.
It's also the ideal place to integrate some of the SEO concepts that we mentioned earlier. By researching keywords and using relevant, targeted, and localized keywords in your content, you make it easier for your target audience to find you in search results.
Integrate Reviews and Testimonials
Social proof is a critical ingredient in your recipe for increasing website traffic. Integrating reviews and testimonials into your website experience is an absolute must and will often help with increasing conversion rates in addition to boosting website traffic. Most clients who were happy with their experience will be glad to provide social proof but may not think to do so unless you ask.
Build Your Social Presence, Share, and Engage
Ideally, your website, blog, and social media marketing should all work together to drive more traffic. Social media provides a convenient, widely used channel for communicating with your target audience, your blog provides informative, engaging content that you can share on social, and your website provides the perfect place to send them after they've connected with your social presence.
However, it's also important to remember that driving traffic from social platforms will require more than sharing your latest content and listings. Engaging with your audience is another critical step that shouldn't be overlooked. The more you answer questions, join conversations, and share real estate expertise, the better your social presence will be in terms of driving traffic.
Don't Forget Your Real Estate CRM
Is your real estate CRM doing everything possible to drive traffic, generate leads, and help you provide outstanding service to clients? DeltaNET includes the latest tools and tech to help you maximize your online presence. Many things need to work together to drive the best possible traffic for your website, and DeltaNET helps you manage them all.