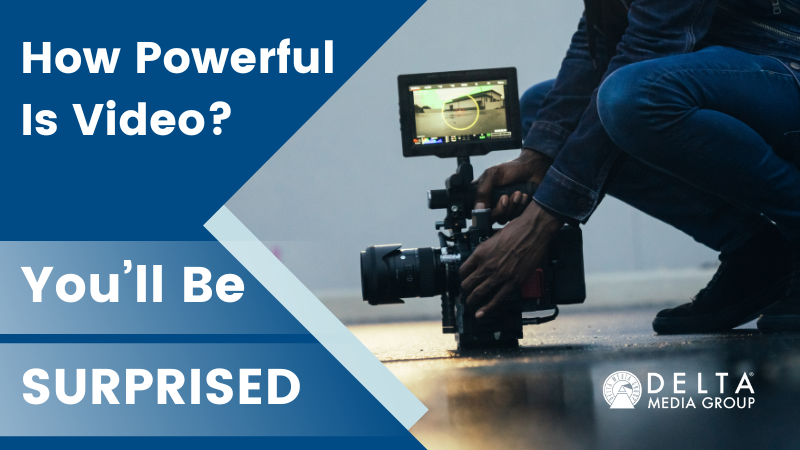 Are you taking full advantage of the many opportunities that video marketing creates in real estate? Whether you're showcasing a listing, highlighting a neighborhood, or creating educational real estate content for your audience, video can convey things that simply aren't captured with other forms of online content. Listings with video generate more interest, video marketing content converts at a higher rate, social media posts with video generate more engagement, video content on your real estate website has major SEO benefits... the list goes on and on.
If you've been waiting to integrate video into your real estate marketing mix, now is the perfect time to change that. Here's how video can help you sell more properties, earn more clients, and grow your brand online.
Still need convincing that video is one of the most reliable, powerful ways to grow your brand and promote properties? Check out these stats on video marketing in real estate:
According to the NAR, listings with video drive 403 percent more inquiries than listings without video.


The same data from the NAR reveals that 51 percent of home buyers use YouTube as their primary method of searching for homes.


Every month, 3.25 billion hours of video are watched on YouTube, which has more than 1.3 billion active users. TikTok isn't far behind, with more than 1 billion monthly users of its own.


Video is great for individual agents, too. NAR data suggests that 73 percent of homeowners surveyed are more likely to work with an agent who uses video.


Video isn't just popular in real estate. Some estimates suggest that 1/3 of all online activity is spent watching video content.
The numbers don't lie. Video draws more eyes than any other form of content online, and the numbers only seem to grow when new watch stats are released every year.
How Video Can Help You Sell Homes and Attract Clients
If a picture is worth a thousand words, how many words is a video worth? While professional quality listing photos are a strong place to start, the simple fact is that modern real estate buyers are more attracted to video than anything else.

A listing video can showcase features of the home that aren't seen in photos, provide a more detailed overview of the entire property, and give the buyer a real sense of touring a home even though they're not there in person. It's much easier for buyers to imagine their lives in the home when they can see it in motion, feel the transition from one room to the next, and analyze all of the small yet important details that video content can capture.
Of course, anyone interested in selling a home will also be quite keen on all of the benefits that video offers as a tool for selling properties. That's one key reason why 73 percent of homeowners are more likely to work with an agent who uses video, as we mentioned above. Being able to show a seller how you'll promote their home using video is a great way to win trust and attract more clients.
Easily Integrate Video with Properties in Motion
Now, you might be wondering how exactly to take advantage of all the benefits offered by video content. Our Properties in Motion® tool makes it easy to integrate video listings, with voice-over, into your marketing mix. Our marketing pros can help you use video to drive more traffic to your listings and generate great search engine results in the process.
Create HD-quality video with voice-over to lead buyers through every nook and cranny of a listing online, no matter where the buyer is located.

Automatically pull information from MLS, and automatically feed videos to both your social page on Facebook and your real estate website.

Integrated texting platform that allows you to easily text key data on things like listing alerts, open houses, and price changes.

Easily track leads, and stay on top of all the latest data through weekly reports.

Have something special to promote? Single property websites are also available to promote your top listings.
Promoting properties with video doesn't have to feel like a mystery. With the right tools and the right team, it's easier than ever to make your listings shine online.
It's Time to Make Real Estate Video Work for You
Video can help you take your real estate brand to the next level online, whether you're promoting listings or creating educational, lead-generating content for your website. As more and more young buyers enter the market, the popularity of video in real estate should only keep growing in the years to come. With tools like Properties in Motion®, it's easier than ever to take advantage of the popularity of video content.