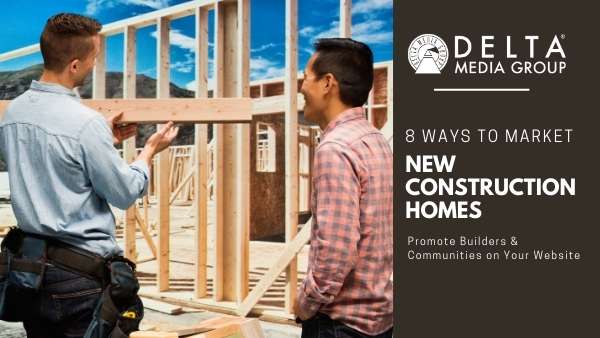 Introduce Buyers to Builders and Their Communities on Your Website
Many buyers opt for new construction homes over existing homes, especially in markets where a lack of housing inventory exists. No matter why a buyer is opting to build a house, marketing new construction homes is often a challenge for real estate businesses. The new construction market is strong, but you may still have to adopt new tactics to market newly built homes to your audience. Get started with these steps to market new construction homes to your clients.
Market to Your Audience
One of the challenges with marketing new construction homes is that there are often more people involved in the transaction. The builder and their team may offer valuable input on how to market the home. It's important to remember that you know your audience best. That gives you the power to create marketing directly geared toward your audience, which ultimately makes it easier to get new homes sold.
Step into the Buyer's Shoes
Buying a home is an emotional process, and every buyer has their reasons for making the decision. When you're creating marketing for new construction, take the time to see things from the buyer's perspective.

What would matter most to a buyer about a home, what would get you excited, and what might turn you away from a property? Walking a mile in the buyer's shoes will help you boil down your marketing to what matters most.

Local SEO Is Crucial to Sell; New Construction
No matter what type of home you're selling, local SEO is crucial for attracting the right buyer. It's especially important when marketing new construction because buyers may be shopping for new construction to land a home in a high-demand community. By integrating local SEO throughout your real estate marketing, you can efficiently attract buyers who are shopping for homes in specific destinations.
Market Neighborhoods Along with Homes
Most buyers know finding the right neighborhood is as important as identifying the right home. It's important to feature all the neighborhoods in your market area have to offer. Focus on the local attractions, services, traditions, organizations, and celebrations that make each neighborhood unique.
Show That You're on the Buyer's Side
Shopping for a new construction home can be an intimidating process for buyers, and not every buyer will realize that they need a real estate professional on their side.

That's why it's so important to show that you're on the buyer's side and manage the small details easily overlooked by the buyer. Remind buyers that you're also there to make sure the builder holds up their end of the bargain by constructing the home to the exact specs outlined in the contract.

Analyze the Builder's Contract Carefully
One place where you can help buyers is analyzing the builder's contract for creating the home and informing the buyer of precisely what the contract entails. Let buyers know about deadlines that determine when the home design is "locked in," and discuss any terms that the buyer should be aware of in the contract.
Spotlight the Perks of New Construction
Some aspects of shopping for new construction may be intimidating for buyers, but there are plenty of positives that you can highlight regarding the process. New construction presents nearly endless possibilities for buyers, allowing them to customize the home to their heart's content. Buying a home that's never been lived in also means buyers don't have to deal with the DIY repairs or renovations that a previous owner made.
Showcase Builders, Communities, and Model Homes on Your Website


No matter what types of homes you're selling, your website should be a buyer's best friend. This is where they'll scout listings, learn what you have to offer, and discover more about the builders you represent. The more they can learn from your website, the more likely a potential buyer will take the next step. Delta Media Group has made it easy to feature home builders, their communities on your website.

DeltaNET™️ 6 lets you showcase your builders, their communities, and model homes you represent on your website.  Add a detail page for each builder highlighting their company details, inventory listings, and open houses. Call special attention to model homes. Adding Google maps to these pages, your website visitors can find these communities and listings easily. 

You'll be able to add floorplans, plat maps, brochures, and videos for potential buyers to view. Promote upcoming open houses on your website too.  
Contact us for more information about showcasing the builders, their communities, and model homes you represent on your website.