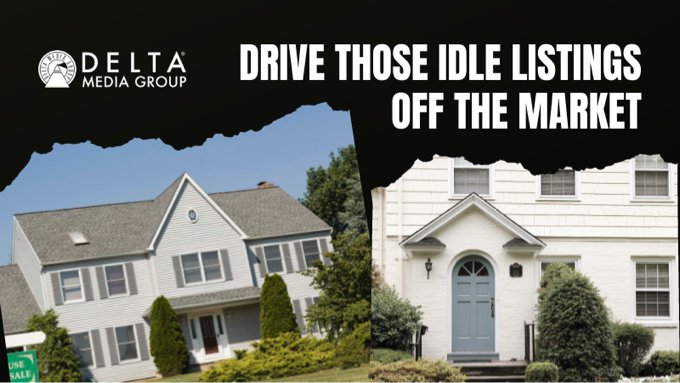 Stubborn listings are no fun for sellers — or for their real estate agents!
It's well-known that as a listing sits on the market, it becomes less likely to capture an attractive offer. The ideal is to move a listing within 30 days. The longer it waits, the more likely buyers will assume something is wrong with it. At the dreaded 90 days, relisting is nearly inevitable.
There are two situations where agents need to be especially wary about idle listings:
Markets that strongly favor buyers, especially when there's plenty of housing stock

Overheated markets where voracious sellers price themselves into the stratosphere
Before a listing even goes on the market, pricing it to sell is one of the most valuable services an agent can offer. Sellers can easily overestimate the value of a home for sentimental reasons or just because the market seems to offer them a big payday. Agents need to step in, look at recent sales, and make the facts clear.
But sometimes, even when price is aligned with market conditions, a home simply won't sell.
This is highly frustrating for sellers, and it's also one of the situations most likely to lead to a bad review – never a fun prospect. Sometimes, there may be many factors outside your control making the road ahead difficult for your listing. The key is to seize on what's in your area of influence and course correct as soon as you can.
Let's look at some of the most effective ways to do it:
Update the Staging
Staged homes generally sell for more money and do so within a shorter amount of time. A staged home is more enticing than a vacant one because it lets buyers exercise their imagination about how they will use the space. Take care to optimize every room, highlighting the features you want buyers to focus their attention on.


Improve the Curb Appeal
In this era of Google Maps, you can bet would-be buyers will be checking up and down the street before they even register for an open house. Curb appeal always counts, whether that means doing some extra lawn work, landscaping, or revitalizing the exterior with a fresh coat of paint. The ROI can be exceptionally high!


Make Sure Your Photos Are Quality
A listing is judged by its photos, and the surging quality of photography in most listings means you need to keep up. Many real estate agents are partnering with professional photographers. Get crisp, clear shots of each room and every angle of the exterior, ideally featuring the same locales at several different times of the day.


Fix Specific Issues with the Home
Some sellers are perplexed to learn that they can't simply list a home "as-is" and hope for the best. Buyers not only regard such properties with suspicion but many are bound to get a home inspection anyway — lenders require it. Carefully raise the subject of repairs, especially if the roof, sewer system, or wiring is involved.


Leverage Social Media and Social Ads
Social media can give a listing a fresh burst of attention even when it's outside that ideal 30-day window. If you have exhausted your options on Facebook (or LinkedIn, if it's a luxury property), consider busting out a secret weapon: Facebook advertising can help you tap into a wider local audience for your listing.


Excite Buyers with Live Video
Live video is another great way to unlock the power of social media. You can stream a complete virtual tour of the property through Facebook or Instagram. To pep up your listing for visitors who miss your stream, consider using a tool like Properties in Motion for branded, shareable video with built-in tracking.


Host More Open Houses
To create more value for today's sellers, agents need to be prepared for open houses in all their forms. Know when to pivot from traditional face-to-face events to virtual open houses and when to combine the two. Open houses can revive a flagging listing, as the right buyer has the opportunity to make an offer on the spot!


Use Seller Reports
If your seller's morale collapses, then the listing is as good as doomed. It's understandable for sellers to worry, so head them off at the pass with resources that will show them the progress they've made. Customized seller reports consolidate everything you've done for a listing into a single view.


Restart Your Marketing Cycle
Once you've consulted with your seller and committed to making some of the changes above, kickstart your marketing cycle again with an updated listing — with or without actually re-listing. Revise your collateral and get a fresh perspective on the property by emphasizing its new advantages. And, of course, don't give up!
Contact us to learn more about digital real estate marketing.